Section Branding
Header Content
Turning It Around At LaGrange, Christian Heritage
Primary Content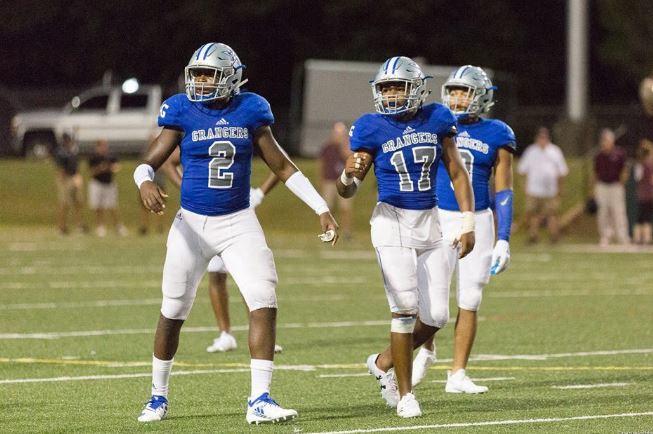 When I wrote my first book (shameless plug: It's still available on Amazon.com), one of the chapters was on LaGrange and Grangers football. Their pedigree goes back to 1905 and their first undefeated season at 5-0 under James Ricketson when the Grangers beat Hillside (twice), Pleasant Grove, Vernon Academy and Home Academy.
Didn't give up a single point.
Since then, the school has six state titles and one of those mythical national titles under Oliver Hunnicutt, Gary Guthrie, and Steve Pardue -- 1955, 1958, 1991, 2001, 2003, and 2004. But, if you look at the times the team has fallen on since Pardue's last year in 2010, they have been pretty hard for those who are a part of that blue and grey fabric. The best records come in two .500 seasons and the team has gone 2-18 in the last two years alone.
But, there's a new coach in town in Chuck Gibbs and something happened last Friday that was pretty monumental. The 17-game losing streak that had been in place since the midway point of 2016 ended with an 8-6 win over Hampton.
Gibbs is originally from Auburn, Ala., and was coach at Scottsdale Christian in Arizona last year.
He and his family returned home to be closer to his mom, who lives at Lake Martin and Auburn, and knew about Granger history from his time in Alabama. Gibbs admitted to me that, growing up, you never wanted to play LaGrange when you were a nearby school. He recruited LaGrange with his dad from the ages of 10-14. 
Gibbs thought the Grangers were struggling for some leadership. He and his staff want to make a positive impact on kids and community and would love to return to the "days of old." With the new designations of how the school district lines are drawn, and the notion that LaGrange is no longer a city school, the more talented kids are now at places like Callaway and Troup. 
"The question becomes: Can you win with kids you have? Can you rebuild off traditions of the past? That's why we threw our name in the hat. They offered me the job and here we are.
"What I remember was that they were blue-collar kids in the past," Gibbs says about the tall order he has ahead of him and his staff. "They were gritty, and I had not had the privilege of coaching one of those kinds of programs. They're really starved for love and leadership and you want them to believe in themselves. You don't want to let circumstances of the past define who they are and you want to have them realize what their potential is."
Hopefully, Gibbs says, the kids realize where they were and the potential that exists. He wants his Grangers to circle the wagons, focus, and see how many wins they can get this season.
"In our off week, we're 100-percent working on us. We have had a dozen opportunities to score and didn't," Gibbs says. "It might have been the wrong footwork, the wrong landmarks, or the wrong read. "We just didn't score. Defensively, we're there. It was installed in the spring and there's not a lot of complex blitzes and stunts. We just want them to play fast and it's kept us in the first three games. For the offense - it's rinse, wash, repeat. The kids have heard it 500 times and they'll have to hear it 1,000 times. 
"Today, it's more film and lifting. The freshmen have a game and our varsity staff is going to coach that game and the kids of the future. I'm going to condition the kids not there and we're going to do some team bonding on the track. Tuesday, it's going to be helmets only and we'll practice against bags. It will be a walk through like it's a Day 1 install."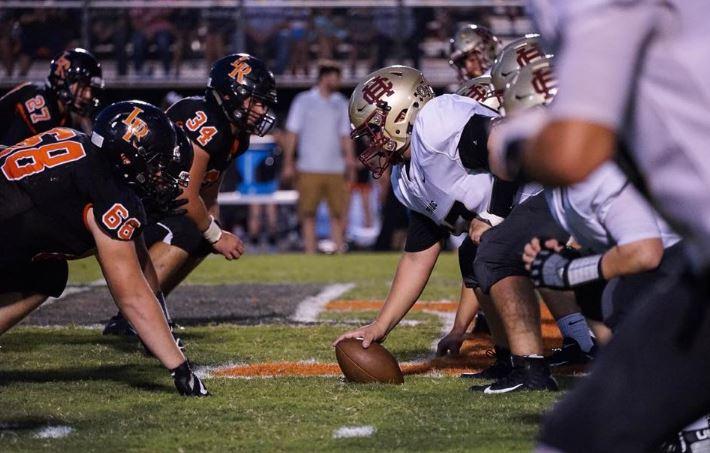 So, while LaGrange is working from the ground up under Gibbs, another school is off to turn their fortunes around in the north Georgia Mountains -- Christian Heritage up in Dalton under the head coaching of Jay Poag.
Taking over for his brother, Preston, a few seasons back, there have been some growing pains that are ironing themselves out with the first 3-0 start in program history. Those three wins equal the total number of wins in the last two seasons combined. By the way, Poag's Lions are one of the smallest student body in the smallest classification.
142.
"Our situation is certainly unique and we've got some good football players," head coach Jay Poag tells me. "We had to start this in a rebuild mode two years ago and we played a tremendous number of ninth  and tenth graders. But they've bought into the weight room and speed program we put in place. We have a few talented ninth graders added to the mix this year, too, and our roster has expanded from 25 (when we started) to over 40. We're closer and closer to a two-platoon team. We're not there yet, but we're further down the road than we have been." 
It took the Lions three weeks to beat Riverside Military -- it was Mother Nature's fault on that one. They've also knocked off a bigger Gordon Central team. The other night, with Lafayette on the books, Poag knew it would be a good mountain to climb. 
He was right.
"We were down 26-0 heading to a running clock," he admits. "We regrouped at the half. And after that first score, momentum is a funny thing. It's miserable when you're on the wrong side of it. But it grew on our sideline."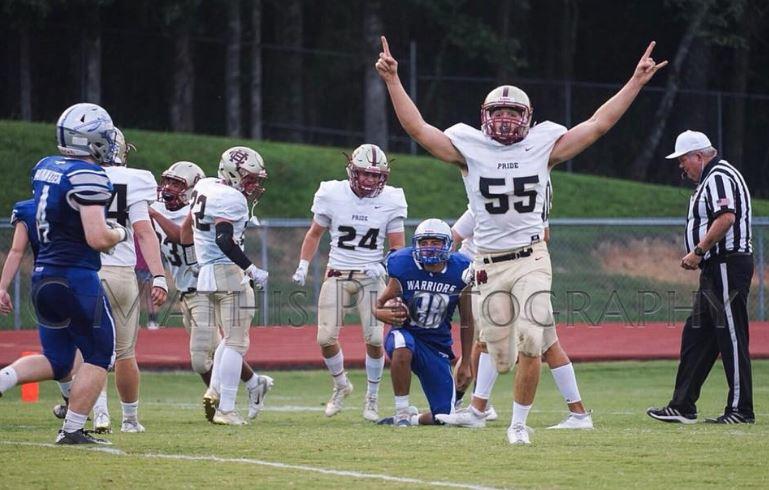 Poag called the second half a "magical" half of football for the third win of the season. But this week, he starts region play with a tough Mt. Zion-Carroll team that has been ranked at (or near) the top of the Single-A rankings in the GPB poll. 
The Poags grew up in Dalton and Jay played and coached at Davidson. His coaching career had even gotten to the point where he was coaching at Davidson AND working for a childhood buddy at Mohawk Industries. 
"They let me coach the QBs while I had my full-time job," Poag says when something changed. He was on an airplane headed to Las Vegas on a business trip when he had, what he terms, a "God Stop." 
"I was on the wrong seat on the wrong bus," he says. "I opened up a sports performance training school in Dalton, and when this job opened up, I thought it was a door I was supposed to walk through."
Some of the athletes transferred out, and Poag had 13 seniors in year one, but a lot of young students transferred in and he and his staff challenged every one of them to compete since. Last season, even in a 2-8 year, they were close in their losses, and the young players bought in in the off-season. It is paying off on the field in 2018. 
"They act different and walk different right now," Poag says. "The kids are excited, and the school's excited. But our faith never wavered. We sure are enjoying the story. We preach about the next 40 years to our kids and there's a bigger purpose here. My family and I wouldn't have done it differently and don't believe in coincidence."
For Poag and his wife, Amy (the school's college counselor), it's a real-life "Friday Night Lights" situation where 100-percent of the students are accepted to college. They get to be a part of a program where they can influence people for the rest of their lives.
"It's tough for 15, 16, 17, and 18-year-old boys and girls, but it's a good feeling when you see you're making a difference." 
And being 3-0 on the football field is a small part of that growth at one of the smallest schools in the state. Bottom line this week… big or small, you can still make an impact on those around you.
Play it safe, everyone… I'll talk to you soon.
Secondary Content
Bottom Content