Section Branding
Header Content
Athens Academy: The Will To Win With A Heart To Serve
Primary Content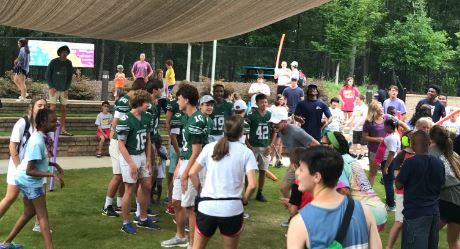 While they may not want to claim it, the Athens Academy Spartans have secured a place in Georgia sports history. Most will remember State Championship Weekend 2017 for a controversial call in the 3A state final and the snow storm that forced the postponement of the remaining contests. The Class A-Private state final will forever hold the honor of being the first state championship game to be played at Mercedes-Benz Stadium.
"It was a fast week," remembers Athens Academy Coach Josh Alexander. "It's like you're drinking water from a fire hydrant. You have to try and stop and smell the roses and enjoy the moment, while making sure your kids are ready and prepared. The team we played was very overwhelming at times."
When time ran out the halo scoreboard read Eagles Landing Christian 41, Athens Academy 3, but there was still more drama awaiting the Spartans just outside the stadium doors. 
"When we went in it as cold, and when we came out everything was covered in snow," recalls Alexander. "I had no idea, we had been so involved in what we were involved in. Now everything is covered in snow and we can't get home. We try to get on the freeway and we have to take the back roads. My kids are hungry, so we stopped at Burger King on the way home from the state championship. After we got our butts whipped I fed them a Whopper! We have it all stored away in the back of our minds and we're working on it. I sure hope we get that opportunity again sometime in the near future."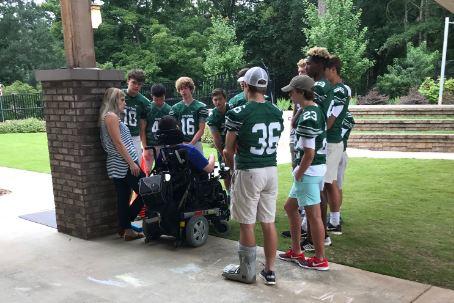 At most schools around the Peach State, the off-season workouts begin a week after the football season ends. Josh Alexander has experienced that while serving as an assistant to some of the state's best head coaches, like Cecil Flowe at Parkview and Archer's Andy Dyer. 
Alexander arrived at Athens Academy in 2015 and made the adjustment to the Class A life. 
"At our level we have a lot of kids who play multi sports, " says Alexander. "There is never really an off season. I have multiple kids who play baseball and basketball, but our first sport at Athens Academy is weight training. They understand that whatever sport I'm in, I have to lift. I have to lift to get better in baseball, soccer or basketball. There is never an off season."
This is Alexander's fourth year at Athens Academy and his first senior class. The seniors have posted a mark of 34-6 so far, winning 15 of their last 16 games. The coach refers to them as a bunch of try-hard guys, who love to work.
"We're going to get up early, go to bed late, and work hard in between," says Alexander. "It's the one thing these guys know how to do. We're not the biggest, fastest or strongest, but they do know how to work hard academically, athletically and socially."
"Be courageous and kind" is a theme with Athens Academy football. The heart to be a winner on the field is also encouraged to be a heart that serves off the field.
"One of the things we like to stress is service, " says Alexander. 'We've done a lot of service over the summer for different foundations around Athens. We believe in helping out any way that we can, from the food bank to ESP (Extra Special People). It really opens up their eyes and their hearts to see that we are blessed in so many ways. It helps the kids understand and see the big picture. Football is small, school is small, I'm small, but there are things that are bigger than me."
The Athens Academy Spartans live in perhaps the toughest Class A region in the state, Region 8. With region rivals like Hebron Christian, Commerce, George Walton, Prince Avenue Christian and Athens Christian, every week is like a playoff game and Alexander would have it no other way.
"I wish we could play Commerce and Price Avenue every week," says Alexander. "Our kids are smart kids and they like challenges. We want to play the best to try and make us better each week." 
 One of those players who loves to be challenged is senior Payton Bowles.
"It's been fun coaching him," says Alexander. "He is the first kid that I've had who is an all-state defensive back in one selection and an all-state running back in another selection. In a recent game Payton played every snap and it was the first time that I have seen it. He returned kicks, played running back and linebacker. He really put on a show, and when he left the game both sides of the stadium gave him a round of applause."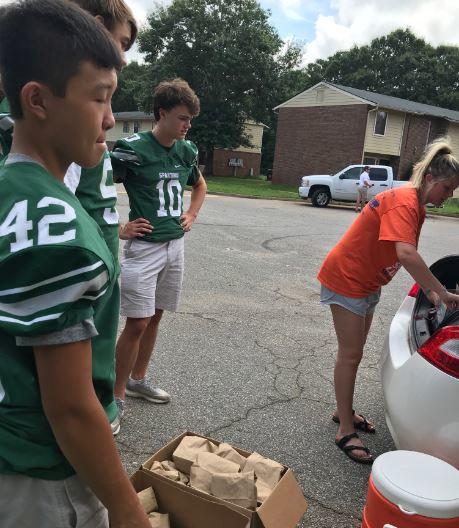 I'm sure that Payton Bowles and the seniors would like to make it back to Mercedes-Benz Stadium, win the state championship this time and maybe enjoying a steak instead of a Whopper on the way home. A state championship is the ultimate prize, but first priority has to be making it back to back region titles.
"There are some tough teams in the region this year," says Alexander. "The best thing we can do is stay healthy. I believe that we have a chance to compete if we stay healthy."
 With their season record at 2-0 and ranked  fifth in this week's GPB Sports Class A poll, the Athens Academy Spartans will boldly go where few other high school football teams have ever gone: Cherokee Bluff.  That is because Cherokee Bluff is a brand-new school in Hall County and the Bears have only played three games.
Don't forget, we are a week away from the season premiere of Football Fridays In Georgia! Our weekly live game broadcasts will begin with Carrollton visiting two-time defending state champion Rome. See you next week from Barron Stadium on the great GPB!
Secondary Content
Bottom Content