Section Branding
Header Content
High School Football Teams Go Hollywood
Primary Content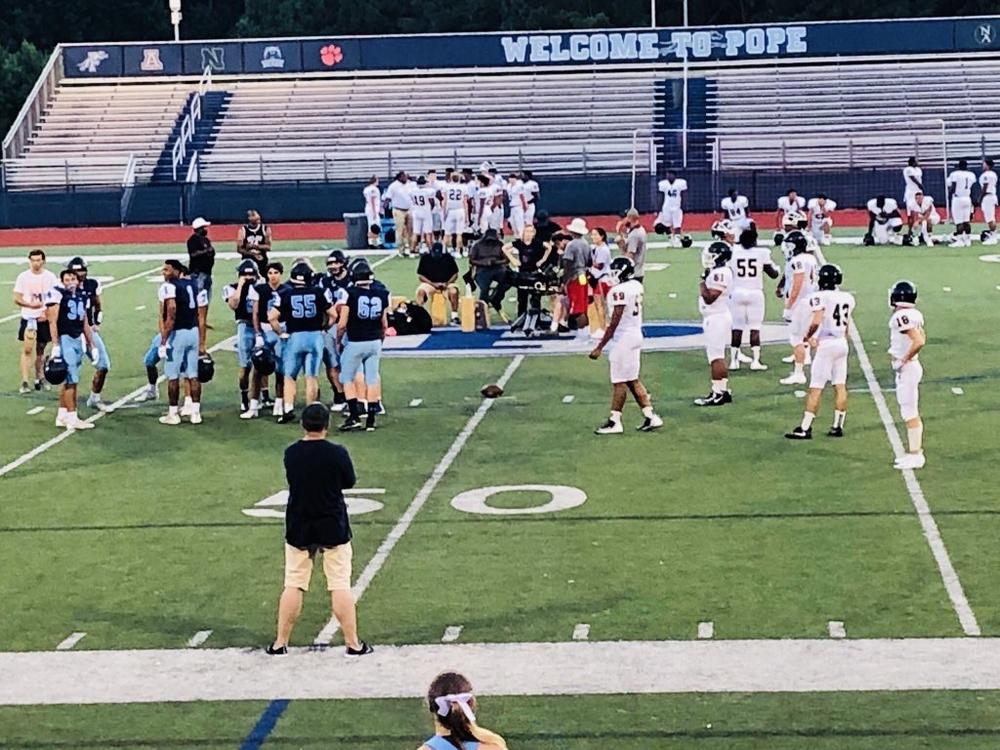 When they first appeared in our state, we didn't quite know what to make of them. They seemed to be somehow misplaced with letters that didn't make sense, and what was that arrow pointing to anyway? Now we see them practically everywhere we go. They are unmistakable! Bright yellow signs with black letters, some of them upside down. With every passing month it seems these signs are increasing in number to the point of threatening to rival Waffle House for prominence in metro Atlanta.
As I mentioned those yellow signs also have an arrow, and if you follow them you will find that they will lead you to a staging area for a film or television production. We used to slow down as we drove by these staging areas, hoping to catch a glimpse of one of the actors. Now the production shoots have become so commonplace that we drive right by like nothing's happening. And that's just the way the film makers from California like it. 
It was back in the spring that directors of a project that included a high school football scene were searching for a location in Georgia. You might say that Hollywood came knocking and Pope High School answered. 
"We got the call about hosting a movie back in April," says Pope Athletic Director Josh Mathews. "They sent a location scout, who walked around the school taking pictures. It came down to us and two other schools who were being considered. Two weeks later we got the call that the director liked what he saw and was coming from California to see our school."
Kim Bass is the director of "Tyson's Run." The film is based on the story of a boy with autism, who decides to train for a marathon to earn the attention of his father, who is consumed by his career as a football coach. Well, if there is a football coach, then there had to be a football team, and the Pope Greyhounds were ready for their closeup.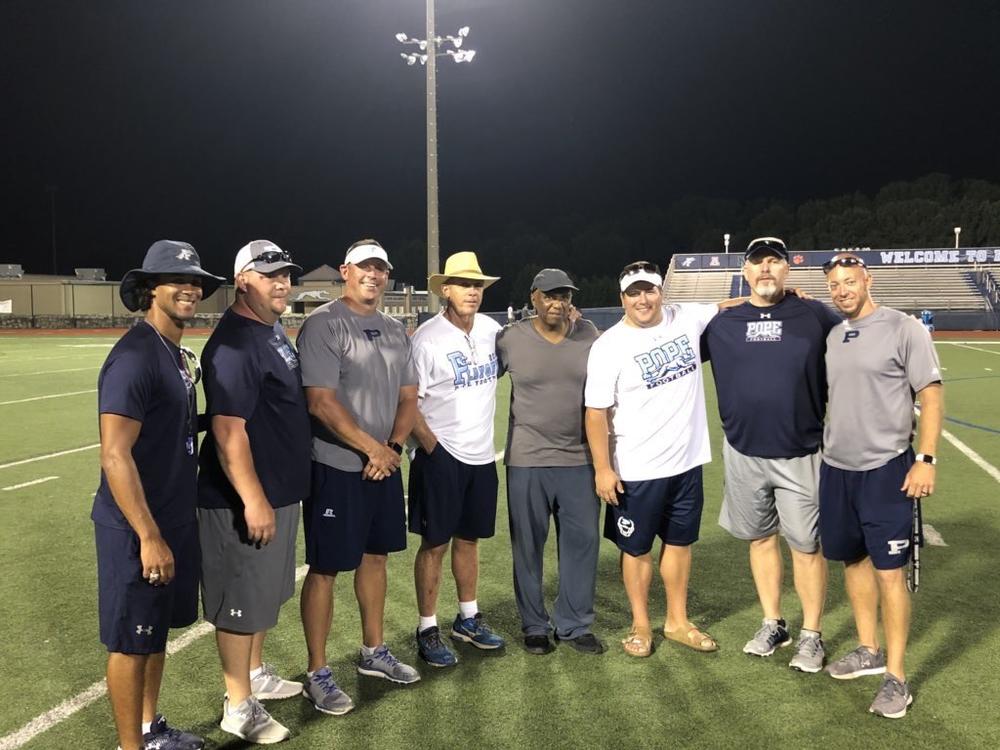 "We were hoping it would have been earlier in the summer," says Mathews. "It got right up to full pads time, so we missed a little bit of practice time. Our kids got excited, they were in a movie and they were having fun."
If you're going to have a game scene, you have to have an opposing team. Enter the Carrollton Trojans, stage right!
"The casting director for Tyler Perry Studios is from Carrollton," says Carrollton Coach Sean Calhoun. "She shot me an email out of the blue, and said they wanted some local teams for the movie. This would be a once in a lifetime type thing to be on a movie set and be in a movie. When I brought it to the team, they went ballistic. They were over the moon excited."
Meanwhile at Locust Grove High School, Randy Lee has landed his players in a movie again. Lee is the Wildcats' defensive coordinator, and he also teaches an audio video technology and film class. He has been keeping an eye on the booming film industry. 
"Basically, everything was coming to the state of Georgia," says Lee. "I thought it would be a great opportunity if they ever needed sports teams that our guys could be extras, and we could use it as a fund-raiser for our athletic program ."
Hey, I like the way Coach Lee thinks! Last year Gov. Nathan Deal's office reported that films and television productions generated $9.5 billion in Georgia. The little yellow signs with the arrows may look unusual, but there's nothing funny about that money. 
"Tyson's Run" would be the fifth production the Locust Grove football team has participated in over the past four years. Three years ago the team worked five consecutive nights on the movie "Goosebumps" and made $15,000 for the athletic program.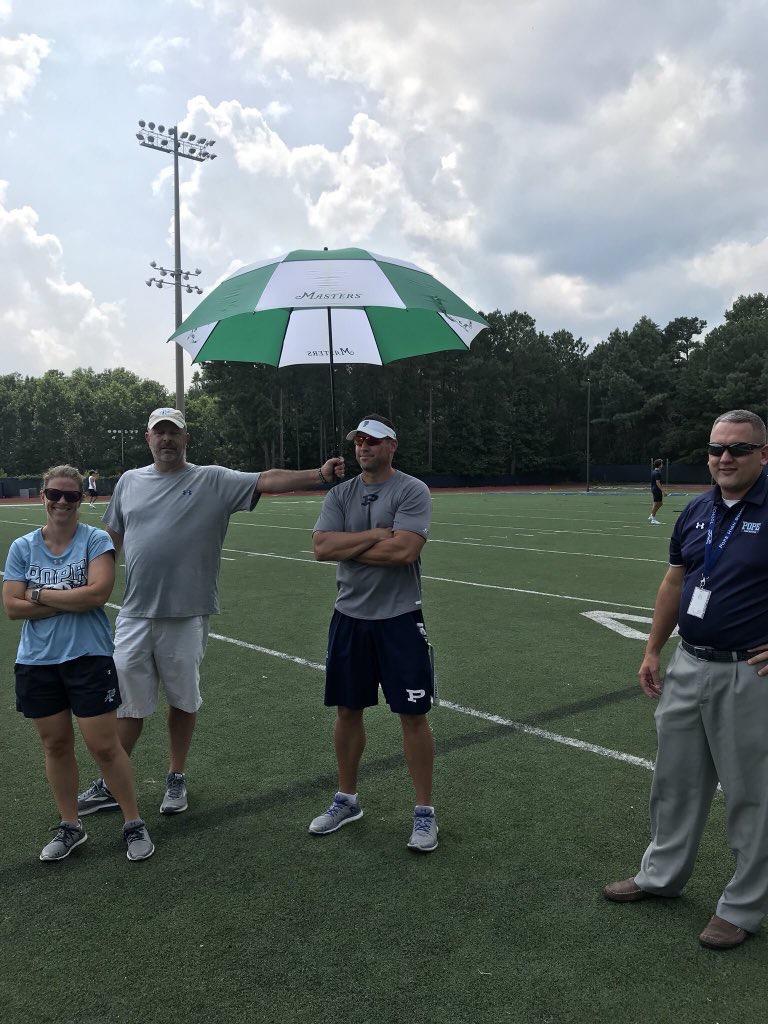 Major Dodson of "The Walking Dead" plays the lead role in "Tyson's Run." Pope Coach Tab Griffin got to go before the cameras, but didn't get bitten by the acting bug. 
"it was fun," recalls Griffin. "I realize that I won't be an actor. There was a lot of standing around and I'm not very good at being idle"
Give Coach Griffin credit for finding a way to receive the star treatment, even after being told that he would be playing an assistant coach. Yikes! Demoted on his own field by Hollywood. 
"We made a big joke out of it," remembers Griffin. "We were doing the grunt work and the actors had someone holding an umbrella over them until it was time for their parts. I joked to our booster club president about putting an umbrella holder in the next budget, and he went to his car and brought back his umbrella and everywhere I went he held it over me."
For sure, the hours can be long on a hot summer day in Georgia, but there is still much to learn here. Leave it to Carrollton coach Sean Calhoun to find a parallel between football practice and shooting a movie scene. 
"There are so many employees and so many workers," says Calhoun. "All of them have a job and responsibility. There was repetition and they were going to stay on it until they got it right." 
Randy Lee didn't have to look far to see how the Hollywood experience will be felt at Locust Grove.
"It has really helped my program grow at school," says Lee. "It's an opportunity for kids who are in my class to actually see how a movie is shot. When I started teaching the film class I had about 14 students. This year I will have 185 students. They have seen the opportunities."
Movies are supposed to imitate life. It's not real, but there are times when we wish that it was. For a big night time game scene, the community that surrounds Pope High School turned out and filled the stands to provide a Friday night atmosphere. 
It's the Carrollton players against the Pope players and the scene called for Pope wide receiver Zach Owens to run 70 yards and score a touchdown, not once, not twice, but 15 times. 
Owens is committed to Georgia Tech. I'm sure he can't wait to get to North Avenue next fall and explain to his new teammates how he scored on the Carrollton defense 15 times in one night.
For Pope's Mathews, it's the stuff dreams are made of.
"Luckily, the Pope guys got to celebrate and the Carrollton players had to lose," says Mathews. "I don't think it will be presented as Pope vs Carrollton in the movie, but we can tell people we beat Carrollton, for at least one play." 
Like I said, it's not real but there are times …
"Tyson's Run" is expected to be released next year, but you don't have to wait that long to see the Carrollton Trojans. Football Friday's in Georgia will return on Sept. 14. Carrollton will visit Rome in our first weekly live game broadcast. Be sure to join us on the great GPB!
Secondary Content
Bottom Content