Section Branding
Header Content
Rise And Shine! East Coweta, Kell Get Up Early For Kell Classic
Primary Content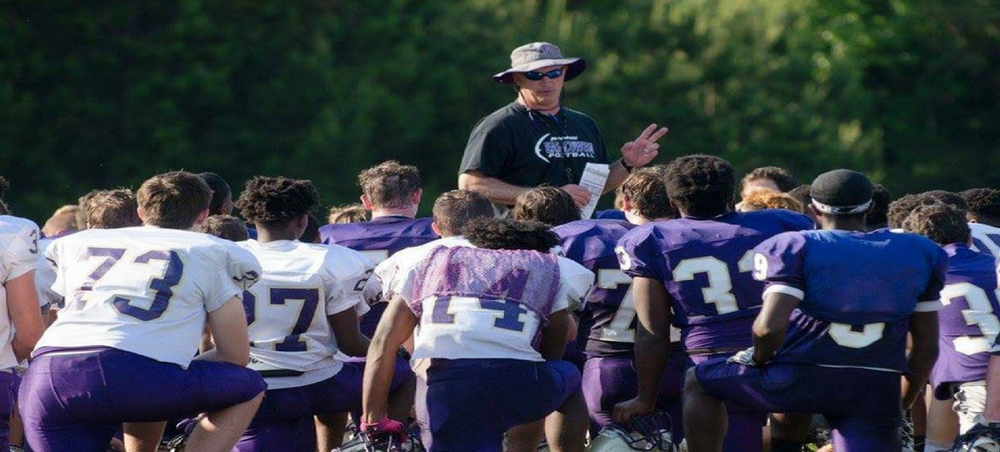 The ring of the morning alarm clock wakes up different emotions in each of us. For those who are morning people, it brings a smile as a new day is greeted. For those who hit the hay a little late the night before, the alarm clock's ring is meet by a gentle tap of the snooze button for an extra 15 minutes. 
Then you have the folks who are not morning people at all. They know that the alarm clock's ring means it's time to face a task that they dread. For these folks the sound of the alarm might cause a pillow or dirty sock to be thrown in the direction of the bane of their existence. 
GOOD MORNING!
High school football teams around the state of Georgia are well acquainted with their alarm clocks, as those chronometers have been their constant companion throughout the summer months. The alarm clock signals the start of a new day with early lifting, and conditioning, then on-field practices before the full effect of the heat and humidity kick in. 
This Saturday the alarm clock's ring will mean something different to the East Coweta Indians and the Kell Longhorns as they will head for Mercedes-Benz Stadium for a game that will start at 9 a.m. 
Welcome to the Saturday Morning Breakfast Edition of Football Friday's In Georgia!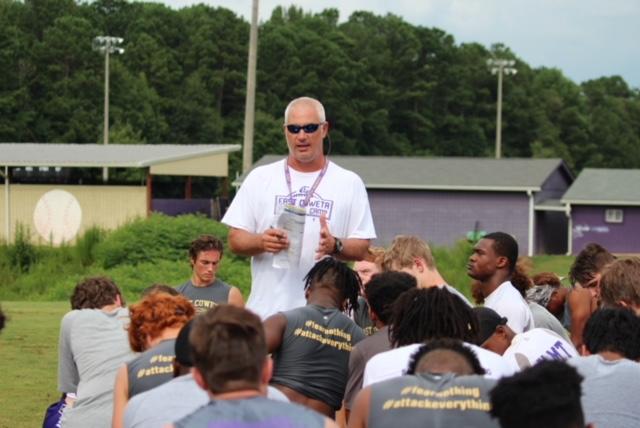 This marks the 27th year for the Corky Kell Classic. What started with four teams playing two games at the Georgia Dome is now a three-day high school football festival that will include 18 teams playing nine games over three days in three locations. This is the first year for the classic to be played at the new palatial home of the Atlanta Falcons and SEC Championship Game. 
East Coweta and Kell have the dubious honor of being the first through the door to play the game with the earliest start time of any high school football game that will be played in our state all season.
Since 2010, Kell has played in the first of five games played on the Saturday of the classic week. The school is named for the Cobb County high school coach and athletic administrator, Carlton" Corky"Kell, whose memory is honored by the event that annually signals the start of the high school football season.
"It's interesting playing that early,"says Longhorns Coach Brett Sloan." There are some good things about it. Your game is early, so you don't have to worry about getting late and bumped behind. There are plusses and minuses to everything."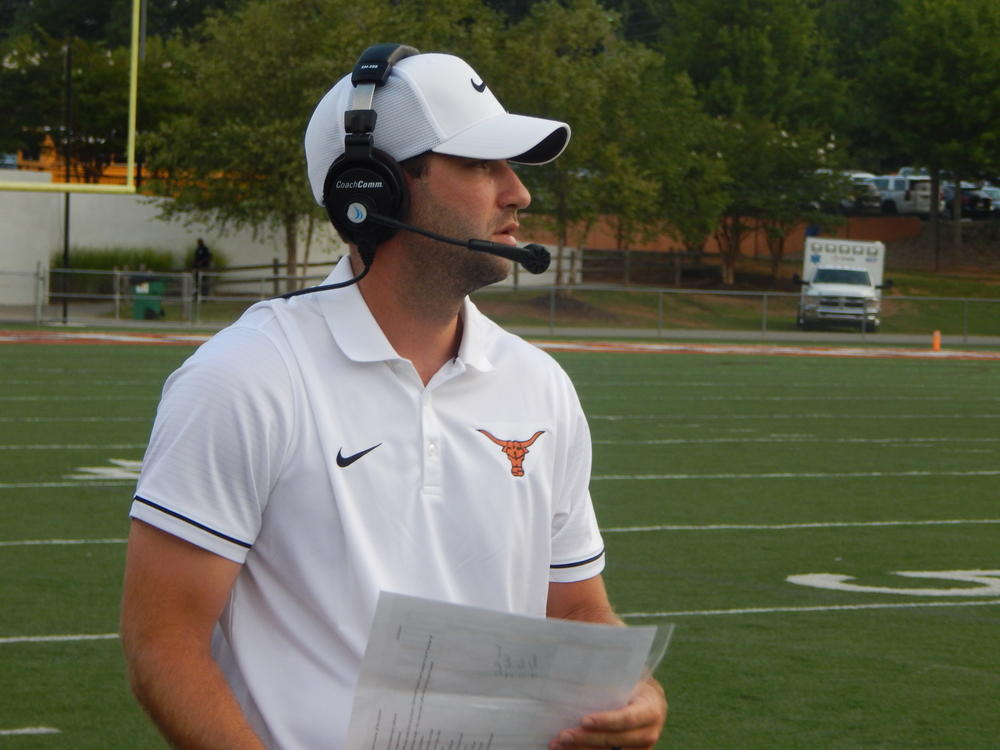 This is Sloan's second season at Kell and his second time coaching in the early game. He remembers being part of a noon kickoff while an assistant at Byrnes High School in South Carolina for a game televised on ESPN. The coach has stuck with the same formula as last year." We bring them in the three Saturdays leading up to it and practice at 8 a.m.," says Sloan. " We try and do some live scrimmaging, just to get them wide open and going full speed at 9 o'clock in the morning. We do things to try and get them prepared for it and now they are pretty used to it."
Speaking of being used to it, that is just what East Coweta Coach John Small says about his team. "It's going to be late to us," says Small. "Down here we are used to getting up so early. We hunt and fish before we come to school. We'll be up before anybody else is up, so we might as well do something." 
The last time the Indians played in downtown Atlanta was in the 2003 Corky Kell Classic. As you might imagine the team and the school were thrilled to be invited back this year. "The kids were really excited," says Small. "At the end of the day, as many opportunities as we can give young people to experience some amazing things, the more we need to do it. It's great for them to have the opportunity to play in that caliber of game and in that caliber stadium."
After leading the South Gwinnett program for 12 seasons, John Small landed at East Coweta last year and the Indians produced a 5-5 record. "It felt like we had six months investment and we got six months investment returned," says Small. "We went 4-1 at the beginning and went 1-4 at the end. Now we have had a full year under our belts and we have been able to go through the full program. We've seen the mental development, the character development, the academic development, the weight room development and they bought in pretty quick."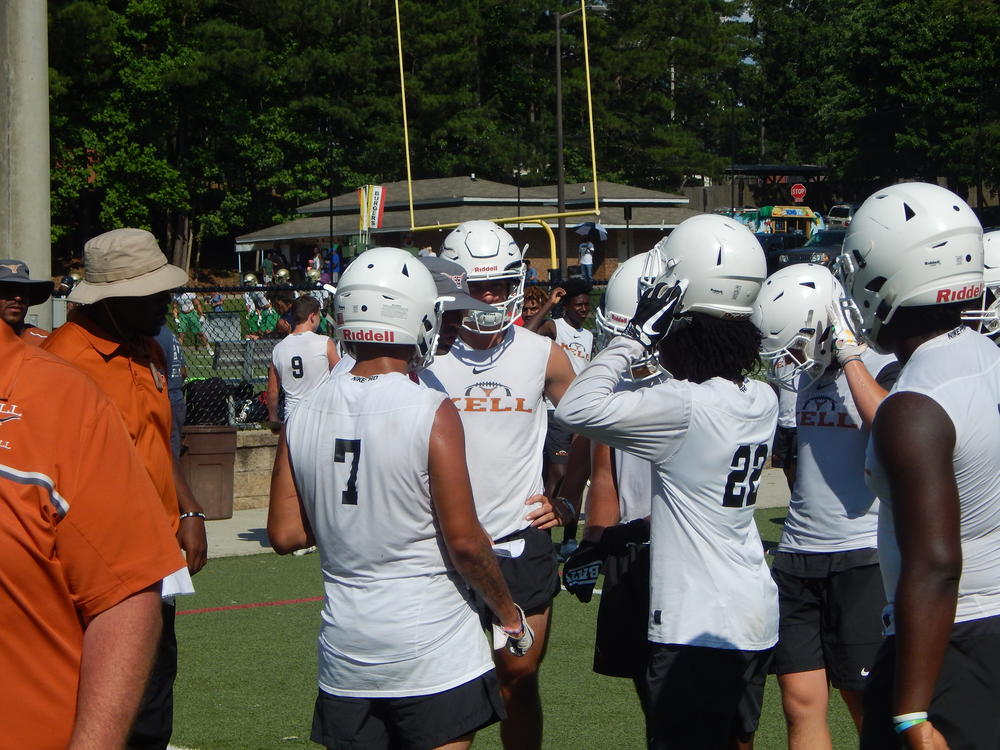 The Indians have already seen improved results on the field with a 33-3 victory over Sandy Creek in the spring, and a 41-13 win over Griffin in a recent preseason scrimmage. Expect to see a steady dose of Gerald Green. The senior running back is committed to Georgia Southern.
Kell's 5-6 mark from 2017 included a first-round playoff lost to Flowery Branch. Sloan arrived in May of last year and sums it up this way. "Its's about building relationships," says Sloan. "You learn how to coach every kid. They know what I expect and I know what they struggle with and what they're good at." The Longhorns graduated seven starters from last season's offense, but quarterback Evan Conley returns. A senior, Conley is committed to Appalachian State. Eight starters return for the Kell defense, led by senior safety Nick Ross, who is also an Appalachian State commit.
So, let's ring that alarm clock bell and get these teams going. Both coaches have their gameday plans. Kell will spend Friday night at a local hotel. "We will get them up early," says Sloan. "Get up around 5:15 on Saturday morning so they can get a good meal in. We will go with some eggs and bacon, not too close to gametime."
East Coweta will have a longer drive from Sharpsburg. "Our buses will pull out about 6:15." says Small. "We may just have a sleep over here at the school to make sure everybody gets here on time. They will be so excited, it won't be difficult."
OK, coaches have made their check list and everybody is awake, had their pregame meal and on the bus. Now comes the biggest hurdle, the building, Mercedes-Benz Stadium. Remember, most of these guys have never been to a stadium with a roof that opens and closes. Now they will get see what it's like to actually play in one. They will also have to get used to that halo board that will have the scoreboard and clock in a circle above their heads. The team that wins this game could be the one that gets past the "Wow Factor" first.
"I don't think you ever sleep well at night before something like this," admits Sloan. "I think we will try and get them there early so they can work out and see that it's just a football field, it's 120 yards long. We will try and harp on that."
"The environment may change but the expectations are still the same," says Small. "I may walk in there and pass out, but I'm not playing. That 'wow factor' will be awesome for everybody involved. Once you get in there and get a look at it (halo Board), remind them that it's still going to be there when the game is over. Let's make sure that the right thing is on it at the end.
Don't forget, Football Fridays In Georgia returns with live broadcasts of Georgia high school football every Friday night. It all starts with Carrollton at Rome on Sept. 14 on the great GPB!
Secondary Content
Bottom Content