Section Branding
Header Content
Walton Has Unfinished Business To Complete
Primary Content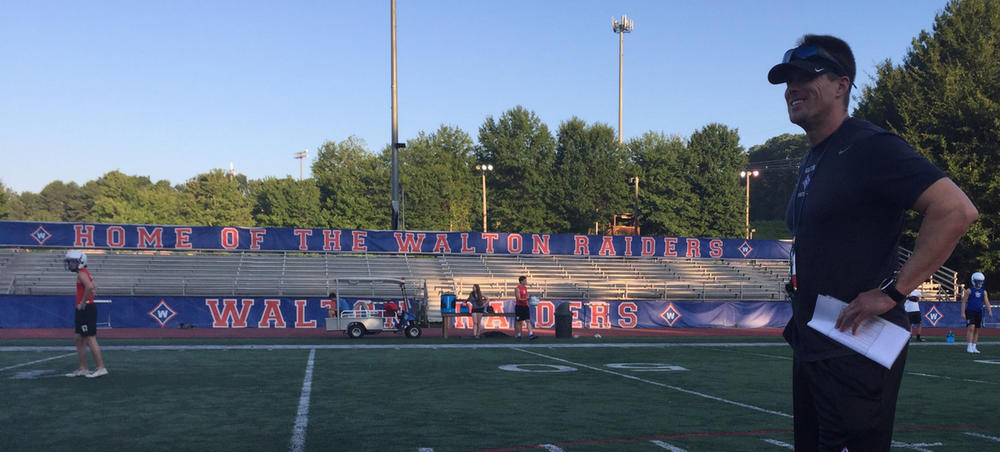 The dawn of a new season at Walton High School in East Cobb County has not gotten here fast enough.  After an undefeated regular season and one playoff win in 2017, the Raiders lost to Colquitt County 28-21 in Round 2 of the 7A playoffs ending what had the makings of a dream season at 11-1. 
"At the time it was very disappointing," says head coach Daniel Brunner during a late July early morning practice in Raider Valley.  "We knew we had a chance to make a run at state, but we have used the loss to fuel the fire."
Watching a spirited practice which began at dawn, the 2018 Raiders appear to have plenty of fuel.  Senior wide receiver Dominique Blalock, who is committed to Georgia and senior quarterback Austin Kirksey, committed to Nevada-Reno, are just two of the team's senior leaders who echo their head coach. 
Kirksey says the Raiders use that playoff loss as motivation and adds, "We have higher expectations this year." 
Blalock agrees. "It has provided great motivation. It makes me want to compete harder and win more games."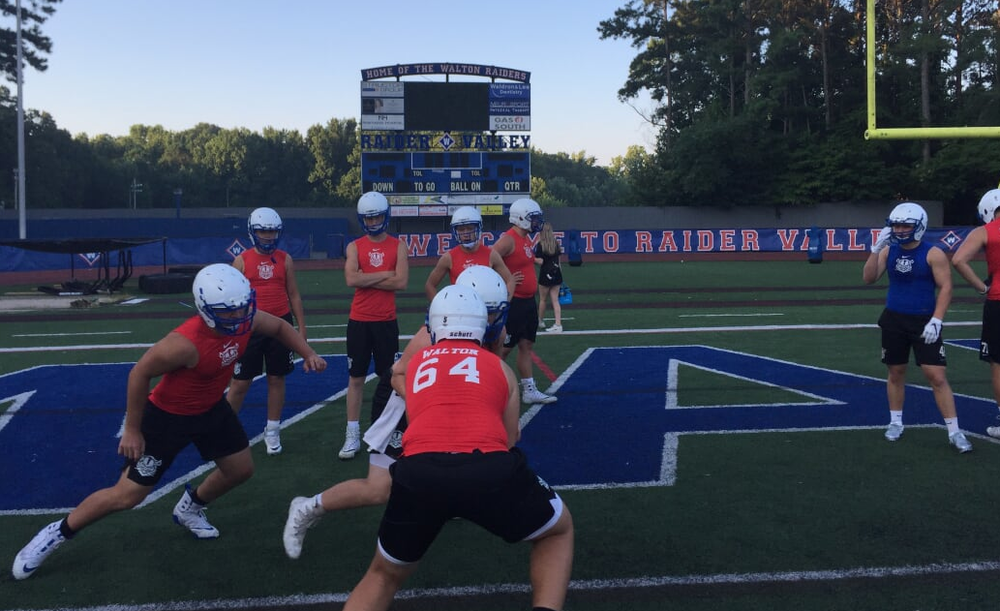 Coach Brunner says his Raiders have worked hard through the off-season and understands the high expectations facing his team in 2018, but the Raiders also know they must take things one step at a time. 
"We set a goal every year to win Region, then go as deep as we can."  Brunner does not feel the team did that last season, but will not talk about a possible run at a state championship this year.
The challenge for this team "is fighting complacency," according to Brunner, who thinks a lot of people were "satisfied" with what the team had accomplished.  "The challenge with high school athletes is overcoming success."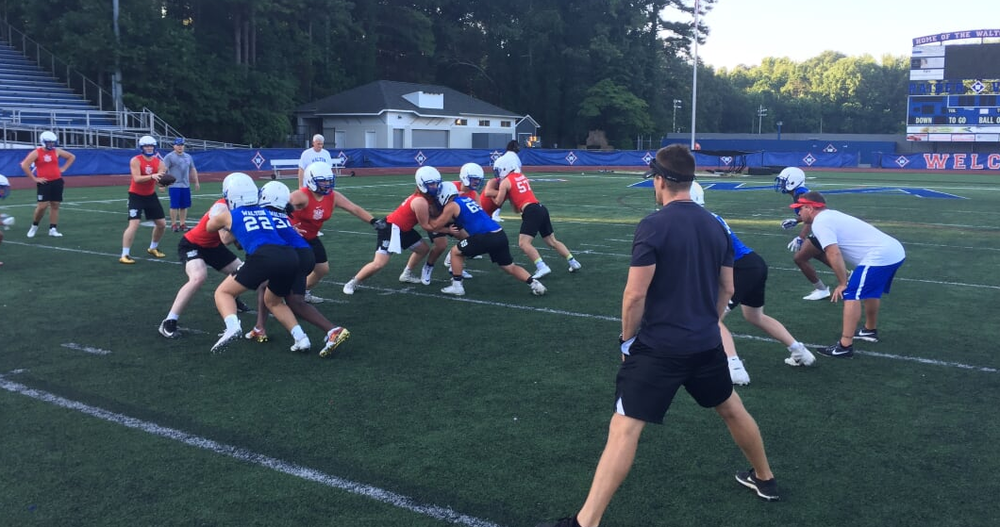 Brunner is facing that now.  The Raiders struggled to a 4-6 record in 2016 which led to a change in head coaches.  The 11-1 record in Brunner's first season at the helm has led to the renewed high expectations.
Part of the coach's challenge now is making sure those 11 wins are not taken for granted. 
Brunner credits Kennesaw State head coach Brian Bohannon with saying it best, "Yesterday's headlines are today's fish wrap."  Brunner says his kids have done a good job fueling their fire and are driven to compete in everything they do, on and off the field.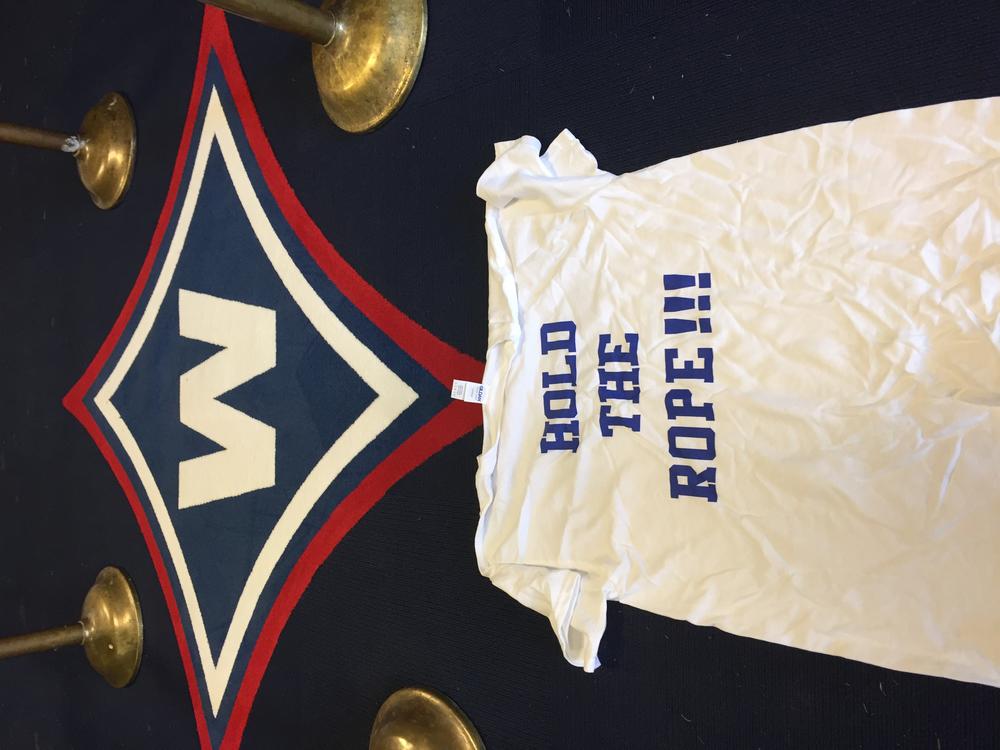 High expectations are part of what has led to the Raiders' slogan for the upcoming season:"Hold The Rope." 
The R-O-P-E stands for Response dictates Outcome and Process is Everything. 
No one is going to have a good day every day and on a football team, it's up to the group to pick each other up.  The Raiders senior class is loaded with three-year starters and Brunner says the group has done a great job with the team.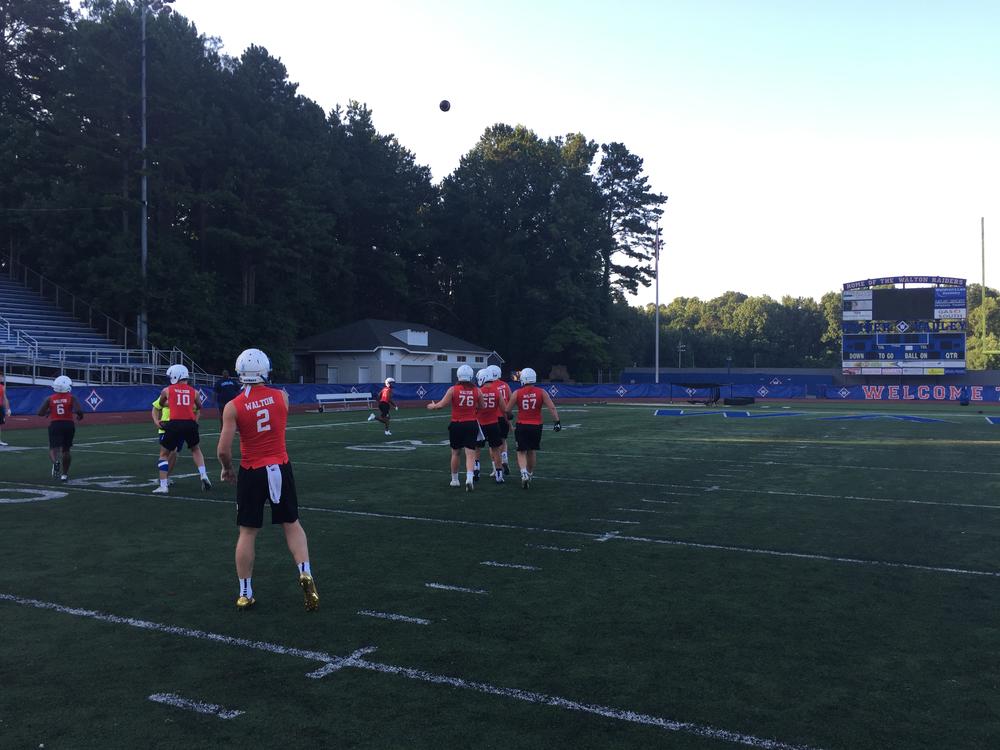 No position permeates a football team more than quarterback.
In senior quarterback Austin Kirksey, who is looking forward to playing in college at pass-happy Nevada, Brunner says "we feel we have the best quarterback in the state."
The coach adds how Kirksey can really throw the ball well, "but his leadership and work ethic" are what separate him from most prototypical quarterbacks. 
Director of Football Operations Monty Bumper agrees saying Kirksey "has the "IT" factor and is a winner."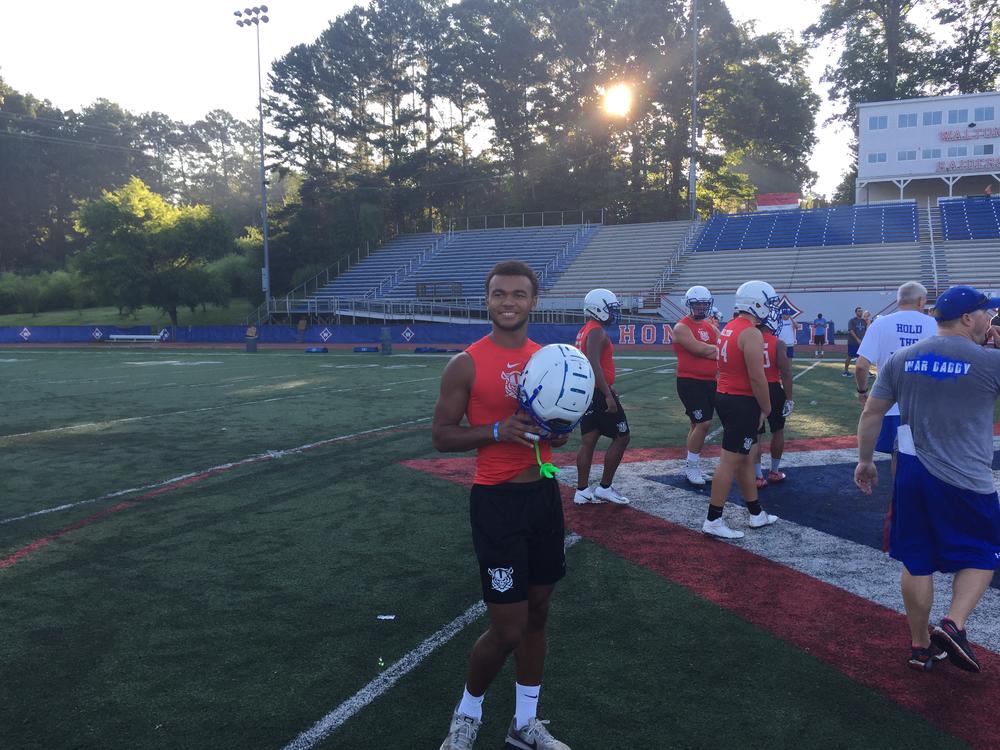 Senior wide receiver Dominique Blalock is remarkably focused on his senior season at Walton despite being one of the most highly recruited athletes in the south and a Georgia Bulldog commit. 
Brunner points out how Blalock received his first college scholarship offer as an 8th grader, "before ever playing a snap in high school." 
Blalock is looking forward to UGA, but insists he is a full commitment to Georgia and just wants to enjoy his senior season at Walton.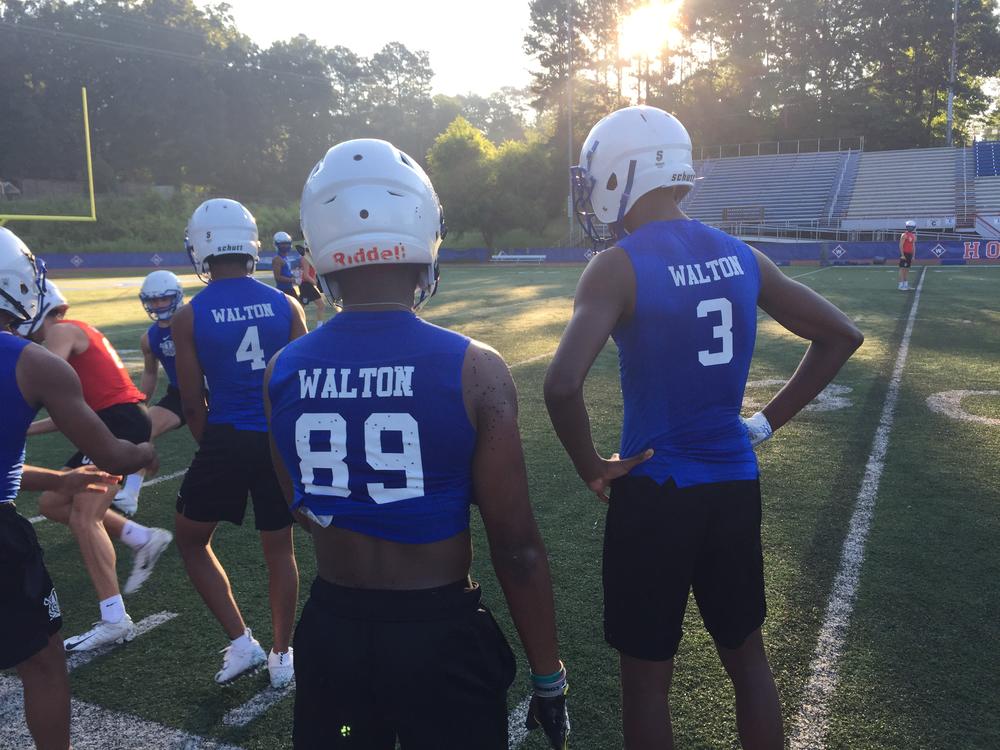 The Raiders' senior leadership extends beyond its two most recognizable offensive stars.
The defense has five returning starters who are now seniors along with a sixth who transferred from rival Lassiter as newcomer Brandon Spencer (No. 89) joins B.J. Gibson (No. 3) as Walton's starting corners. 
The defensive leadership is a big part of a senior group committed to making sure each day becomes better than the day before.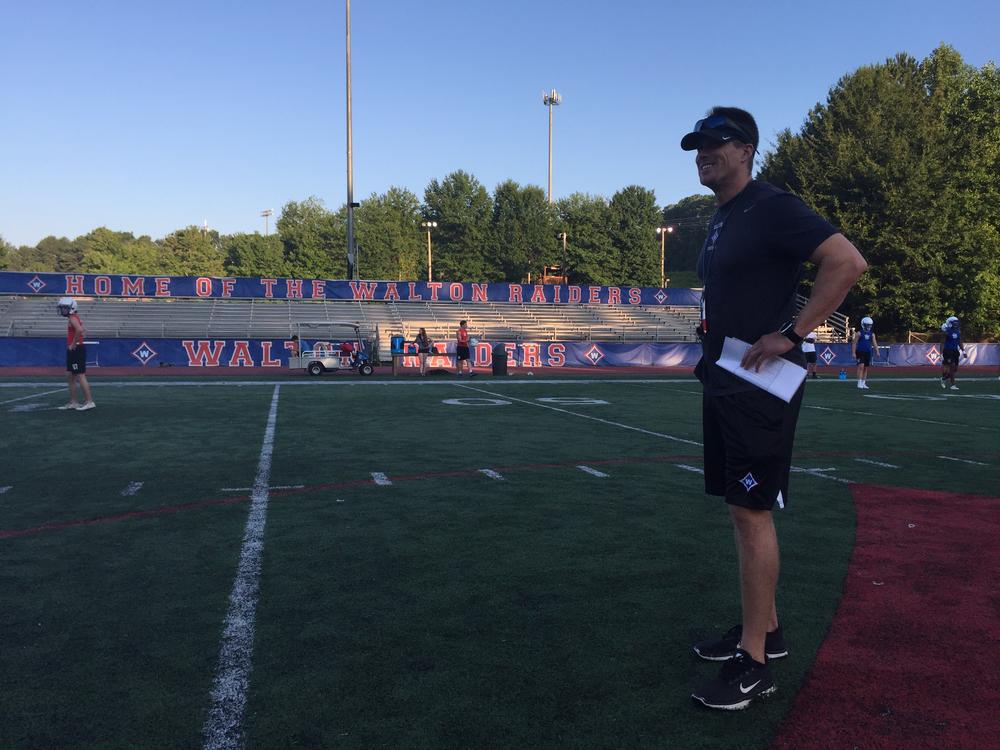 Brunner says he truly believes that Walton has established a team able to compete for a regional title every year.  For the seniors, there is only one season left and Dominique Blalock says, "It's going to be fun."
Secondary Content
Bottom Content