Section Branding
Header Content
New Faces In New Places: Dudley, Cofer Dig In At New Schools
Primary Content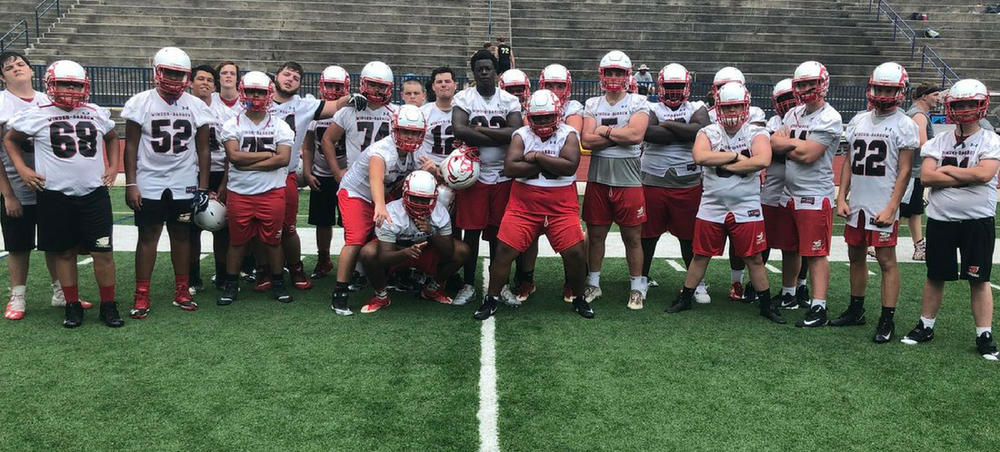 With a new year of high school football approaching…
(Well, who are we all kidding? It never left…)
There are some new faces in new places and there are some familiar faces in new places. GPB Sports decided to give some of those coaches in the second half of the last sentence a ring and see how life is as they're back being the No. 1 guy at their new schools.
Ed Dudley has returned to be a head coach at Winder-Barrow, taking over for Heath Webb who moved on to Gainesville. And they'll play each other in Region 8-6A. You'll remember Ken Cofer from a few places in south Georgia (Cook and Bacon County) and he's now in the Single-A "Region of Doom" at Wilcox County. 
Dudley is getting settled in with the Doggs after being an assistant at The Wesleyan School…
"It's good. I missed cutting the grass and doing the laundry," Dudley admits. "I used to joke with my wife, Lynn, that my phone never ran out of a charge when I wasn't a head coach. But I missed being a part of the game and doing all parts of the game."
His resume has head coaching stops at places like Walton, Ware County, Carrollton and Buford. And he's seven wins shy of 200 for his career heading into his new chapter in Barrow County.  
"There were some good stories about the job and how I got it," Dudley says. "I actually saw it on a national website/coach's app and I sent a resume since I knew the athletic director. I didn't hear from him after I sent it in at first. So, I waited, about, 48 hours and I reached out to the AD as to why he hadn't e-mailed me back. 
"He thought I was joking with him when I sent the e-mail. He didn't think I was serious. I told him that, yes, I WAS serious. It's a great school and a great location for us."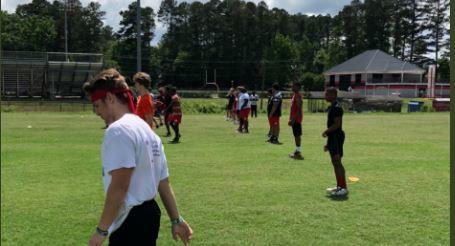 Dudley told me that he makes a point to call his predecessor at least once a week to thank him for leaving the program in such great shape. The kids are "trained up," as Dudley says, and he's had a blast so far with them. Winder-Barrow is a program that is in a geographic pocket in northeast Georgia where, unless you're really looking, the program is going about its business rather quietly.
Successfully… but quietly.
The last four years, the program has been in the postseason and Dudley wants to take the team to the next level -- a deep playoff run.
"We need to improve our execution, first off," Dudley admits. "In our Spring game, we were a little rough and tumble at times. But we're having to replace a four-year starter at QB in Brock Landis. Jaden Sullivan has some big shoes to fill. We have to be hitting on all cylinders."
Defensively, they have Logan Cash -- a Clemson commit -- as the bell cow. Cash is a 6-foot-3, 260-pound defensive end that was looked at by almost four dozen schools before he decided a month ago to keep going up I-85 for his next level learning.
Having 23-and-a-half sacks last year will get everyone's attention. And, it certainly got Clemson defensive coordinator Brent Venables' attention. For the Doggs, the entire defensive staff is all returning as is the front four and a good bit of experience on the field.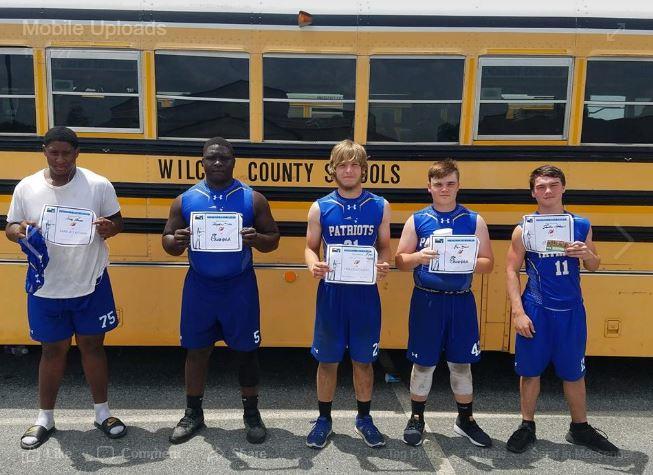 Dudley admits Cash will have to make an impact offensively as well as part of the nuance of the team's output.
There are a couple of 300-pounders on the O-Line to act as a nucleus on the other side of the ball to protect the new signal caller as well.
"Winder has got a rabid fan base," Dudley says. "We're flying below the radar up here and I have seen, firsthand, that everyone cares about the whole experience. Band. Cheer. Football. Everyone is so in-tune with each other and the Friday night experience. It's really cool. 
"If you take a step back, and look at the big picture, it's all about the experience and the memories. The positive things… A group of kids working toward a common goal… It's what they get out of it. That's been refreshing to see that from everyone here. Yes, they want to win and it's all about the W. But, at the same time, we have a bunch of kids that are being supported by the Winder-Barrow community. 
"Kids have worked hard in the off-season and we have a positive vibe here as we're looking for a good season."
Cofer was most recently an assistant for Rex Hodges in Eastman at Dodge County. He gets to move in to a newly constructed high school that was recently completed and he's noticing a county, rooted in the towns of Rochelle and Abbeville (20 miles east of Cordele), that is helping out with the little things that make a big difference.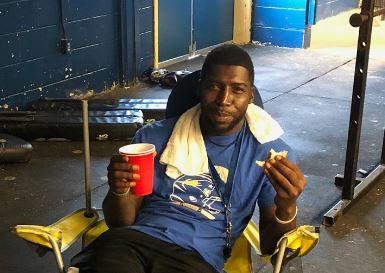 Even things as simple as peanut butter and jelly sandwiches paired with chocolate milk after weight training and people who don't have ties to the program driving up to the coach with trucks full of stuff that they think might help... and asking where they can put their cargo.
For the son of a coach, those kinds of things are humbling as the Patriots are in for a fight in Region 2-A:
"It's good to be back in the game," Cofer admits. "Working with Rex Hodges has been a good experience. What happened at Bacon took a lot out of me and tore me down a little bit. Working with the coaches and kids at Dodge, I can't say enough about them. They took me in and I don't know how to explain it. I still live over there and we had some good football teams.
"I have a great staff here, younger guys, and we're just breaking the kids in to a new way of thinking. We're getting a new weight room soon and we're teaching basics. Our lines are going to be key for us this year. We don't have a Nick Marshall this season, but we do have some athletes." 
Cofer admits that he has had to dial back the playbook a little bit in practice after the initial introductions. But he also says that he has 46 athletes right now ready to represent Wilcox County on the field. If a freshman is good enough to play, he'll get reps. And the middle school team is practicing with the varsity to get everyone together, acquainted, and ready to play- for this year and the future.
"I think being in this region is a positive," Cofer says. "I'm still trying to get used to the power rankings in Single-A. I want to play the good teams to get points you need to make the playoffs. But, even going back to my time at Cook, I always say that you can't play cupcakes. You have to play tough teams to get ready for a championship. If you're playing good ball and beating who you're supposed to be, you ought to get in to the postseason."
If he can get a win over one of the region's perennial powers, Cofer thinks it will give the Patriot program an added boost of confidence going forward. They'll try and be as physical as they can.
"I have an AD in Josh Owens, who is from here, and he's busting his tail to make sure we have everything we need," Cofer says. "The administration has been amazing here. And the Chairman of the Board of Education, Mr. Barry Collier, coached with my dad back in the day. I didn't know that until the job was offered to me. I have a little history from him when I was little, so that's really nice."
They just had a "Meet the Patriots" night last week and everyone is really excited about the future. But there's a lot of hard work ahead and Cofer has an idea at the top of his "To Do" List for 2018.
"We want to make a playoff run," he admits. "I want to win right now and we're going to keep putting that in our kid's heads. 
"We want to do it right now."
Secondary Content
Bottom Content