Section Branding
Header Content
Headed to the Mercedes Benz Stadium!
Primary Content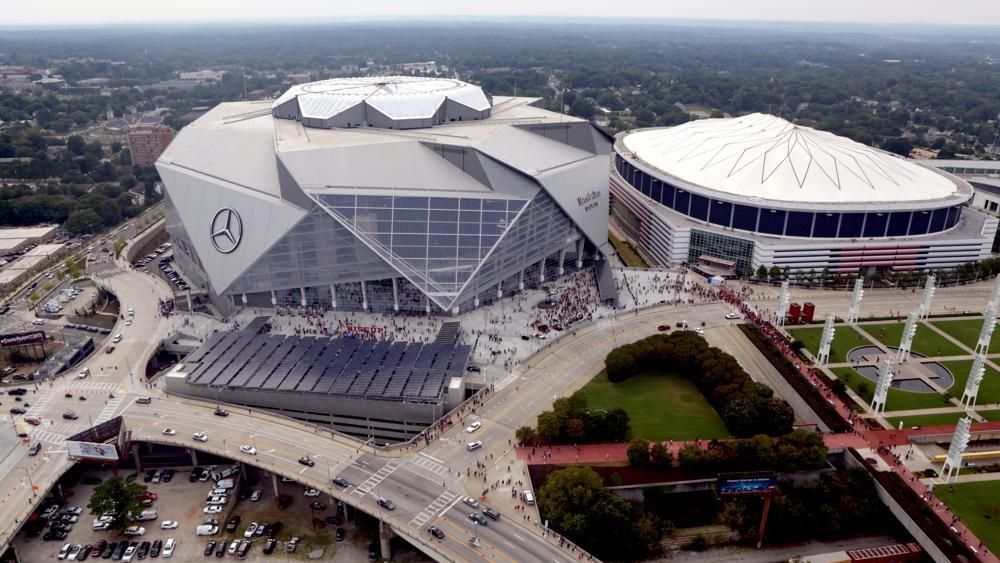 This 2017 Prep Football Season has gifted we football broadcasters, writers, fans, players and coaches with some memorable moments. It will go down as an historic year, since this weekend, sixteen high school football teams from all across the State of Georgia, will be the first ones to play for a Prep Title in a spacious new facility called Mercedes Benz Stadium.
For several years, the GHSA semi-finals were played at the former Georgia Dome, followed by the title games being moved to that facility a few years later. The Dome will soon be a distant memory, even though it was just removed from next door to the beautiful new Mercedes Benz Stadium a few days ago.
 I will never forget some of those classic games I've been blessed to broadcast in the Dome in years past, but I am excited about being a part of this weekend's State Championship games in Atlanta at this sparkling new facility.
The two-day event kicks off on Friday morning at 10AM when defending champion Eagles Landing Christian plays Athens Academy in the Class A Private Division game. Then at 1PM, it's Peach County and Calhoun for the 3A title. At 4:30PM, the defending 5A Champions, the Rome Wolves play the Warner Robins Demons.
The curtain comes down on day one at 8PM on Friday when the Lee County Trojans and the Coffee High Trojans meet for the 6A Title. The irony of this game is that these two teams are from the same Region, 1-6A and met during the regular season, but have now played themselves through four weeks of tough playoff games to meet yet again to settle the State Championship. Lee County took the regular season matchup, 23-7.
The second day of festivities kicks off on Saturday morning at 10AM, when the Irwin County Indians of Ocilla, play Region 2A foe, the Clinch County Panthers from Homerville in yet another rematch. This day two opener promises to be a classic game, much like the first meeting this year when Irwin County downed Clinch County 21-7.
Two newcomers to title tilts meet in game number two at 1PM on Saturday. Hapeville Charter of south Atlanta will meet Rabun County of Tiger for the Class 2A crown. Both teams are loaded with talent, and fans are looking forward to an offensive explosion when these two teams take the field.  
The 4PM game on Saturday features Blessed Trinity and Marist for the Class 4A Title. The Titans and War Eagles are not strangers to Championship games, and this battle promises to be memorable one. Both these teams are solid in all facets of the game of football.
The Class 7A, Saturday night 8PM game is a south Georgia-north Georgia showdown. It's the Colquitt County Packers from Moultrie and the North Gwinnett Bulldogs from Suwannee. Both of these teams have surprised most prep observers by fighting their way to the title game. Colquitt County was rumored to be in a rebuilding year and North Gwinnett had to replace a long-time coach, but both of these teams have played their way to the finals.
Colquitt County has played all of its playoff games on the road and one more trip to metro Atlanta is in the offing for the Pack.
It's Title Time for the GHSA 2017 Prep Football season and it all happens at the new Mercedes Benz Stadium. GPB-TV will broadcast all of the games live and you'll want to download the GPB Sports App as well.
Join Jon Nelson, Nicky Williams, Matt Stewart, Larry Smith, Bob Rathbun, Paul Crane, Bryan Lamar, Sam Crenshaw, Hannah Chalker and me for all of the action.
We are all #bound4thebenz.
We'll see you this weekend in Atlanta…enjoy!
Secondary Content
Bottom Content