Section Branding
Header Content
A Case Of Deja Vu For The Spartans
Primary Content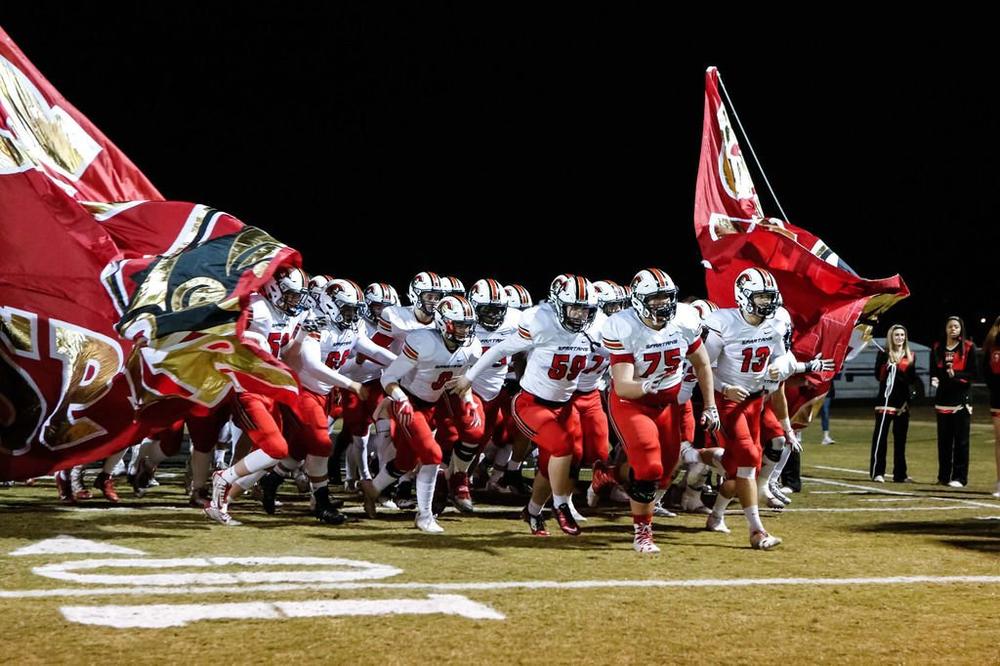 Wait a minute, didn't this just happen?  There is a football team in the state of Georgia that posted an 11-1 record during the regular season, their only loss was to a team from outside the state, and they will face Peach County in the semifinal round of the state playoffs. To quote Yankees Hall of Famer, and clubhouse poet laureate Yogi Berra - "It's DejaVu All Over Again."
Yes, things might seem the same, but not so says Greater Atlanta Christian School Head Coach Tim Hardy. Every year is new because everybody is different," says Hardy. " Everybody has grown a little and changed a little since last year, and there are new expectations. That sophomore who played a little last year is expecting to play a lot. We played more guys this year that we have ever played. That means we have a lot of depth, and they have all earned their time."
While this team might look the same with the same record one major change at GAC has been the departure of Davis Mills for Stanford. Last season, Mills torched opponents for 34 touchdowns with only 1 interception. Replacing Mills with any one person would be hard. So, the Spartans used two. Junior Josh Rose and Sophomore Jackson Hardy have shared the job with excellent results. " Neither one is Davis Mills," says Hardy." We have had 27 touchdowns, and only 2 picks out of that position. I think we have gotten good production. We have asked people to do what we think they are capable of doing and they have done a great job.
"Hardy says one of the reasons the two systems has worked so well is that the two get along very well and each brings different things to the table. As you might expect, Hardy is very proud of how his son, Jackson, has handled the challenge. " He makes it easy, " says Hardy. " He is an outstanding young man, carries himself with great maturity and is respected by his peers. He gets it!" Hardy added that on the field he's coach and at home he's Dad and it works great.
There is much more to this Spartans team than a superior passing game, they can run the ball just as well. You might say it's a  "pick your poison" offense. Senior Kyler McMichael is bound for Clemson next year, and has accounted for close to 1400 yards and 23 touchdowns. " Kyler is so explosive with the ball in his hand," says Hardy. " Through 13 games he is averaging 11.9 yards per carry. We have guys who run hard and run well. The one dimensional team gets beaten at every level, high school, college and professional."
The GAC Spartans have benefited from superior play up front all season. It is the strength of the team and it allows the offense to be so productive, while setting the tone defensively. The leader is Christopher Hinton. The junior offensive linemen who also excells at defensive end is committed to Michigan; he and younger brother Myles are the sons of Former Atlanta Falcons Pro Bowler Chris Hinton. "Chris is talented, but what's best is his attitude and work ethic," says Hardy. " He has a drive and desire for answers and to find those answers. He is the total package and he has taken his game to another level. We are blessed to have he, and Myles as part of our program."
That brings us to this Football Friday in Georgia when Greater Atlanta Christian (12-1) will host Peach County (12-1) in the semifinal round of the GHSA State Playoffs. Yes, the same teams met a year ago in Fort Valley with GAC winning 14-7 to advance to the state championship game. "We have total respect for Coach Chad Campbell and his staff, says Hardy. " The 2017 Peach County Trojans are an outstanding and complete football team. They play with speed, physicality, and soundness. We have a great challenge ahead of us and we will have to play well in all 3 phases."
Both Tim Hardy and the Spartans are well aware of what awaits the winner of Friday night's contest – a chance to play in Mercedes-Benz Stadium next week. Hardy has been to Falcons new home. " It's the 8th wonder of the world", says Hardy." That place is the real deal. Obviously it would be a thrill to play there in the first year, and to do it the same year the College National Championship game will be there. That would be pretty cool."
The Spartans suffered a bitter loss to Cedar Grove in the 2016 state championship game. Once again, they are a win away from a shot at the state title that eluded the school for so long. " Do we want to win a state championship? Absolutely!" exclaims Hardy. " GAC hasn't won one. We've been close a few times. I'm just glad we are playing in the semifinals. No doubt, the intensity level is higher, the yards are tougher, and the margins get tighter. But, that's why you do it .
Secondary Content
Bottom Content