Section Branding
Header Content
Panthers Have Much To Be Thankful For
Primary Content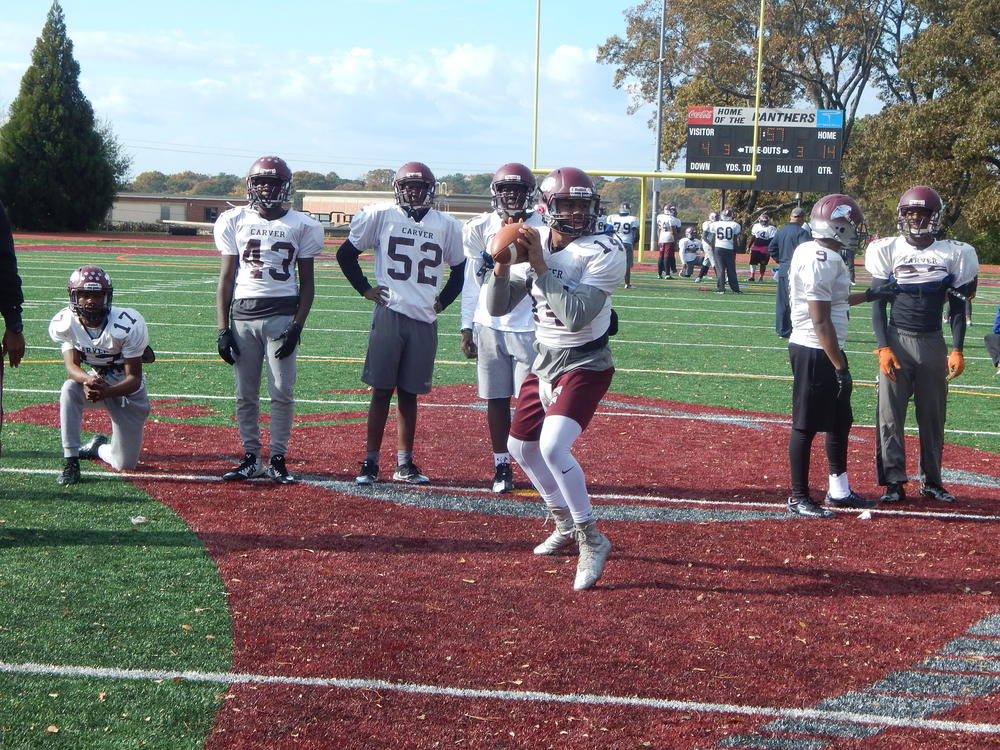 It's Thanksgiving week and as the GHSA State Playoffs reach the quarterfinal round. Teams around the state who are fortunate enough to still be qualified are gearing up for another big game; they are the Elite Eight, the best of the best in each class, for some programs like Colquitt County, Calhoun, and Buford practicing on Thanksgiving week is an annual thing. With no classes practices are shifted back to the morning hours just like the first week of August before classes began. For some it will mean a team meal on Wednesday with a short morning workout before family dinner on Thanksgiving Day.
It's a different kind of Thanksgiving week at Atlanta's Carver High School. The Panthers are still on the prowl in class AAAAA and couldn't be more excited. "This means a lot to us," says Head Coach Darren Myles." Because none of the guys who have been in our program for 4 years have ever witnessed this. It's a blessing to practice beyond the regular season, and then the second week, but Thanksgiving?  Now you are considered one of the top 8 AAAAA programs in the state."
Playing on the holiday week is a special treat for a team that has seen things fall into place for them this season. Experience is a key for this year's Carver team with lots of second and third year players." Everybody, including coaches made a personal commitment toward improving," says Myles." The work they put in, the vision they followed, they trusted in their coaches and now it has all come to fruition."   Sounds pretty simple, doesn't it? Most coaches around the state will tell you that it's easier said than done. At Carver, the coaches had to work a little harder on a player who is now the teams brightest star.
Quindarious Monday is a player that commands the attention of opposing teams. The hard-hitting safety, who is ticketed for the Under Armor All American Game in January, is just as potent playing wide receiver on the offensive side of the ball. The 6'3 178-pound senior is committed to Auburn after receiving offers from practically every team in the Southeastern Conference, plus Clemson, Florida State, Oklahoma, Penn State and Oregon. His coaches praise his work ethic, and his impact on younger players. Although, it wasn't always that way as a 10th grader, Monday didn't like to listen. "He didn't take constructive criticism well," remembers Myles. "When we gave him criticism he would always defend why he was doing what he was doing. As a junior he bought into spending more time in the weight room, and was better at receiving constructive criticism. Now he is more coachable. As a player he is unbelievable and sensational, and as a person he is even better."
Darren Myles tells the story of Quindarious Monday like the tale of an old friend. Not the first player that has had potential but didn't like to listen, or show up for practice on time or take school work seriously. Of such was the Carver that greeted Myles upon his arrival in 2005. The football program was in shambles. The Panthers last winning season was 1986 and each week it seemed they played in a game that started at 5 o'clock and was poorly attended. "I wrote out a four-year plan," says Myles. "We would compete, be disciplined, and I would hold the players accountable. My first summer at Carver, we spent two weeks working on conditioning and agility with no footballs on the field. I wanted to see who wanted to work and who just wanted to play football."
As Myles worked to reshape the football, another transition was taking place as the school's buildings were restored and upgraded, and the name changed to The New Schools At Carver. The NSC would offer extensive courses in areas like Early College, Technology, and Entrepreneurship. After going 3-6 in his first season, and 7-3 in 2006, the 2007 Panthers posted an 11-1 record and captured the region title. All of a sudden Carver's games were moved to the 8 o'clock, primetime spot at Lakewood Stadium. The community responded to the team's success on the field, while inside the school building something else was happening. College recruiters were starting to be seen walking the halls at Carver and finding students who excelled on the playing field and in the classroom." I had relationships with college recruiters from my time at Douglass," says Myles. "They would stop by just to say hello. It made the guys get serious about their studies. It has helped more or our players graduate and be eligible for college."
After doing what some thought impossible, many started to wonder how much longer Myles would remain at Carver. He had resurrected a program that had been a doormat among Atlanta Public Schools football programs. Who would blame him for seeking greener pastures? With his son Darren being a highly recruited star on that region championship team, Myles had his ticket to make a big career move. " I had chances to be an intern at different universities, " recalls Myles. " One thing I told myself was that I was not going to prostitute my son to try and elevate my status as a coach. If I get to that point I wanted to feel that I earned it because of my coaching ability."
So, Darren Myles stayed and is now in his 13th season at Carver. A school in Southeast Atlanta, with a weight room the size of a regular classroom, in a school system that last produced a state football champion in 1973, but for the kid who used a college football scholarship to escaped New Orleans' 9th Ward and find a better life, there is no other place that he'd rather be. " I still get asked that question a lot," says Myles. "My wife asks me; my friends ask me. We don't have the greatest facilities, but we don't use that as an excuse. We will continue to develop them with what we have."
On this Football Friday In Georgia the (11-1) Carver Panthers will host the (11-1) Jones County Greyhounds. The Carver Panthers have much to be thankful for this week. They are practicing and playing football when all but one other APS team is done for the seasons. Thankful to be playing in their 13th game of the season, only the 1967 Carver team played more games in school history. Most of all, the Panthers are thankful for a coach like Darren Myles who sees a bit of himself in many of them, and wants to see them use a sport to change their lives the same way that he did. Something to be thankful for, indeed.
Secondary Content
Bottom Content