Section Branding
Header Content
Cedar Grove's Ascension Is Noteworthy
Primary Content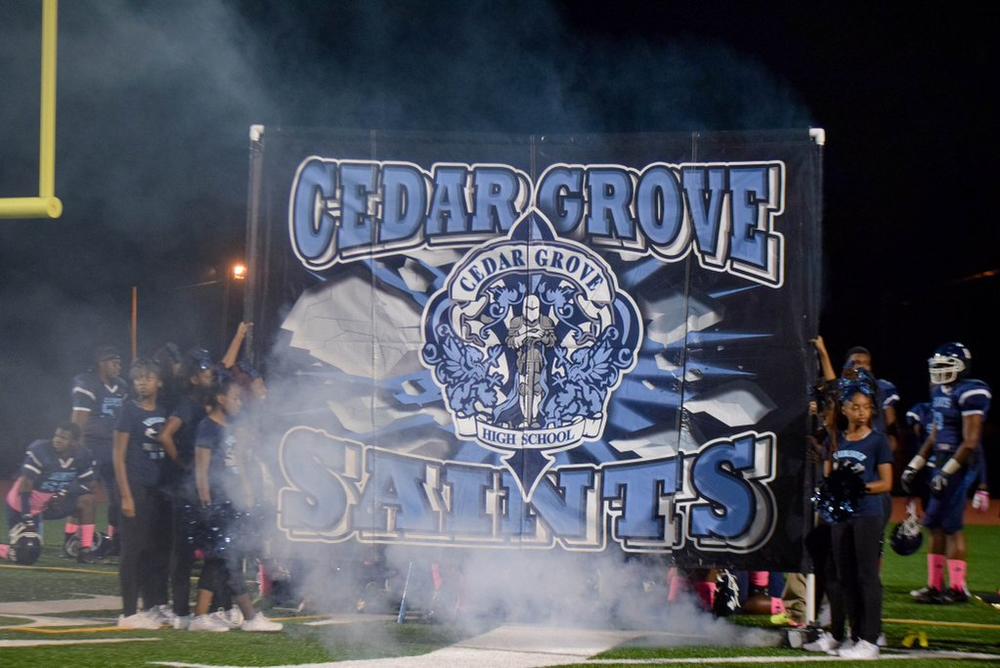 At first glance it looks like the Cedar Grove Saints are enjoying a season that mirrors the success of the 2016 team. That Cedar Grove team captured the first football state championship in school history. The 2017 version of the Saints have gone marching to an (8-0) record that includes avenging last season's two setbacks against Southwest Dekalb and Westminster. But, when you win a state championship things can change. Cedar Grove Head Coach Jermaine Smith noticed it back in June. "I saw it during 7 on 7 season," says Smith. "A team beat us and they celebrated like they had won the state championship. I explained to our team that this is how it is going to be. Everybody wants to beat the monster. You are now the monster and everybody wants to see you go down."
The make up of this year's team is different from last year's, which featured an offense that posted 45 points or better 8 times. The anchors of that offensive line were Netori Johnson and Justin Shafer who are now at the University of Georgia. " This team is younger," says Smith. "On this year the sophomores and juniors are the top players, guys like Jadon Hazelwood, Isaiah Ratcliff, and William Jenkins. It's a fresh leadership. "I remind them that success is not what someone else sees but its what you see and envision. The best way to get there is by being a good person."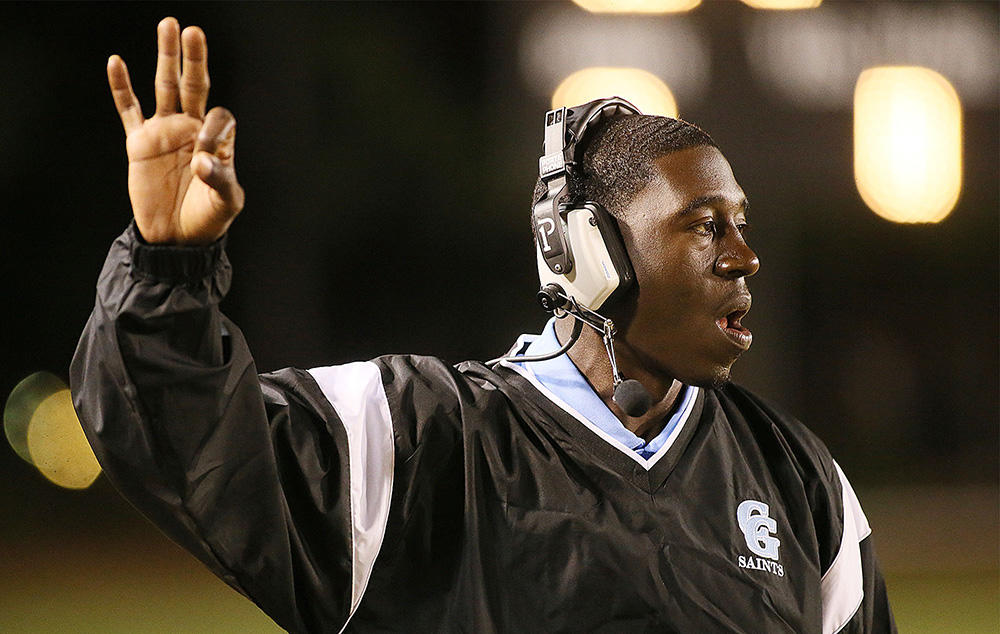 Fresh leadership.... It's something that Jermaine Smith wanted to provide when he became head coach at Cedar Grove in 2013 after serving as offensive coordinator there under Ray Bonner. Since taking the helm Smith has guided a program that has made a steady climb to the top. A 9-win season in 2014 was following by an 11-win season that ended in the semi-final round in 2015. Last year the Saints went (13-2), beating Greater Atlanta Christian for the class 3A title.
When asked what is one of the keys to his success as a head Coach Jermaine Smith refers to something that would be seen as old school in this day and age of social media, when coaches use tablets and 45 inch video screens on the sidelines. Putting pen to paper is something that we all do a bit less these days. Today's student rarely does it and we may soon see a time when it won't even be taught in schools.
During his time as an assistant coach at Cedar Grove, Smith took notes, lots of notes.  He was encouraged to do so by Coach Bonner. "He always told me to keep notes and I still have them to this day," says Smith, " I wrote about the things we did well and wrote about the things that I didn't want to repeat when I got my chance to be a head coach. Sometimes I will glance back to remind myself why we do certain things. "When asked if those notes have been moved to a laptop or iPad Smith just laughs and remembers that they are in the same theme notebook that Bonner gave to him years ago.
When Smith took the baton, Bonner encouraged him to do things his own way. Smith wasted little time in doing just that, starting with coaching staff.  He knew the kind of assistants he wanted and how much money he would have to pay them, so he looked for coaches who might not have been the best x's and o's guys, but they were dedicated to learning and growing together.
"It was a difficult process," remembers Smith. " I wanted a staff that wanted to teach, not just holler and fuss at the kids, but coach them to get better. My first year we had only 5 varsity coaches." Smith was able to gradually add several more coaches who were Cedar Grove alumni, but this year he continues to bear a pretty heavy load.  In addition to being head coach, Smith is offensive coordinator, quarterbacks coach and receiver's coach, but that is just for football. Smith is also boys track coach, and his track team has capture the state class 3A title the past two springs. "The work ethic across the board is the same," says Smith. I used the track championships to let the football team see that they can do it too."
Others have been keeping notes on the Saints rise under Smith's leadership. Carla Parker is Sports Reporter for the Dekalb Champion. "I remember when Smith took over the program in 2013 after coach Bonner retired," says Parker. "The program has soared. He has developed kids into some of the top players in the state. The players love him. He has definitely become one of the best coaches, not only just in DeKalb, but in the state."
On this Football Friday In Georgia, The Cedar Groves Saints will meet the McNair Mustangs and close out the regular season next Friday against Redan. Smith feels like his team is playing at about 70 percent right now with another 30 percent to go, and that he hopes they will peek at just the right time. If that happens we should look for the Cedar Grove Saints to play for the class 3A title again this year at Mercedes Benz Stadium, a place that Smith has yet to visit. " I pray that I get to see it this year," says Smith. The day that I go, I want our team to be playing in it." 
Secondary Content
Bottom Content