Section Branding
Header Content
The Pride Is Back at Douglas County
Primary Content
If someone says they hear a roar coming from the west side of Metro Atlanta you might think it's due to thrill seekers experiencing the first drop of a new roller coaster at Six Flags Over Georgia…A closer examination may reveal that the roar comes from a few exits farther. Where the Douglas County Tigers are off to a 5-0 start in 2017.
The roar that can be heard on Football Friday's In Georgia is coming from the students and the Douglasville community signaling that the Pride is back at Douglas County High School.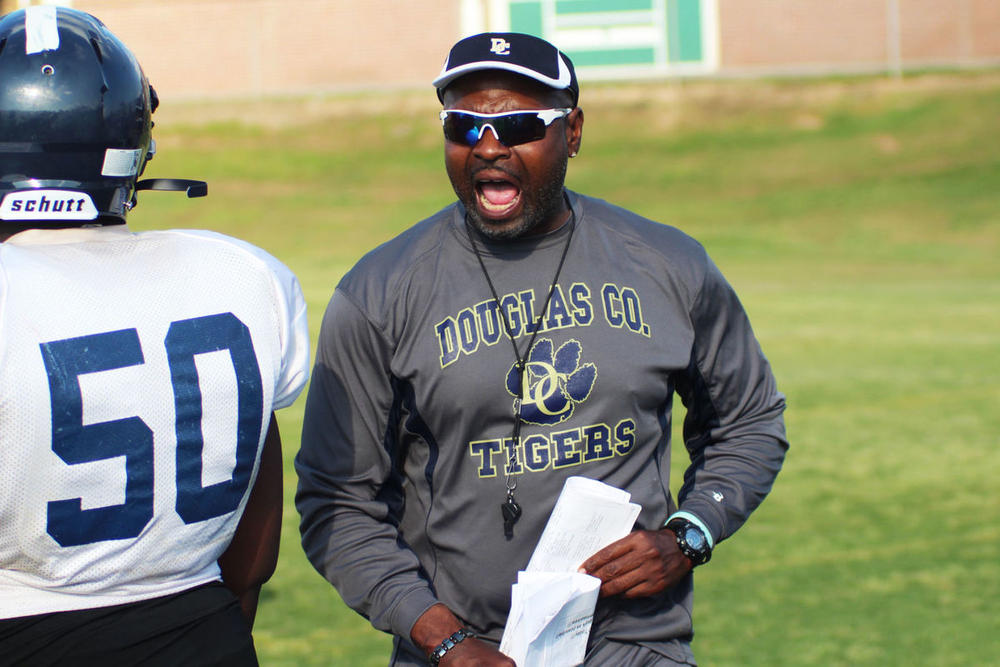 Hearing such a roar from the crowd brings a smile to the face of Head Coach Johnny White who after guiding his team to a 6-4 mark in 2016 now has an overall record of 11-4 halfway through his second season. It didn't take White and his staff long to start winning, the other task of preventing these Tigers from changing their stripes seemed tougher. The Douglas County program had been plagued by transfers," We had 15 of 17 seniors sign this time," says White. " Three of them went D-1, but most went D-II, NAIA or JUCO. Meanwhile, around Metro Atlanta, there were 7 players who signed D-1 scholarships who started their high school careers at Douglas County. We had to find a way to get the good kids to stay."
White had been an assistant and Head Coach at Creekside before joining the staff at Langston Hughes. White remembered Douglas County Andre Weaver when he was the school's track coach and Athletic Director so when the Head Football Coach's job opened White knew it was the place he wanted to be. "At Creekside we always admired the size of the Douglas County team," remembers White. " With it being a high academic school it was the best of both worlds for me."
The new coaching staff was impressed with what it found upon arrival in February of 2016. 60-70 players showed up at 6am for 10 days of early morning drills. After having the first winning season in 8 years, this year the players made demands on the coaches. "Since we have to play 15 games to win the state title, the players asked if we could do 15 days of early morning drills," remembers White. "This time 85 players showed up at 6am, on the line and ready to go. Every Tuesday, Wednesday, and Thursday in March they worked out in the morning, and lifted during 5th period, with some playing baseball, soccer and running track."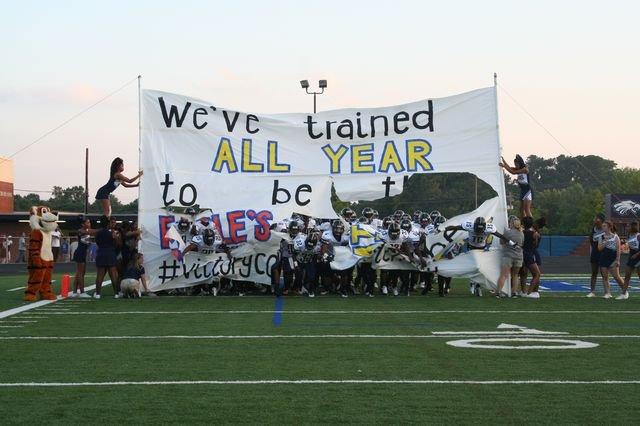 With their record at 4 -0, last week the Tigers faced their toughest test yet, against Langston Hughes. The Tigers have shared the same region with the Panthers for 5 years and had lost every year. To add extra drama to the evening, Langston Hughes Head Coach Willie Cannon is Johnny White's best friend. " Cannon arrived at Creekside the year after I did," says White. "It was like "Where Have You Been All My Life". We clicked right away running the defense for 6 years. He is my daughter's Godfather, so the game was like Family Feud."
The Tigers trailed for much of the game but railed behind Marquise' Collins 75 yard touchdown pass to Dariyan Wiley to win 30-27 and improve to 5-0. " He (Cannon) is not going to give me any breaks, " says White. " I must have aged 2 years last Friday night."  The Tigers dramatic road win over Langston Hughes seemed to validate the teams state ranking and expectations for what lies ahead. White, meanwhile, has no trouble keeping things in prospective. "I just remember the words of my old college coach (Sam Rutigliano)," said White. " The difference between a pat on the back and a kick in the butt is about 6 inches. Those 6 inches can lose a football game for you."
The Tigers hot start has earned them a state ranking and a special honor for their coach, who this week was named the Touchdown Club of Atlanta's Coach Of The Week. Stockbridge Head Coach Kevin Whitley was head coach at Creekside when White coached there. "I'm extremely proud of what the other Tigers and Coach White are doing," said Whitley. " I'm a fan of him and his team."
This Football Friday in Georgia Douglas County, the oldest school in the county, will face New Manchester, the newest school on the county. The Tigers have the look of a team that could win the region 5-AAAAAA titles. Johnny White knows that his team is no longer a secret and won't be able to sneak up on anybody anymore. After last week's win confidence has to be sky high, higher than that new rollercoaster down the road a Six Flags. You see it's been a while since they've had this kind of excitement in Douglasville. Just listen, the roar will tell you that the pride is back at Douglas County.
Secondary Content
Bottom Content