WATCH LIVE | Former First Lady Rosalynn Carter's Tribute Service at Glenn Memorial Church at Emory University
Section Branding
Header Content
There's a First Time for Everything...
Primary Content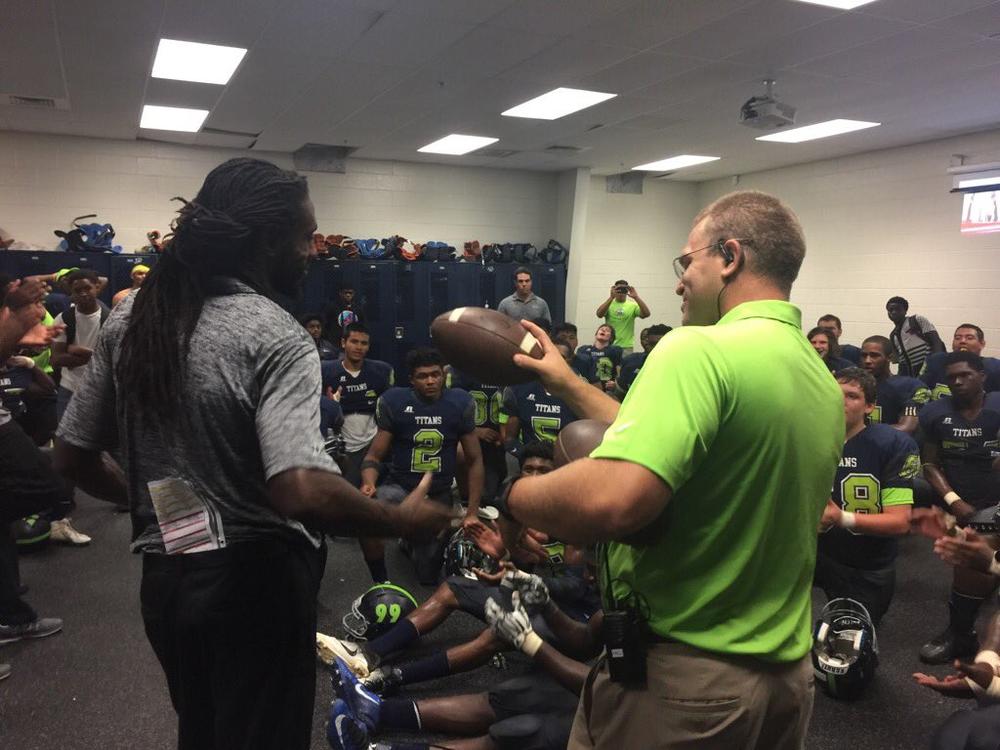 First thing I want to do this week is congratulate a couple of programs…

The Royal Knights of Stewart County won for the first time in 33 games with a win over Glascock County. I caught up with head coach Kelvin Smith down in Lumpkin and he likes the feel of coaching a small school in a small town.

Last season, he was the D-Line coach at Drew High just south of Atlanta. But his coaching resume has stops in 5A and 6A schools as well as head coaching stops in Alabama. He and his wife were able to find a place to live right up against the deadline they set to take the job and they're now 20 minutes from his wife's family in Eufaula, Alabama- which was really important.

In a school of 134 students, 28 of them are on his team. And they match the school's win total dating back to 2009. Smith is looking to make more history this season as they go.

Second program is Discovery High… shout out to head coach Efrem Hill and the Titans for their first win ever in school history last week in their 27-10 win over Apalachee. They get this week off before jumping in to region play in the new 6-7A.

Now, to the week that was…

Big Marvin was in control of action over the weekend in Macon as the Fitzgerald-Macon County game was pushed back to Saturday since the Bulldogs played Irwin County Labor Day because of TS Hermine. Here's one of the easiest game's he EVER shot since 112 points were scored. The Purple Hurricane racked up 581 yards of total offense and scored the most points for the program since 1933.

((HT: WMAZ-TV))

Fitzgerald 70 Macon County 42 Final #ffn #tailgate13 pic.twitter.com/vduOSetzK9

— Marvin James (@sportsguymarv) September 11, 2016




It was a busy night in the eastern frontier- otherwise known as the CSRA- as Lincoln County had their yearly visit over the river to play Abbeville (SC), Calvary Day took on Aquinas, and JeffCo played Washington-Wilkes (among others). Matt and Nathan have your look at another Football Friday Night

((HT: WJBF-TV))



Down on the coast, one of the big match-ups was involving Ware County and Grady taking the long road trip to Waycross. Ken and Christina have the look at how the Gators prevailed against an Earthwind

((HT: WTOC-TV))

WTOC-TV: Savannah, Beaufort, SC, News, Weather & Sports

We finish our trip up north checking in with our friends at Newschannel9 WTVC in Chattanooga. LFO and Gordon-Lee went at it and another region rivalry was ready in the mountains.



So, that brings us to this week…

It's a trip to Norcross for Archer and the Blue Devils. Andy Dyer's Team 8 schedule is ridiculous and his stop for Game 4 is a tough place. The "All-Access Pass" kicks off at 7 with kick-off itself a little after 7:30. So join Mark, Jackie, Matt, Larry, and me for another big evening of high school football.

And be sure to join the conversation on social media on the GPB Sports Facebook page, @GPBSports on twitter (or friending me @OSGNelson), and then there's always Snapchat and all those other ways to be a part of the conversation…

Play it safe, everyone… I'll see you at the stadium!
Secondary Content
Bottom Content