Section Branding
Header Content
The Black And Blue League
Primary Content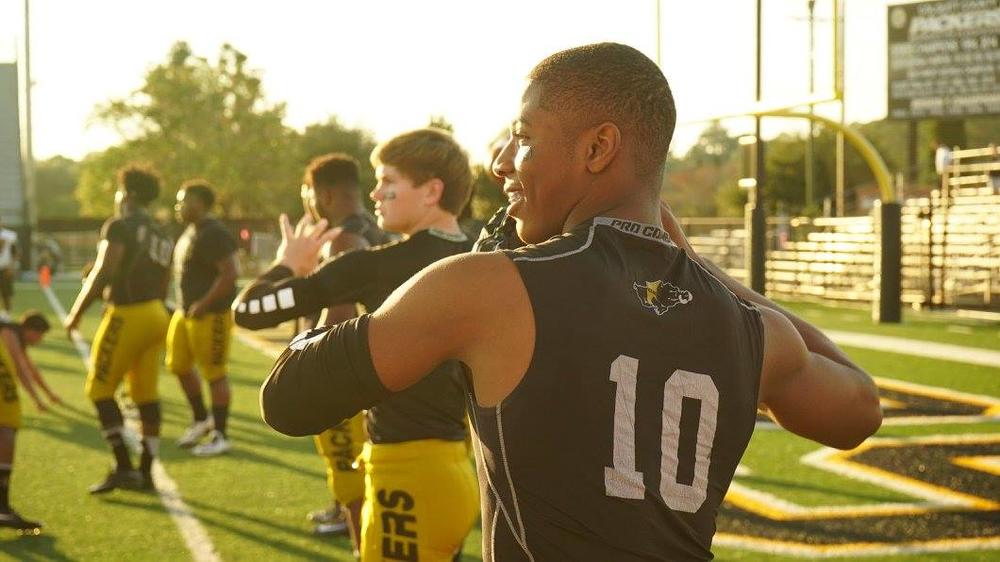 Region 1-AA in the southern portion of the state of Georgia has long been known as the "Black and Blue" league in prep football circles. The reason – the football played in this particular region is always physical, athletic, tenacious and very unpredictable. Many favored football teams are often upset by region opponents on Friday nights in that section of the state where communities such as Fitzgerald, Quitman, Blakely, Nashville, Pelham, Donalsonville and Thomasville turn out in droves to support their local football teams.
This past Friday night was no exception in region 1-AA as the Brooks County Trojans of Coach Maurice Freeman rolled into Fitzgerald to play the number two-ranked Purple Hurricanes at Jaycee Stadium and left town three and one half hours later with a hard-fought 21-17 win which they preserved with a late game goal line stand that kept the hometown team out of the end zone on three straight plays from the one yard line. With the win, the Trojans move into sole possession of first place in the region at 4-0, and now prepare the meet Early County, 5-2-1, on Friday night in Quitman. The Bobcats topped Pelham, 54-20 this past Friday night to move to 3-1 in region play.
Fitzgerald, now 6-1 on the season, finishes its schedule with road games at Pelham and Berrien and a home date with Seminole County, while Brooks County will meet Thomasville next week after its date with Early County this Friday night. It's always a fight to the finish for a statewide playoff berth in Region 1-AA. The 2015 season is no exception.
In other games across the state last week with surprise endings, Clinch County, 6-1 on the season, shocked highly-ranked Turner County, 30-16 in a Region 2-A showdown.
In Class AAAAA, Ware County fell to Effingham County, 24-21 in Region 3-AAAAA and Jones County knocked off previously unbeaten Houston County 24-17. Class AAAAA's top-ranked team, the Northside-Warner Robins Eagles, handed long-time rival Warner Robins its worst defeat in the annual games' history, 58-14.
Class AAA saw Jackson down Peach County by an unusual 3-2 score and Blessed Trinity downed Westminster 24-10 in a battle of Class AAA powers. Hart County picked up a key win with a 41-24 triumph over Jackson County.
Of special note to football fans all across the state, legendary Coach Ed Pilcher picked up his 250th win as a head football coach on Friday night as his Berrien County Rebels defeated Thomasville 35-22 in region 1-AA action. Pilcher has experienced success in his long career with stops in Early County, Thomas County Central, Bainbridge, and now Berrien.
As difficult as it may seem, we are now into week number ten of the regular season and all teams are trying to make the playoffs which begin in less than a month. It seems as if the season just got into full swing, but here we are at crunch time for all of the teams across the state. Some top games this week include: Dacula at Grayson and Mill Creek at Collins Hill in Class AAAAAA, Effingham County at Glynn Academy in Class AAAAA, Sandy Creek at Woodward Academy in Class AAAA, Morgan County at Elbert County in Class AAA, Early County at Brooks County in Class AA and Landmark Christian at Eagles Landing Christian in Class A. 
Secondary Content
Bottom Content