Section Branding
Header Content
Another Mize In The Spotlight
Primary Content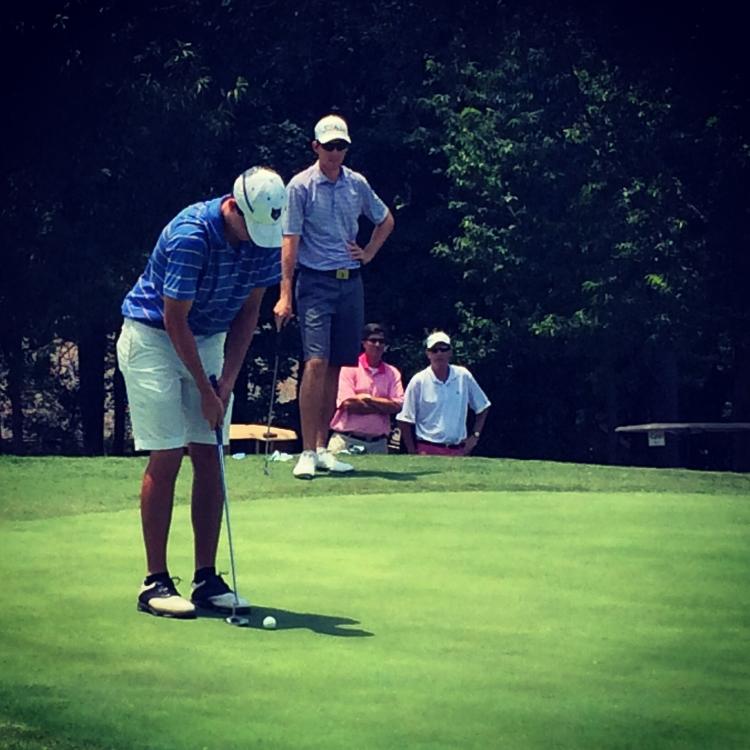 When GPB Sports made its way down to the Idle Hour Golf and Country Club for the 93rd Georgia Amateur, it was one of those experiences that you can enjoy close-up to take a peek at the next round of golfers looking to be a champs.
The Robert H. Martin trophy, awarded to the winner, was first handed out in 1916 to a 14-year-old golfer named Bobby Jones.
I think he turned out okay…
And if you look at the tourney's pedigree, it's Jones, Yates, Doyle, Henley, English… all those guys littering golf's presence -- either in the past or the present.
At the focus of it all is Idle Hour: a course that plays 6,727 yards from the tips and a par 70 for the competitors (par 72 if you're a member). But the course caused you to think, grind, and make sure that you hit as close to a perfect shot every time.
You're having to do math…
If you want to hit a wedge from a certain yardage for an approach, think about what club you need to get to THAT yardage. It's not just a "bomb away"-type deal and bring a course to its knees…
Nothing like that…
There are 15-year-olds like Rome's Justin Kim and 37-year-olds like Stan Gann, Junior of Bonaire (who just got his amateur status back). There are coaches like Carter Collins from Georgia Southern playing with future students like Steven Fisk. There's a 5th-year senior like Kelby Burton from Kennesaw State to go along with guys like Mercer's Trey Rule and UGA's Sepp Straka.
It really is a smorgasbord chasing a title…
Wade Thomas, Idle Hour's Director of Greens and Grounds, took the second cut to 3 inches instead of the standard inch-and-a-half. And that added to the fun…
Fun for us, anyway…
If any of the 144 golfers who had to track the course were just a little off center, they paid the price…
But the coolest story came from an offshoot of the end result...and also shows how the sport can unite a family. Robert Mize is, yes, from that group of golfing Mizes. He went to Brookstone in Columbus and now golfs at the Columbus State program. He brought Idle Hour to its knees with a stretch on the front that, at one point, took him to 8-under par (6-under on his day: an unheard of possibility of a FINAL ROUND 64). Five clear of the field.
Then the 17th happened…
An unplayable and a triple-bogey meant his lead was only down to one…But Idle Hour took her revenge with everyone else as well and with a solid 18th hole, Robert got the title.
The interesting part: his girlfriend Shea only would start following him on the 5th hole the last two rounds. She told us that she only wanted to start watching him play when he was getting birdies on his card. Officially, she is now his good luck charm.
At the same time, his dad was playing in the US Senior Open but missed the cut and had the opportunity to come back to Macon in time to see his son tap out on 18. Larry Mize didn't tell Robert he was going to be there. He just showed up…and to be able to share the experience was cool. Even cooler was that Larry wanted to stay in the background as much as possible. Not bad for the first alternate, eh…???
On a personal note, all of us at GPB would like to thank the GSGA and the Idle Hour Golf and Country Club for making the experience an incredibly enjoyable one. We can't wait to see y'all next time!
GPB Sports' coverage of the 93rd Georgia Amateur Championship conducted by the Georgia State Golf Association will be seen Saturday night, July 19th at 6PM. Highlights of the final three rounds along with interviews, and features will be a part of the broadcast. Join Mark Harmon, Brian Katrek, Grace Olson, and myself for all of the ups and downs the week brought us.
And, remember, football season is just around the corner:
"Football Fridays in Georgia" kicks off August 29th with McEachern and Buford. The "All-Access Pass" show starts at 7PM with kickoff a little after 7:30. We'll be with you all season long.
Be sure to follow along on gpb.org/sports and the GPB Sports app for the fix you need for your high school sports needs!
Secondary Content
Bottom Content