Section Branding
Header Content
Title Contenders Meet Their Match
Primary Content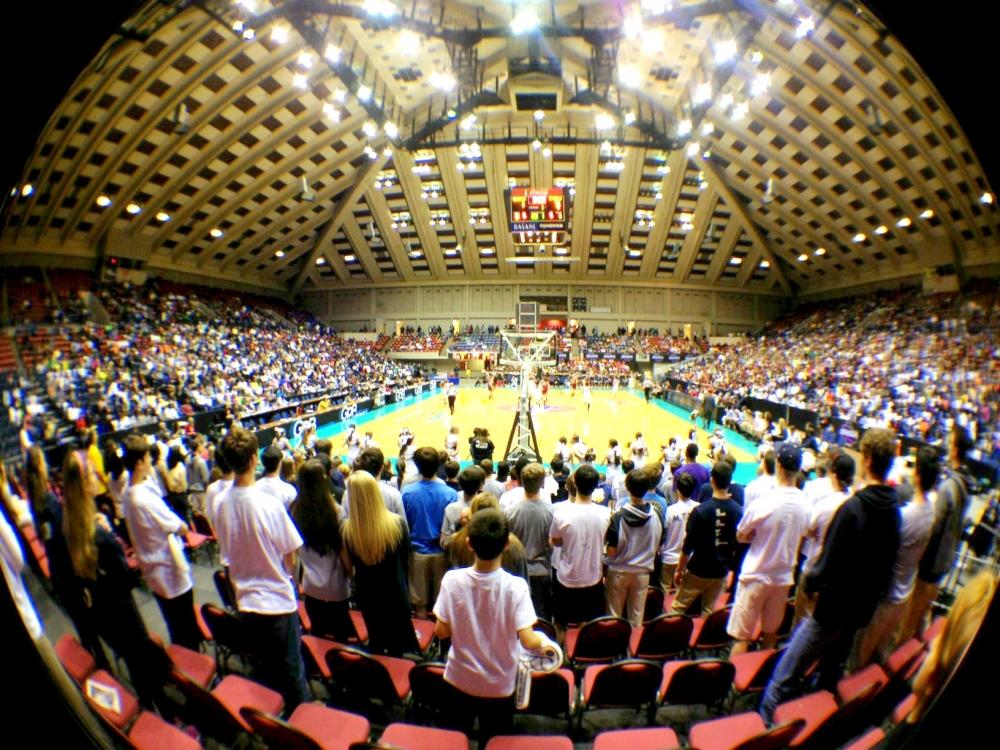 It's that time…
Time for the top teams in the state to descend on Macon, the Coliseum, and the Centreplex for the 2014 GHSA Basketball Championships…
Shaun Golden and I will be taking care of you for most of the boys action- and there should be some treats…
Single-A Public for example…
Wilkinson County and Turner County…
Tommy Palmer warned me a while back about how powerful the Rebels have been. Head coach Buford Kellogg knows that when you've won the final game, you've done something special and all he wants for his team is the opportunity. He'll be going up against one of the toughest programs in the recent era in Single-A with Dr. Geter's Warriors. And, if WilCo is in the title game, that means there's a Whipple on the roster… there's also a tremendous pedigree with the program in Irwinton…
Wes Blankenship has a look at how Turner County and Warner Robins advanced to the Finals…
((HT: WMAZ-TV))
Double-A will be interesting since Greater Atlanta Christian is pursuing perfection- also being nationally-ranked in some polls. Head Coach Eddie Martin, Isaiah Wilkins, and the Spartans get Calhoun in the final. The Yellow Jackets clamped down on a talented Vidalia squad to get to Macon. And they'll have to have everything in line to get a title against a team that has only been challenged a handful of time all season long.
GAC has only won by less than double digits twice- once to Hillgrove by four and another four point win in the Christmas tournament they played in up in Tennessee (Oak Ridge High is the answer to that trivia question, by the way)…
Triple-A has a rematch of two region rivals in Buford and Morgan County. Rakim Lubin is heading to UConn and will be going up against a Bulldogs team that has won 16 of their last 17. The one game they lost…??? To Buford…
Buford is 0-5 in title games and Morgan County will be in their first title game since 1990. Keep an eye on Tookie Brown, the point guard heading to Mississippi State, who will run the show for head coach Charlemagne Gibbons.
Quad-A gives us Jonesboro and Columbia. The Cardinals escaped their semi-final with top-ranked Alexander as Hassan Gravett led all scorers with 46 points. And something to keep an eye on… Jonesboro missed 6-of-8 free throws down the stretch as the two headed to overtime.
That's the bad news…
The good news… it didn't faze them in the huddle as they won the game in the next five minutes… having that kind of confidence in the face of adversity is huge in the last game of the year…
Five-A… Miller Grove is heading for rare air and a fifth straight title… and they get Warner Robins- in their first playoff run in a while… seems to be enjoying the ride. The Demons hadn't won a playoff game since 2007 and hadn't been in a finals game since 2000.
Here's how the Wolverines got there, thanks to the "Big Guy…" Frank Sulkowski…
((HT: The Coastal Source))
Six-A gives us a return of Doug Lipscomb and Wheeler to go up against Tift County in a battle of north and south…
Georgia Tech recruit Tadric Jackson has been a one-man wrecking crew recently for Tift. He had 35 in the semi-final against Norcross, 24 of those in the second half, and could give the Blue Devils their first state title since 1996.
That's Pablo Machado territory there… they beat Beach in the title game that year and were ranked top-ten nationally…
Wheeler knocked off Milton back in 2009 for their last title on campus and it will be interesting to see how the Wildcats respond to having to guard one of the state's true talents…
So, faithful reader…
What sticks with you as we head to Macon and the Madness…???
Let us know here below all these written words, friend GPB Sports on Facebook, and follow us on Twitter @GPBSports…
Our broadcast with Mark, Gil, Herb, Tommy, Larry, Shaun, Claire, Grace, Rayven, and myself- starting Thursday afternoon at 3, Friday afternoon at 3, and 9:30 Saturday morning on the Great GPB. It's 15 title games in one place and you can catch them all and celebrate with us the whole time…
Looking forward to seeing all of you there and looking forward to you seeing us…
Play it safe, everyone… I'll talk to you soon…
Secondary Content
Bottom Content