Section Branding
Header Content
Quarterfinals Survivors Await The Final Friday Outdoors
Primary Content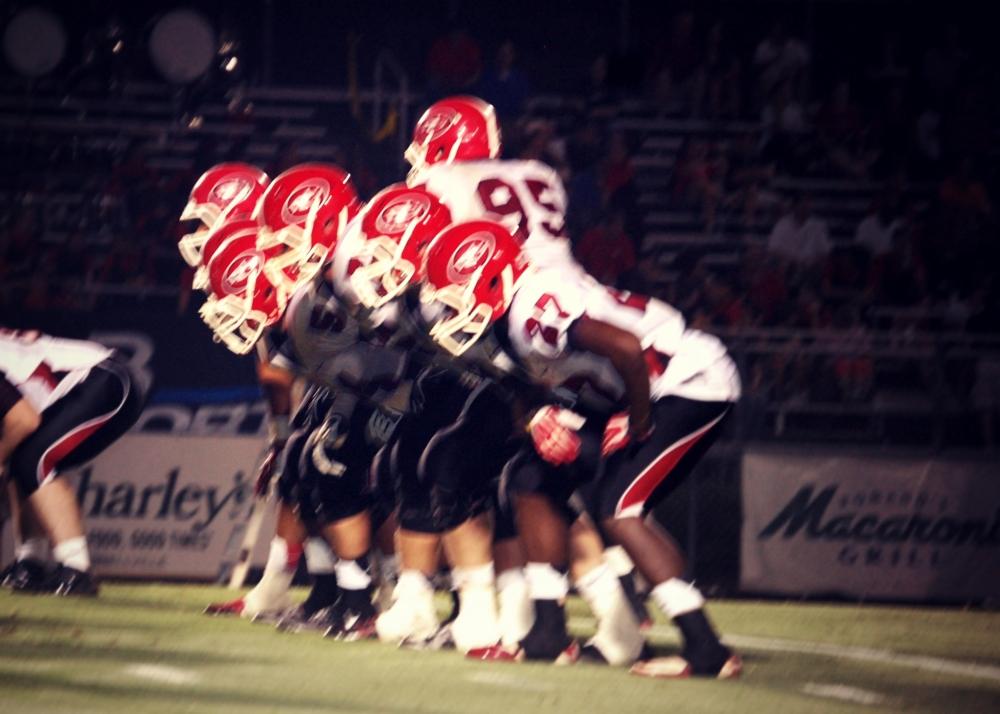 Okay…
Tell you something…
The kicker for Alabama that was tasked to win the game against Auburn, red-shirt freshman Adam Griffith, I have covered from his time at Calhoun High School.
He is a great kid with a better story. Adam was raised in orphanages in Poland playing soccer, and the Griffith family raised him and got him acclimated to kicking a football since his adopted father was the community kicking coach for Hal Lamb. He didn't speak a lick of English when Tom and Michelle Griffith adopted him and got him out of the country at the age of 13.
He didn't even know what American football was until he got over to this continent…
And his right leg has dropped absolute bombs for field goal attempts since he went from Yellow Jacket to Crimson Tide.
If he had had a little bit of a breeze, that 57-yarder would have happened…
And he'll do it before he's done at the Capstone, too…
Full disclosure…
I didn't spend my Saturday thinking about coin tosses and who was playing whom in the semi-finals this week. I was here…
((HT: SEC on CBS))
But, now, back to why we're here…
It was quarterfinals Friday… and there was a lot of action… more survivors and we're down to the final 28 and our last week outdoors for this football season…
First, it was a big weekend for Benedictine and Calvary Day as they made it to their Final Fours… here's how they did it- with a little help from Frank and Stefanie…
((HT: The Coastal Source))
In triple-A, it's an interesting match-up in the semi-finals with Washington County taking on Ringgold in the right-hand side of your brackets… WaCo took out Blessed Trinity 46-17 in Roswell and had some special visitors…
Big Marvin has the look…
((HT: 13WMAZ-TV))
And Ringgold continues their huge run toward in the playoffs with a win over Central, Carroll in a rematch of a week 3 game…
Keith Cawley has the highlights from WRCB-TV in Chattanooga…
WRCBtv.com | Chattanooga News, Weather
Not hiding any emotions here… I can't be any happier for the Tigers for everything that they have accomplished this year…
A big weekend in the Augusta area for their teams: Laney couldn't quite get Lovett off the ropes, Marist showed (or, more accurately, reminded) us why they're Marist against Burke County, and Aquinas continued their run in single-A.
((HT: WRDW-TV))
Here are your semi-finals match-ups:
Class 6A Semifinals:
Colquitt Co. at Norcross
North Gwinnett at McEachern
Class AAAAA Semifinals:
Kell at Creekside
Gainesville at Tucker
Class AAAA Semifinals:
Wayne Co. at Griffin
Carrollton at Marist
Class AAA Semifinals:
Callaway at Buford
Ringgold at Washington County
Class AA Semifinals:
Benedictine at Lamar Co.
Brooks Co. at Lovett
Class A (public) Semifinals:
Charlton Co. at Irwin Co.
Hawkinsville at Marion Co.
Class A (private) Semifinals:
Calvary Day at ELCA
Aquinas at Mount Pisgah Christian
So, for the last "Football Fridays in Georgia" in this year we go to McEachern for the North Gwinnett-McEachern game. The "All-Access Pass" starts at 7 with Mark , Claire, Grace, Kelin, Trey, and moi with kickoff a little after 7:38.
Looking forward to our busiest weeks of the year and the end of the high school football season…
What do you remember about the year and what's your favorite stuff from the season past…???
Let me know…
So join our conversation on Facebook at GPB Sports, on Twitter @GPB Sports, and download our app at GPB Sports… and keep up with it all…
Play it safe, everyone… I'll see you at the semi-finals…
Secondary Content
Bottom Content