Section Branding
Header Content
Lions Look To Play Spoiler Against The Undefeated Tigers
Primary Content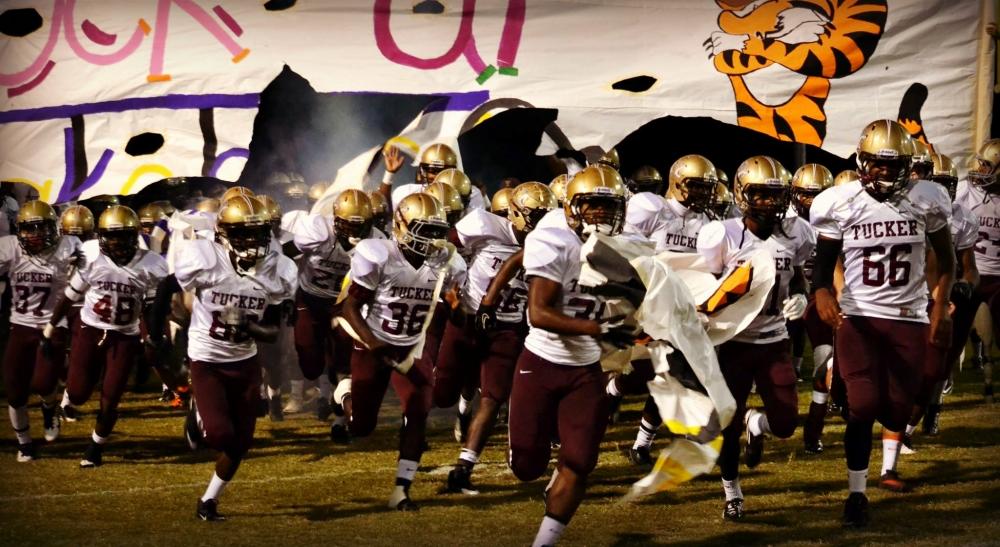 We're officially getting closer…
There are only two games left in the regular season (for most-for others, it's only one…) and some teams have already made their way into region titles and the third season. Others are still having to fight, scratch, and claw to figure out their futures…
Unfortunately, there were some dark spots last weekend- a forfeit and a fight. It's not what any of us like to see with high school athletes, but here's what happened…
Monroe Area beat Madison County 68-14. They were up 28-7 when a fight broke out after a late hit on Stanton Truitt. 10 players were ejected, seven from Monroe Area, five of them starters, including Truitt. The seven Monroe Area players could miss next week's game for the region championship against Chestatee if they get the GHSA's "sit-out" penalty for anyone involved in a fight.
Football players from Washington High School were involved in an incident Thursday night that was a fight between them and a member of a baseball team. School officials cancelled Washington's homecoming game against Carver and awarded Carver a forfeit victory. Carver improves to 6-2, 4-0 in the sub-region. Washington drops to 6-2, 2-2 in 6-AAAA. Carver will face Grady on Friday for the sub-region title.
Let's get to the good news…
First off, congrats to Archer and head coach Andy Dyer for their first-ever region title. The team is now 9-0 (7-0 in region 8) and finish their season with a game against Grayson- who needs a win to avoid any kind of murderous tie-breaker scenario to clinch a playoff spot before they get to Game 10.
And how about Collins Hill against North Gwinnett…???
Lovejoy is a win away from their region title and it looks like, in 6A, the Camden-Colquitt game in two weeks will decide the title in Region 1.
Camden had their hands full with Brunswick before coming out on top 18-12…
Chad Cushnir gets the chance to ROLLLLLLLLLLLLLLLLLLLLLLLLLLLLLLLLL those highlights with friend of GPB, Chris Porter, over in London covering the Jags…
((HT: First Coast News))
On with the tour…
The lead in the "Frenzy" this week was the Wayne County-Liberty County game where the Jackets never trailed, but it took a while for the win. Next week Wayne goes after undefeated Statesboro…
Here's Frank and Stefanie…who's back from a wedding this week… not her own…
((HT: The Coastal Source))
Washington County and Joel Ingram are on a roll… and the roll continued against Thomson 55-12. Melvin Hill rushed for 171 yards and went over 1,000 for the season. The Golden Hawks clinched Region 3-AAA, its first region title since 2006.
Here's the look from Kevin and Andrew on "OFL Friday"
((HT: WRDW-TV))
In Double-A, it looks like GAC, Lovett, Lamar, and Calhoun to go along with an undefeated Washington-Wilkes team. In region play last week, Lamar was set for their toughest rival in Bleckley County. But head coach Franklin Stephens has the team rolling…
Evidence below with Big Marvin…
((HT: 13WMAZ-TV))
And then two good stories from west Georgia… Spencer is chasing their first playoff berth in 20 years and Marion County is still on top of the power rankings for single-A.
Friend of GPB, Dave Platta, fills us in on the details from Columbus…
((HT: WTVM-TV))
WTVM.com-Columbus, GA News Weather
Speaking of Dave… he's one of my guests this week on the "Football Fridays in Georgia" podcast… seen in the box below all these words I'm typing… along with Marion County Head Coach Mike Swaney and Clinch County head coach Jim Dickerson…
Also, remember… "Football Fridays in Georgia" this week is back at Hallford Stadium (or, as I call it, "Memorial…") for another battle for positioning in Region 6-5A. ML King and Tucker are going at it. The Lions lost a heartbreaker against Stephenson that would have given them the push for a shot at the region title they needed. Now, they can play spoiler and throw everything in the blender before the last week of the regular season…
The "All-Access Pass" pre-game show starts at 7 with kickoff a little after 7:30. Join Mark, Claire, Trey, Kelin, Grace, and moi (and the cast of thousands) for another great game. Follow us on gpb.org, @GPBsports on Twitter, GPB Sports on Facebook, or through our app…
We're this/close to the playoffs and can't wait for the rest of the season to play out…
Play it safe, everyone… I'll talk to you next time…
Secondary Content
Bottom Content