Section Branding
Header Content
Excitement Builds As We Map Out High School Football's "Third Season"
Primary Content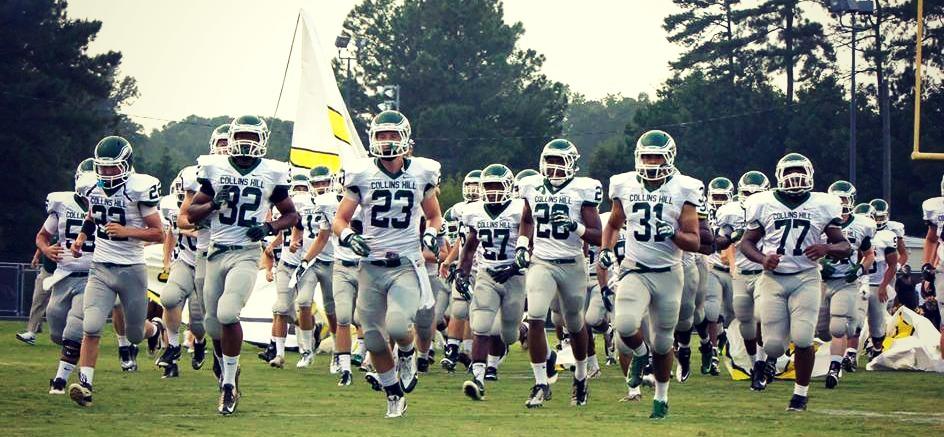 If you watch our "Football Fridays in Georgia" coverage- and however you watch, whether it's on GPB itself, on gpb.org, or through our app for your iPhone- I start referring to this time of year as our sports version of election coverage.
As the night goes along, there's more and more precincts reporting… more and more scores from all around the state…more and more match-ups, more and more scenarios inside region play… and it gets more and more exciting every week as we map out who is going to make it to the third season (as I like to call it)…
And the picture either gets more clear or get more muddy…
We had both last Friday night…
Let's start in Region 1-6A…I know, it's a big surprise… but as fellow GPB contributor Tommy Palmer has coined the phrase: "There are no homecoming games in region 1…"
Colquitt had their hands full with Tift, Lowndes had to outscore Brunswick 38-30 in a tough week on campus, and Camden had their hands full with Coffee…
Jake Wallace is in "The Locker Room" where he has highlights of Colquitt along with a lot of action in the toughest region in double-A: Region 1-where Thomasville, Brooks, Cook, and Fitzgerald are all battling each other. But Berrien is making a case themselves under first-year head coach Ed Pilcher…
((HT: WALB-TV))
WALB.com, Albany News, Weather, Sports
One of this week's guests on the "Football Fridays in Georgia" podcast is friend of GPB, Mark Dykes, from "In the Game Magazine." We talk a lot about South Georgia football down at the bottom of the page. He's joined this week by WXIA-TV's Sam Crenshaw, who talks north Georgia high school football. So, we have a little bit of it all for you in that fancy box at the bottom of the page. Or you can subscribe to the podcast on iTunes on the Georgia Public Broadcasting page.
One of the guys we've focused on here in the state is Liberty County man-child Raekwon McMillan… There's no other way to describe what he is and how he does it on the field. There's a reason he's the top-ranked defensive recruit in the state. And Liberty made a BIG hike to play Glenn Hills last week. Also, we check in on Jefferson County (who is ranked in the GPB Top 10's) as they took on Dodge County.
Here's Kevin and Andrew at "OFL Friday Night…"
((HT: WRDW-TV))
In central Georgia, two top-10 teams are heading for their showdown on November 1st as the masters of their domain in class 5A- Northside and Warner Robins…
Northside took on another county rival in Houston County…
Big Marvin has the highlights from the International City…
And, just so you know, GPB Sports is planning on visiting Warner Robins mid-week to check in with Coach Kinsler and Coach Way…
Maybe, we'll see you at practice…
Time for "The Frenzy" down on the coast for life at the midway point…
We have been told to keep an eye on Benedictine this season. Head coach Danny Britt has been a guest on the Football Fridays podcast and we've made a point to talk about how he is bringing the Cadet alums back into the fold and make them a part of the future on campus…
They hosted Bryan County for another battle at the top of the region ladder…
Frank and Stefanie have your highlights about 5:00 in… they also take a look at Calvary Day and Savannah Christian, Burke County and Wayne County, and Swainsboro and Statesboro…
((HT: The Coastal Source))
In and around GPB HQ, it's really interesting…
Archer continues their winning ways with a win over Shiloh to keep control in their region in 6A. They're 6-0- off to their best start in school history under Andy Dyer. Grayson won a back and forth game with Central Gwinnett. Peachtree Ridge lost to Collins Hill- who will be on GPB this Friday night against Norcross, and keep an eye on Lovejoy- who just keeps right on their quiet Clayton County way after they beat Rockdale County…
Here's the highlights with Friend of GPB, Fred Kalil…
((HT: 11alive.com))
Heads-up on Washington County, too…
Joel Ingram's Golden Hawks had five turnovers and over 100 yards in penalties, but still came to Lovett and beat the Lions in OT 36-33.
Gainesville and Kell keep rolling in 5A. In double-A, Lamar and GAC are still on top with wins. But, I don't think anyone expected the blowout with Thomson, 50-12. And what about Washington-Wilkes knocking off defending state champ Jefferson…??? The Tigers look like they're for real…
In single-A, Aquinas and Lincoln County play Thursday. But the Irish got ready with a win over Hancock Central. Prince Avenue and Seminole County look like they're getting cloiser to full song as well with wins.
Dear Reader: Your question of the week…???
Who, in your mind, are contenders and who are pretenders…???
Let us know here in a few ways… comment below, friend us on our Facebook page at GPB Sports and let us know with conversation, and tweet us @GPBsports to let us know in 140 character bursts (or less…)
Remember… this week is Collins Hill at Norcross…
Can the Eagles rebound after last week as the Blue Devils seem to be getting things together…???
The "All-Access Pass" show starts at 7 with kickoff at 7:38 or so with Mark, Kat, Grace, Claire, Trey, Kelin, and moi on the #GreatGPB…
One final reminder… it's Mark Dykes of "In The Game" magazine and Sam Crenshaw of WXIA-TV on this week's "Football Fridays in Georgia" podcast in the fancy box below all these words or on iTunes…
Whichever you prefer…
Play it safe, everyone… I'll see you next time…
Secondary Content
Bottom Content