Section Branding
Header Content
Ranked Teams Fight To Stay On Winning Side Of The Ledger
Primary Content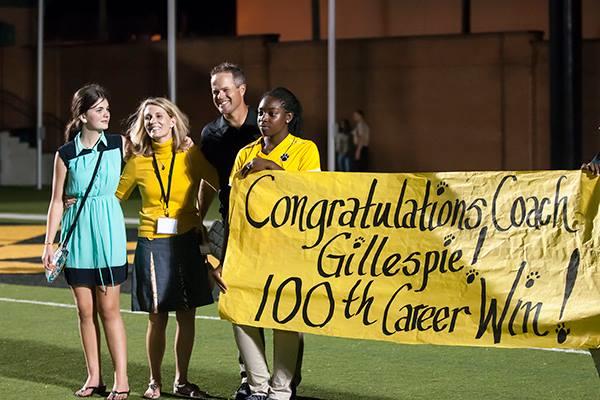 It was the week of the close call this time around…
Everywhere you look, teams that were ranked were escaping as best they could to stay on the winning side of the ledger…
Lovejoy scored on a TD pass with 33 seconds left for the winning margin in their 39-35 win over East Coweta.
Peachtree Ridge escaped their 31-30 game with Mill Creek with a missed extra point being the difference.
Coffee led 18-8 and held on to beat Mundy's Mill 18-14 after their signature win over Burke County the week before on the road in Waynesboro.
Thomas County Central is, officially, the leader in Region 1-6A by a half-game over everyone else as region play starts this week… (See, I got you… the non-region schedule of TCC with their loss to Valdosta and their win over Tift, 28-21, means they're on top in win-loss record only, but it still says a lot over what head coach Bill Shaver is doing in Thomasville)
They would be, officially, tied with Newton with 1-1 records...
But, there were also some surprises…
Lovett beating St. Pius the way they did, 28-7…
Veterans getting their signature win over Westside-Macon 21-14 (Congrats to David Bruce, by the way on that one…)
Dacula knocking off Grayson 14-7, when the Falcons went 1-9 last season…they're not there anymore.
So, there's a lot to show you from this go-round…
Let's start with another signature win over in the east…
J.J. Gaines rushed for 125 yards on 25 carries and Benedictine held Tra Hardy to only 20 yards on eight carries. The Cadets also held Vidalia to 101 yards total offense in their 28-0 win over Vidalia.
Big Frank and Stefanie have the details in "The Frenzy…"
7:00 in, by the way, there are highlights of Atkinson County breaking their 22-game losing streak against Long County with a little Ware-Jenkins, and Burke County-Statesboro thrown in for good measure…
((HT: The Coastal Source))
Oh, and as a blatant plug…
Benedictine head coach Danny Britt is a guest this week on the "Football Fridays in Georgia" podcast along with Mike Davis of the Sports Mic Radio Network talking central Georgia football. Those conversations are at the bottom of this week's column…
Next stop is the Jacket's Nest with your Tift and Thomas County Central highlights…
Jake Wallace is inside the "Locker Room"
((HT: WALB-TV))
WALB.com, Albany News, Weather, Sports
A couple of milestones before we move forward… Valdosta head coach Rance Gillespie gets his 100th career win in Valdosta's 41-14 win over Newton. Newton had beaten Lowndes earlier this season 15-14 and they have no fear taking people on long road trips. But it may have been one long road trip too many this time around.
Archer, out of Gwinnett County, is a four-year old school and ranked for the first time ever after beating Parkview 27-7. They're 4-0 and take on Dacula next week for first place, early on, in the region…
Washington County-Laney was a big road trip by the Golden Hawks to Augusta…
Andrew and Kevin have the look on "OFL Friday Night"
((HT: WRDW-TV Augusta))
And, speaking of central Georgia, FPD was host to Pace Academy…
Last week, Pace cracked the top 10 in some polls for the first time in their six-year history and had to travel down to FPD. The Knights lose to a team that lost to single-A ranked George Walton Academy 36-10 and Pike County 30-0 in its first two games.
Frank, Ben, and Suzanne have the highlights from Calvin Drive…
Shout outs to both Towers and Rutland who are both 4-0 on the young season as well…
What dear reader/viewer/listener, has surprised or satisfied you this season so far…???
Let me know on this two-way street, and I'll have the conversation with you here, on our Facebook page (GPB Sports), or on the Twitter machine @GPBsports…
Reminder…
Benedictine head coach Danny Britt is a guest this week on the "Football Fridays in Georgia" podcast down below along with Mike Davis of the Sports Mic Radio Network talking central Georgia football- all things Northside, Warner Robins, HoCo, Veterans, Perry, and everyone else down there…
Thanks for being a part of "Football Fridays" where we will be at Memorial Stadium (as I called it growing up) or "Hallford Stadium" as it's known now. We go on the air at 7 with the tail end of Clarkston and Hapeville Charter, followed by the "All-Access Pass" and the kickoff of Stephenson and SW DeKalb.
Join Mark, Kat, Grace, Claire, Trey, Kelin, and moi for a full night of football on the #GreatGPB…
Play it safe, everyone… I'll talk to you soon…
Secondary Content
Bottom Content