Section Branding
Header Content
Gameday Notebook: 1-on-1 With QB Ty Clemons
Primary Content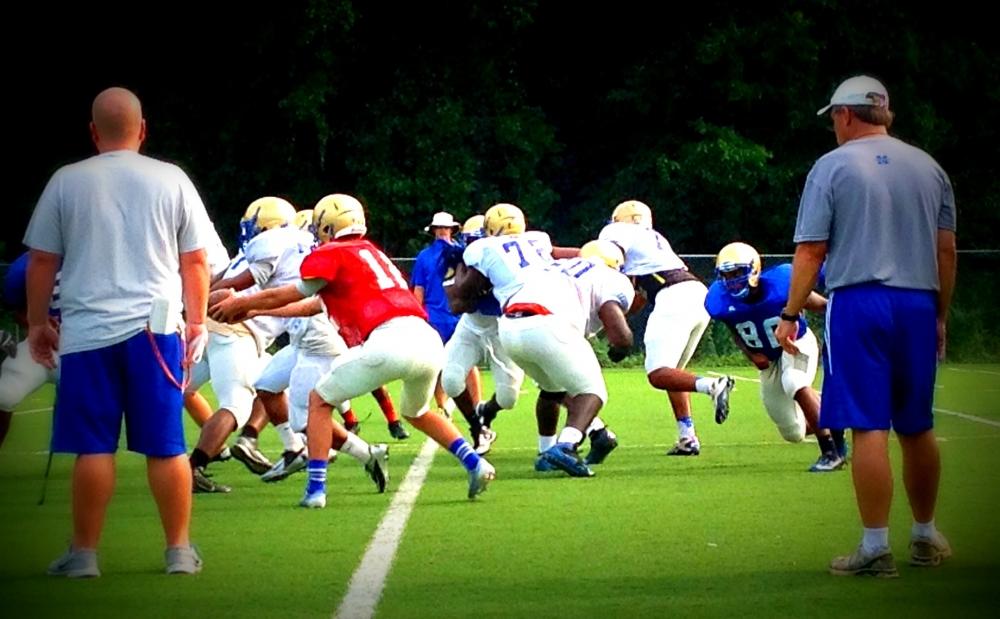 A lot is said through the leadership and playing abilities of McEachern quarterback Ty Clemons. But there's a lot more behind the face mask. My Thursday night coversation with the senior quarterback, provided below, will get you more familiar with the leader of the Indians football team. 
Me: What year did you start playing football?
Ty: In 3rd grade
Me: What position did you first play?
Ty: I played running back.
Me: Do you remember the first day you played?
Ty: Yes--I didn't know which way to go. They had to tell me which way to go because I started running like I was for the opposite team.
Me: What are some of the things you like or dislike about playing on the receiving end versus the passing end?
Ty: As quarterback, you have the ball in your hands every play and you're a huge part of decision-making throughout the whole game. I love being able to call plays and know where everyone is going.
Me: How much does your coach trust you in terms of play calling?
Ty: He gives me a little leeway. As the season goes on, it's getting better in terms of his trust in my play calling.
Me: One of your strengths is your ability to use your legs. Has this been the case throughout your whole playing career or is this a skill that you've developed and fine-tuned?
Ty: My legs were always a strength for me since I began playing football but growing into myself has made them even better and everything has just come together.
Me: What do you think is the most valuable element you contribute to your football team?
Ty: I just try to provide good leadership, have a good attitude, do my job, help anyone that needs help with their job. I try to just keep a positive attitude and keeping that positive attitude helps me know that my team is behind me one-hundred percent.
Me: There are so many elements to a football team. How do all of those elements contribute to the success of your squad?
Ty: We all have different roles. Some people aren't starters, some people do start, some people play on the scout team. But we feel that on our team, everybody has a role. Everybody, even the scout team players, they have a role. They help us throughout the week. Starters have a role in giving one hundred percent on every play. Everyone plays a big role on our team.
Me: At the quarterback position, there is naturally a lot of added pressure. How do you handle that pressure?
Ty: I think pressure comes from not knowing what you're doing. I feel that my coaches prepare me very well and prepare my team very well also so I feel like on Friday nights, when we go out there and play, there's really no pressure. We're just trying to do our jobs and execute.
Me: How does the game of football contribute to you as an individual?
Ty: Football definitely brings the need for a lot of responsibility. You have to learn to handle a lot of different things. If I wasn't playing football, I'd be able to do a lot of other things but as a football player, you have to carry yourself well out in the community, you have to be responsible in class, in school, and around campus.
Me: You lead a powerful Indians offense but your team's defense has also been very productive so far this season. How much confidence does it add to your team knowing that there is power and production on both sides of the ball?
Ty: Our defense, they have really stepped up this year and I feel like they're only going to get better. The scout players, they help us improve our defense and watching film helps as well. We feed off of each other: defense makes a good play, a good stop, and then the offense comes out fired up and we want to score. And then if we do something great on offense, the defense feeds off of us and we give them some fire that helps them do their jobs.
Me: Who is one player on your team that you admire or look up to?
Ty: Christian Wade, our middle linebacker, number 53. He has his own personal life situations. But football has really helped this kid and he has come a long way. Through playing football, he's changed his whole life. He'll even say, "I'm a different person now." He's really responsible now. and I admire him for that.Me: Tell me one thing that most people don't know about you.
Ty: I'm pretty much a quiet kid. I really don't say much.
Me: Do you think your quiet nature helps you as a leader of the team?
Ty: I do think so. I usually observe a lot and then if I see something I don't like, I'll talk to that person after practice or to that person individually. I feel like it also plays a role in decision-making on the field.
Me: When things aren't going the way you would like them to, who's voice do you hear in your head that keeps you going and picks you back up?
Ty: Well, as quarterback and a huge leader for my team, I have to help pick my team up. The voice I hear in the back of my head is my dad's. When I was a kid and I first started playing football, I'd get really angry when things weren't going my way. But my dad preached to me that everything's not always going to go my way at games but as a leader of the team, you have to help pick your teammates up. I just hear my dad saying, "Pick them up, pick them up...be a leader." If I get down on myself, they'll get down on theirselves so I just have to keep a positive attitude.Me: What are your game week rituals?
Ty: On Thursdays, we have our last practice of the week. We do a walk-through. But one thing I can't ever do is wear my own jersey during practice. I always have to wear one of my teammate's jerseys during practice.
Me: Friday night's game against Marietta is a huge rivalry game. I know teams often try to treat each game with the same importance but you have to have a heightened level of excitement for rivalry games like this.
Ty: Playing Marietta brings a lot of excitement to us. Last year, it was a really close game until the very end. I know a lot of the kids that play over there and it is a lot of fun playing against them. Marietta is a definitely a huge rival of ours and I have to say that this game might keep me up tonight.
Me: Do you very often have a hard time sleeping on nights before games?
Ty: Not really. I just try to do the same thing and not over think it. I get good sleep but like I said, tonight might be a little different. I might stay up a little later.
Me: If you could give yourself a nickname based on your play as a football player, what would it be?
Ty: Well, my teammates call me "Too Smooth" so I'll have to go with that.
The Blue and Gold are set to face the Marietta Blue Devils this Friday night, live on GPB! You'll find the whole crew there, ready for some true Marietta football!
Secondary Content
Bottom Content