Section Branding
Header Content
Week 3 Non-Region Games Add Spice To The Football Life
Primary Content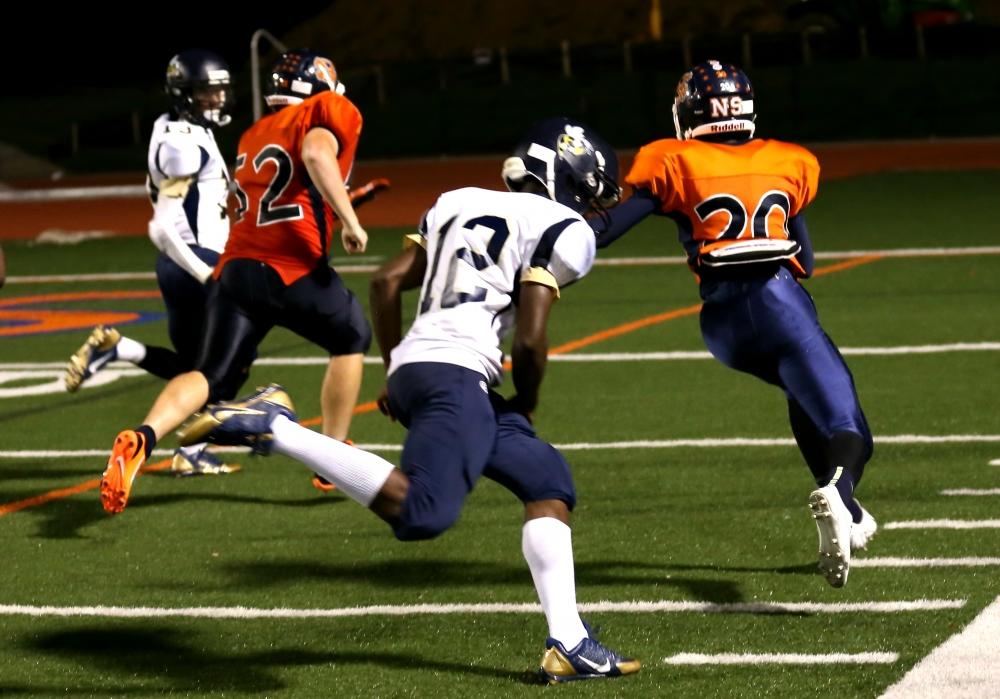 Surprises… yeah, I'd say there were a few surprises…
But that's what makes these non-region games so much fun…
If you're a coach, you want to challenge your players and team leading into the region schedule just so you can see how ready you are for the playoffs and such…
First off, huzzahs and hooray to North Springs…
North Springs snapped a 34-game losing streak, the state's second-longest active slump. Their 35-34 win over Hapeville was their first since October 16th, 2009, when they lost to Stone Mountain 39-6 in a game that was overturned by forfeit. Their last on-field victory, 28-0 against Cross Keys on Aug. 28, 2009, also was overturned by forfeit.
Their last win before that was a 23-20 win over Lithonia the last week of the 2008 regular season.
But there were a few games that came up and bit us this week when we look back at it…
First, but in no particular order… Savannah Christian lay in the weeds and waited for Prince Avenue Christian in Savannah this Friday night. Everyone knows that the Wolverines are one of those teams to look after this season with new head coach Jeff Herron taking the helm of the Single-A Private runners-up. But never…
And I mean… NEVER… look away from Savannah Christian…
Big Frank and Stefanie show you what went down on The Coastal Source about 2:00 in…
If you look a little deeper, you see WaCo and ECI as well…
((HT: WJCL-TV))
Then, there was the upset of Newton over Lowndes…
Newton pulled off the biggest upset of the season when it knocked off the team that was ranked No. 7 in AAAAAA last week. They lost to Lowndes 31-0 last season and finished 5-6. According to Chip Saye at the must –read GHSF Daily, Newton and McEachern are the only non-region opponents to beat Lowndes in the regular season since the start of the 2008 season. The victory was Newton's most shocking since beating No. 1 Griffin 3-0 in 1977.
We'll take his word on that one…
Jake Wallace continues the tradition for WALB in The Locker Room… the Newton highlights are, about, 4:00 in… you also get a good look at Colquitt beating Lovejoy, Marist and Thomas County Central, and Cairo beating Bainbridge…
WALB.com, Albany News, Weather, Sports
I think Mill Creek's 44-10 blowout of Brookwood was right up there in 6A as well.
Here's the highlights from our friends at WXIA-TV
And you gotta love that New Manchester has matched their win total of last year already
In east Georgia, after last year's win in the "378 War" Washington-Wilkes head coach Robbie Robinson said that his Tigers were back in their rivalry against Lincoln County. Now, they've beaten Lincoln County in consecutive years for the first time since 2001-02.
There are a lot of wives tales associated with just how heated this rivalry is… I know someone who wrote a high school football history book- and there's a big part of the early sections about the game between the Tigers and Red Devils.
Fun stuff…
Kevin and Andrew take the lead for us from OFL Friday Night over at WRDW-TV in Augusta…
You also get to see Thomson and Lakeside-Evans
So, as we move forward…
What is surprising to y'all this early in the year and what are you looking forward to as the season goes along…???
Let me know and I'll post the comments here…
Looking forward to hearing what you have to say… as always…
Don't forget that we're at Blue Devil Stadium for Norcross and North Gwinnett this Friday night. The All-Access Pass starts at 7 with kickoff at 7:38 or so. It's a showdown in Region 8-6A at the top of the ladder. There will be a lot of great talent on display- from Sphire to Carter and Autry, it'll be an awesome display.
So, be sure to watch us on GPB, watch the stream at GPB.org, and on our GPB Sports app.
Oh, the "Football Fridays in Georgia" podcast for Week 3 is all over the place for you underneath all these written words…
We catch up with John Koon down in Vidalia for a look at Double-A football,
We went to Reinhardt and Berry for their games on Saturday as their football programs kicked off- you'll hear from Eagles RB LJ Stegall, QB Jonathan Chamblee, Head coach Danny Cronic, and Vikings head coach Tony Kunczewski about their young programs, and Washington County head coach Joel Ingram about life in double-A down in Sandersville.
Play it safe, everyone… I'll see you on the field…
Secondary Content
Bottom Content