Section Branding
Header Content
Corky Kell Classic Teams Make Strong Statements With Kickoff Performances
Primary Content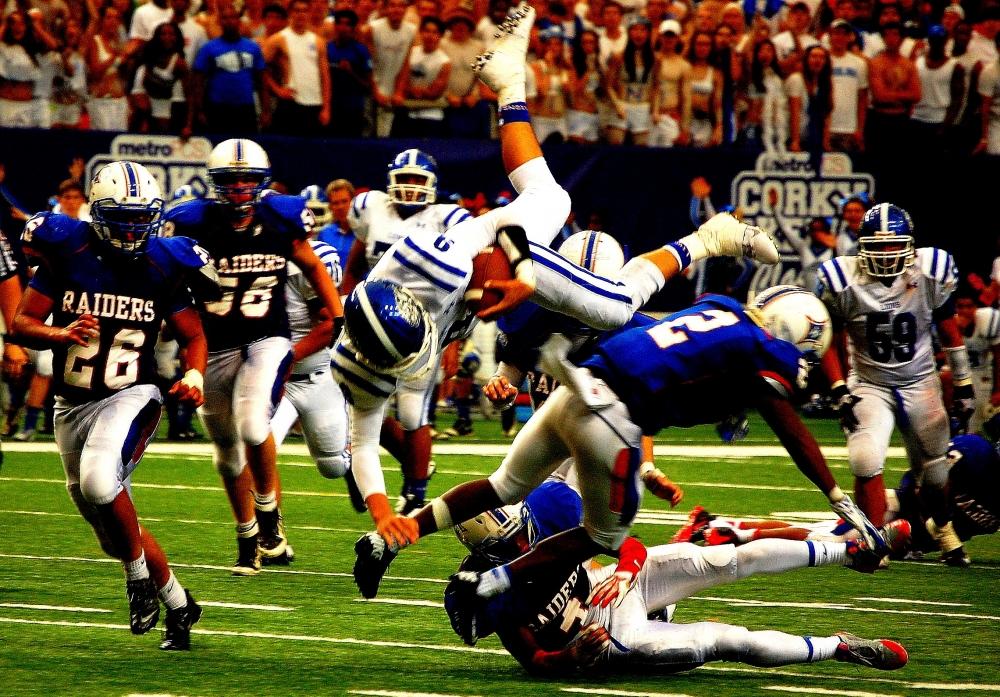 The first weekend of the 2013 season created a lot of conversation for our "Football Fridays."
I know our readers in South Florida and North Florida are looking at the contests at Norcross High School with a lot of smiles, considering Miami-Booker T.'s 55-0 win over the hosts and Tallahassee-Lincoln beating South Gwinnett 34-21…
In other parts of the state, Jefferson County went to Jaycee Stadium and knocked off Fitzgerald, Thomas County Central dominated the "War of the Roses" in their win over Thomasville, and Brooks County won a back-and-forth game in Homerville over Clinch as a few examples…
GPB (along with our friends at Turner Productions) made 15-hours of football fly by with the broadcast of the Corky Kell Classic… and there were some statements made as well…
Game One reinforced Derek Cook's impact on the Kell Longhorn program with their win over Chattahoochee…
Check the game out here (http://bcove.me/8ehvu8mi)
Game Two was what Peachtree Ridge was looking for as they got some offense going in their win over Walton…
Check that game out here… (http://bcove.me/b6ndplj5)
Game Three was another one of those statement games in a dominating performance by Colquitt County, 21-6, over Grayson. Colquitt County is showing very highly in the GPB poll this week- and rightfully so…
Check that game out here… (http://bcove.me/s6j4fx7t)
Game Four proved to us all that North Gwinnett deserves to have their say in the rankings now and for the rest of the year with their dominating defensive showing against Camden County in the coaching debuts of Camden's Welton Coffey and new North Gwinnett Defensive Coordinator Robert Andrews
Check the game out here… (http://bcove.me/fcmpnnzh)
Game Five gives the folks in West Cobb something to talk about as McEachern made their play for the top of the charts with their dominating defensive display against Brookwood…
Check that game out here… (http://bcove.me/zt2sht1d)
So, faithful reader… what do you have to take from the first weekend of play…??? Put it in the comments section and I'll post your end of the conversation in the following weeks…???
And what matchups are you looking for in week two…??? Coffee-Ware, Colquitt-Hoover, Valdosta-Thomas County Central, McEachern-Lassiter, Parkview-Ridge, Northside-Branch, the doubleheader at Hallford (or as I call it "Memorial"), Clarke Central-Marist, LaGrange-Newnan, BT-Lovett, St Pius-Westy, and a lot of others might be on your list…
Right…???
One final note from the weekend… the folks in Villa Rica, led by head coach Chad Frazier and proud dad Bruce Tidaback, let me in on one of the weapons for the team this season: kicker Taylor Tidaback.
She… and that's not a misprint… kicked two field goals and three PAT's in Villa Rica's win over Woodland, Cartersville…
Here's the 39-yarder…
More on her story on Friday night…
Oh…
Production note: You see that embedded fancy device in the blog… it's our first "Football Fridays In Georgia" podcast. I talked to a bunch of coaches and players about the beginning of the 2013 season.
And, for us as we move forward, here at GPB we have the North Gwinnett-Grayson match-up with the pregame starting at 7.
Join us for the "All-Access Pass" and the game on TV, the web at gpb.org, and on our GPB Sports app.
Play it safe, everyone… I'll talk to you next week…
Secondary Content
Bottom Content