Section Branding
Header Content
Camden County Wildcats Battle Through On And Off-The-Field Losses, Colquitt County Region Schedule Forces Philosophical Change
Primary Content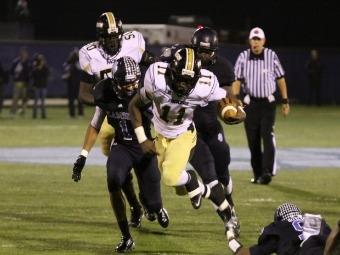 This is the last weekend for scrimmages (should schools choose to use them--since some schools actually don't use scrimmages to keep their team healthy all season long...) but we've already had some heavyweight battles in the pre-season...
Norcross went down to Colquitt County last year and from all indications, it was a top-notch rolling out of the black and gold carpet for the Blue Devils. This past weekend, Colquitt took the four hour trip up to Norcross for a "re-match" if you want to call it that…
Colquitt scored the first two times they had the ball, but the Blue Devils scored 28 unanswered points for the "win"- if you want to call it that…
It's a big year for the Packers as they celebrate their centennial season of football. I have the Packers going deep into the playoffs again this year and when I made my Southern Powerhouse Preview (aka--The "Southern Swing Year 4"), I got the chance to talk to Colquitt Head Coach Rush Propst about just how special Football Fridays are in Moultrie.
Propst is also going under a bit of a philosophical change this year. It's the difference between the black shirts and the white shirts…
Coach Propst has always gone toward the idea that you coach for the playoffs and you make your hay when you get in. The idea was to just get into the playoffs and make your noise when you're there. But having to survive the toughest region in the country, Region 1-6A, means now to Propst that you need to be a 1 or a 2 seed and not a 3 or a 4. The difference being getting to stay at home for a round or two instead of being the incredible road team that Colquitt has been the last few seasons.
Thus being a "white shirt" or a "black shirt…"
It will be interesting to see how Colquitt navigates their non-region schedule now getting ready for Region 1- and we're talking the Corky Kell match-up with Grayson, a big road game with Hoover (AL), Lovejoy, and Carver-Columbus…
Yikes! (in a word…)
And it will be also interesting to see just how much each team learns about the other that they can carry into the "third" season- when they, probably, meet in the playoffs…
And, I mean, DEEP in the playoffs…
Weather permitting, there are a few more interesting scrimmages this weekend:
Charlton and Pierce County
Claxton and Metter
Fitzgerald and ECI
Lovejoy and Peachtree Ridge
Milton and Camden County
Northside and Peach County
Tucker and Marist
Ware and Valdosta
And speaking of Camden County, as we get ready for our coverage of the Corky Kell all day next Saturday… I caught up with Welton Coffey and the folks in Kingsland. Coffey has been a head coach before in Jacksonville, where he won a state title at Raines High School (his alma mater). And he'll be the first to tell his high school friends who are active in Florida high school football, that it's one thing down there. But it's an entirely different deal when you get north of the Florida-Georgia Line…
Sounds like a country song…
But, I digress…
Camden County has had a lot of losses on the field and off in the summer. A lot of their Division I prospects are off to college (see: Brice Ramsey et al.) and head coach Jeff Herron is now at Prince Avenue Christian. But Coffey knows what Region 1 is all about having been at Valdosta before he was at Camden. At practice, there is no wasted motion and it's a fun practice to watch.
Word of warning: Coach Coffey and I could talk forever… and I almost made him late for his Touchdown Club Meeting. If you need a late slip, just ask me for one in the future…
And it will be good to see the "Hardhats" make their way for (what they hope) is more than one trip to Atlanta this season…
Here's your promotional reminder for the Corky Kell Classic…
Starting at 9AM next Saturday, we're there all day until they kick us out…
Here's the schedule…
Kell vs. Chattahoochee 9:00 A.M.
Peachtree Ridge vs. Walton 11:45 A.M.
Grayson vs. Colquitt County 2:30 P.M.
Camden Co. vs. North Gwinnett 5:30 P.M.
Brookwood vs. McEachern 8:30 P.M.
And here's your promo:
So, be a part of the conversation on Facebook at GPB Sports, follow on Twitter @GPBSports, download the app for your iPhone –appropriate device and catch up with everything on Youtube at GPB Sports.
Send Grace your Football Fridays videos on Instagram to show your support for your teams and make this season a FootballFridays to remember…
Be there… we will!!!
Play it safe, everyone… I'll talk to you before the Kell!
Secondary Content
Bottom Content