Section Branding
Header Content
Wesleyan Quarterback Headed To Lassiter
Primary Content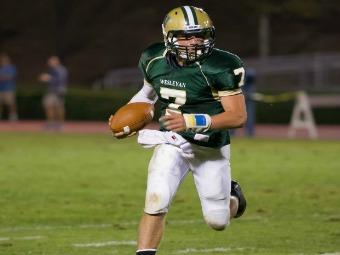 Midway through Will Anderson's junior season at Wesleyan, he had a change of mind. This sort of thing is commonplace among most teenagers, but Anderson's decision would affect two prominent high school football programs and all the players and coaches within them.
During the Wolves' 4-7 campaign in 2012 Anderson, the team's starting quarterback for the second year, decided to act upon his dream of wanting to play college football. He told his parents and the wheels were set in motion. In January, the Andersons moved from their Norcross home to the Lassiter district in eastern Cobb County, where Will enrolled in school. Here, Anderson could compete for the starting quarterback job of a high-profile Class AAAAAA program that throws the ball as much as Kobe Bryant takes shots.
"Will really wanted to improve and really wants to get more looks from colleges, and that's starting to happen right now since he's transferred," said Will's father, Jeff, on the family decision to move. "He has a dream to play college football and he's had two very good seasons at an excellent school. We love Wesleyan. We thought for him this was probably the best decision."
Anderson was successful at Wesleyan and he and his family still look fondly upon the esteemed Gwinnett private school. With the Wolves, Anderson played baseball in addition to his record-setting football career. Anderson holds school records for career passing yards (4,260), completions (341), passing touchdowns in a game (6) and points in a game (36).
Lassiter, however, throws the ball prolifically out of the spread formation and also is at the forefront of the summer 7-on-7 tournaments that bring out a bevy of college scouts. Coupled with the school's winning baseball program and quality academic reputation, the Andersons thought transferring to Lassiter was a no-brainer. Trojans coach Jep Irwin welcomes the family with open arms.
"In talking to his dad, he said he really wanted to play college football and felt like it was a little bit bigger stage playing 6A ball," said Irwin. "They kinda called us and said, 'We're coming.' They called the school and said, 'We'd like to move.' I think they'd already decided on Lassiter because of the combination of academics, baseball and football."
Anderson is receiving interest from college football programs such as his dad's alma mater, Furman, as well as Middle Tennessee State and Samford. But the 6-foot-1, 185-pounder has his sights set on more prestigious programs such as Duke, Wake Forest, California and Boise State. While the former two programs provide a mix of BCS conference football and elite academics, the latter two present the chance to play in pass-happy spread offenses similar to the style Irwin's program employs.
"Coach Irwin and Coach Herring are just great teachers and it gives Will a chance to at least be considered (for scholarship offers)," said Jeff. "The bottom line is he needs to get better and he wants to get better and he wants to learn. If he's going to play at the next level, he's got to continue to learn and grow and develop."
The downside of the transfer is leaving Wesleyan behind without a proven quarterback and potentially taking the place of quarterbacks at Lassiter who have been in the Trojans' feeder system for years. Rising junior Russ Aarons led the Lassiter JV quad to a 6-1 record last season and was the favorite to take over the starting job heading into the fall. Now, he and Anderson will slug it out after Anderson finishes baseball season.
"Whenever we get Will in the summer (after baseball), they'll compete for the starting job and whenever one of them presents himself as being the starter, we'll name the starter," said Irwin. "But we're going to play the best one. We'd like to find a way for both of them to play a little bit, but we'll have to name a starter at some point."
Anderson's father believes the competition will make everyone involved better. "It's competition. You've got to compete in life, right? Competition makes everybody better.
While the starting quarterback race is far from settled, Lassiter is certainly not lacking for quality candidates to replace Eddie Printz, who is now playing for Missouri.
Secondary Content
Bottom Content