Section Branding
Header Content
Walton, Brookwood Tennis Impressing Early
Primary Content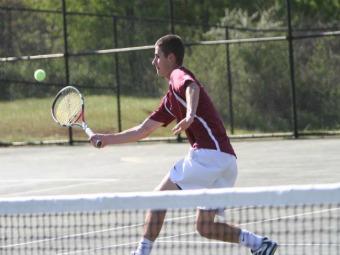 The Walton Raiders girls tennis team has started the 2013 season with a sense of purpose. After falling to eventual-state-champion Roswell in the third round of the GHSA state playoffs last year, Walton was denied a ninth straight state title and the first for first-year head coach Christy Page.
Ten girls returned from last year's squad, including all of the starters and Page added a pair of girls from the JV team last year to give the varsity a small injection of youth. The team is comprised of two seniors (Melissa Mashburn and Hannah Sherrod), four juniors and six sophomores. Mashburn is the lone Raider with a state title to her name as she helped Walton win the 2011 crown. According to Page, Mashburn has started off strong at No. 2 singles.
Sophomore standout Suzanne Zenoni is back at No. 1 singles.
"She has grown stronger in the last year and is off to a great start," said Page of the team's No. 1 player.
The No. 1 doubles team pairs junior Katie Riley and sophomore Jessica Cramer, who are unbeatable.
"They have never lost a match since pairing up last season," gushed Page.
As for the rest of the starting lineup, Page has been mixing and match junior Erica Bauer and sophomores Johanna Keeline and Sophia Guldberg. Clearly, Page's moves have been successful as the team is off to a 5-0 start with a 3-0 region record.
But at Walton, postseason success is what matters and the Raiders know that Roswell will be waiting down the line. The two powers will meet up later this month in a match that could determine the region championship and playoff seeding.
"We will be facing our big rival Roswell in the last region match," said Page. "Our team is stronger and older than we were last year when we played them, so it should be another great match. The girls are working hard and playing well and we look forward to continuing strong into the region and state tournaments."
In tennis action around the metro area, Brookwood swept Grayson 5-0 in both boys and girls action last Thursday. Drew Wendel and Matt Jones picked up 6-0, 6-0 wins for Brookwood in No. 1 and 2 singles while the No. 2 doubles team for the Brookwood boys also earned the 6-0, 6-0 victory. The Brookwood girls also received 6-0, 6-0 sweeps from No. 1 Liz Slaughter and No. 2 Gabbie Griffith. ... Sprayberry slipped past Sequoyah 3-1. The Lady Yellow Jackets picked up wins by Sydney Webster, Abbie Grant and Jordan Smith to secure the wins. ... The North Gwinnett boys finally broke through for the team's first win of the season, blanking Habersham Central 5-0. North Gwinnett is 1-5 on the season after prior losses to Johns Creek, Lambert, Northview, Brookwood and Peachtree Ridge. ...The Roswell girls will carry a 7-0 record into a match with Milton Tuesday after picking up a 4-1 victory over Wheeler last Thursday. Roswell has won 29 straight matches after going undefeated last season.
Secondary Content
Bottom Content