Section Branding
Header Content
Class AAAAA Basketball Championship Preview
Primary Content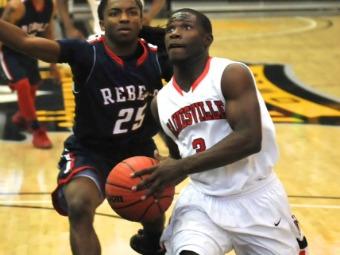 Girls
Southwest dekalb
23-8, Region 6
Coach Kathy Walton's squad experienced growing pains this year after making the finals last season. The Panthers lost five games before the end of December, but are now on an eight-game winning streak and have lost just one of their last 16 contests. Southwest DeKalb entered the region tournament with the No. 4 overall seed, but won games against highly-ranked Tucker and Miller Grove to win the tournament in a surprise. Sophomores Tynice Martin and Davion Wingate have personified the Panthers' young, but talented roster, and are the top two scorers on the squad.
In the finals, the Panthers will take on Miller Grove for the fifth time this year, but have won just a single contest against their region rivals. However, that one win was the last meeting between the two and gave SWD the region tournament championship. Walton's squad has not lost, in fact, since a Jan. 29 defeat by the Wolverines. Martin led the Panthers in that game with 22 points and 13 boards while Wingate poured in 15 and had four steals. In contrast to that win, Walker had just eight points in the Jan. 29 loss and Wingate did not play. As a team, the Panthers made just 10 of 46 field goals on Jan. 29 while in the win, Southwest made 28 free throws.
Southwest DeKalb won three straight state titles from 2008-2010 and has now made the finals in five of six seasons. But DeKalb-neighbor Miller Grove won the state championship last season and has emerged as a major rival of the Panthers. SWD has lost five of six to Miller Grove, but a win in the finals would help the Panthers forget about those shortcomings.
Miller Grove
26-5, Region 6
Miller Grove returns to the finals looking to repeat last season's championship. And Southwest DeKalb is waiting for them, a team which the Wolverines defeated last year in the finals, beat three times this regular season, then fell to in the region tournament. The two DeKalb schools make up what has become one of the top rivalries in Georgia high school hoops.
This year's Wolverines are led by a whopping eight seniors, who each play a major role on the team. Guard Tashi Thompson has the highest scoring average on the team at 13 points-per game while center Klarissa Weaver – a UNC-Asheville signee – averages 11 per game along with 3.3 blocks and eight boards. Shooting guard Katie Hunt averages about nine points per game and leads the squad in assists and steals.
The Grove, as the team is often referred to by fans, lost four of its five games this year to teams from DeKalb. Two losses came to teams from outside Class AAAAA, St. Francis (A) and Columbia (AAAA), and both of those teams made the finals in their respective classes. Coach Renee Breedlove's team is battled- tested, having played in hands-down the toughest region in Class AAAAA.
Miller Grove got here with its exceptional defense, which held opponents under 50 in all but two games and under 60 in all but one – the region final loss to Southwest DeKalb. In the lopsided semifinal win over Effingham County, Breedlove's team held its opponent without a field goal for the first 15 minutes of the game and surrendered a paltry five field goals all game.
With a win this weekend along with a victory by the boys team, Miller Grove will become the first program in state history to have swept the boys and girls titles in consecutive seasons.
Boys
Miller Grove
29-3, Region 5
Coach Sharman White has his Wolverines playing for their fifth straight state championship this weekend. Miller Grove won titles in Class AAAA the past four years and have not missed a beat in the program's first season in AAAAA. While stars like Tony Parker, Mfon Udofia and Donte Williams have led Wolverines squads in the past before heading to college programs, this current group – known for its balance – is not devoid of talent. Freshman Alterique Gilbert has led the team from the point guard position and will give opponents trouble for three more years. Gilbert is average nine points per game, leads the team in steals and is second on the team in assists. Junior guard Keith Pinckney leads the Wolverines in assists and also drops about 14 points per game. The team's leading scorer is senior Kyre' Hamer with a 16.7 average, while fellow senior Earl Bryant averages 13 per game. James Walker, a 6-5 junior, leads the team in rebounding and blocked shots from his power forward position.
Miller Grove, the Region 5 champion, has not lost to an in-state team since a Dec. 21 loss to Columbia. The Wolverines also dropped games to McEachern in the season-opener and on Dec. 27 to Westlake (Calif.) in the MaxPreps Holiday Classic. The Purple and Black has not lost to a Class AAAAA foe this season.
In the playoffs, the Grove has stomped three opponents while beating Tucker by five points in the quarterfinals for a 27.6-point average margin of defeat. White's squad has scored as many as 102 points in a game this year while allowing as few as 21 points. The Purple and Black can win with either a dynamic offense or a relentless defense.
Gainesville
23-9, Region 8
If you're searching for a Cinderella story, look no further. After a regular season that included 9 losses the surprising Red Elephants have won 15 straight, including a region tournament championship and four straight in the state playoffs. The playoff wins have each been excruciating close, coming by a combined seven points.
Late heroics have been the story for Gainesville in the playoffs. Senior Jikeese Ruff hit two free throws in a 60-58 quarterfinals win over New Manchester with just seconds remaining. The second-round win over Mays was even closer at 41-40 and the Red Elephants scraped by Hiram 70-67 in the first round. In a 63-62 semifinal win over Effingham County, 5-4 point guard Tray Harrison found a crease in the lane and drove for the game-winning layup. As was often the case throughout the season, senior guard Shaquan Cantrell – a University of North Georgia commitment – led the team in scoring with 17, while junior guard Deshaun Watson scored 14. Cantrell averages more than 19 points while Watson is second on the team in scoring with 12. Fans may be familiar with Watson after the quarterback's record-breaking season on the gridiron in which he led Gainesville to the state title by putting up video game-like numbers throughout the season.
Coach Todd Cotrell's squad received a huge boost after Watson and other football players returned to the hardwood. After falling to 1-6 on Dec. 22, Gainesville lost just three more times all season. The Red and Black's last loss, in fact, came on Jan. 19 to Christ School (N.C.). Cantrell, though, is the engine that drives Gainesville. While leading the team in scoring, Cantrell is also is tied for the team lead in steals and has the most rebounds and blocks.
Secondary Content
Bottom Content