Section Branding
Header Content
Class AAAA Basketball Championship Preview
Primary Content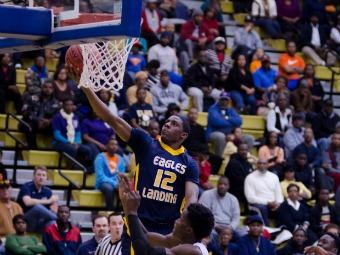 GIRLS
Columbia – 26-3, Region 6
Columbia looks to win a third state title in four years and has shown to be a back to championship form all season, but had to tread through adversity in their semifinal matchup with Jonesboro to get back to Macon. The Cardinals led Columbia 27-13 at the half and 35-24 to start the fourth quarter. Eagles forward Yaktavia Hickson and guard Miah Spencer are prolific scorers and finally found their range in the second half. Hickson finished with 18 points and Spencer scored 16 to pull off their late comeback in the 49-44 win. Hickson and Spencer are high-percentage shooters and come in averaging in double figures on the season. Hickson can create her own shot from the post and Spencer has the range and quickness allowing her to get quality shots off.
The stage is set for an intense guard matchup with Sandy Creek's Jarmon and Columbia's Spencer where the smaller 5-foot-4 Jarmon will try to get to the lane and draw contact and fouls. Spencer will look to find her spots against Jarmon and the pesky Patriots defense and will not hesitate to take the midrange jumper if it is there for the taking. The Eagles have won 17 of their last 18 games heading in and are scoring 58.7 points per game while allowing only 35.3. Down low, Sandy Creek's Martin has the height advantage and 6-1 sophomore centers Starr Nowell and Kyle Felton will have to keep the Temple commit bodied up on the boards. Head Coach Chantay Frost will be involved with another great coaching matchup with King and will need to find sparks off the bench to match the Patriots' depth and defensive rotation. Shamyia Smith, Spencer and Shaundricka Mann are the only three seniors on a young Eagles team that is made up of three juniors and six sophomores.
-By Craig Sager II
Sandy Creek – 25-6, Region 5
Sandy Creek plays in its first state title game overflowing with confidence. The Patriots amassed impressive wins over top seeds as the underdog and did it on the road and by double-digits. In the opening round they beat Madison County 50-25, passed Marist 47-39, and ousted Redan 50-47 in the quarterfinals. They were the only seed other than a No. 1 or No. 2 in both girls and boys in all classifications to make it out of the quarterfinals. In the semifinals, they topped Mary Persons. During Sandy Creek's tournament run, the Patriots are allowing just 33.5 points per game. Sydney Jarmon is a junior guard and comes off a big 16-point game against Mary Persons. She plays at a constant fast pace that she will come out and set early.
Coach Cedrick King uses his team's depth to maintain it throughout the game. Courtney Street scored 11 points in the semis and is a double-figures scorer at guard. Up to nine players will typically see action for the Patriots and the result is a relentless run-and-gun style offense and a fresh-legged lock down defense. Sandy Creek's 6-3 Safiya Martin is one of the best in the state at both blocking and altering shots and can dominate in the half court set. Martin will be the last line of defense for the Patriots, while also battling to control the glass. The senior and Temple signee posted two points, 14 rebounds and four blocks against in her last contest. The team defense of the Patriots showed and only three players from Mary Persons were able to score in the game. King has coached in the championship before, leading Carver-Atlanta to the Class AAA State Championship where it fell 40-36 to the Columbia Eagles.
-By Craig Sager II
BOYS
Eagle's Landing – 22-4, Region 4
All teams still left standing this weekend have been on a roll lately, but Eagle's Landing has taken it to a different level. After dropping a game at the Upward Classic in Spartanburg, S.C., the Golden Eagles have won 18 straight contests, including three in the region tourney and four in the state tourney.
In the semifinal against South Atlanta, coach Clay Crump's squad outscored its opponent 28-8 in the fourth period after making an 18-5 run at the end of the third period. Senior shooting guard Trevin Joseph had 30 in the game while senior small forward Isaiah Dennis scored 24.
While Joseph and Dennis can put points on the board, seniors Desmond Ringer, Chris Davenport and Eric Wortham, Jr. also boast tremendous skills. Ringer, a 6-10 power forward, has signed with South Carolina, Wortham, a 6-5 combo guard, is committed to Middle Tennessee State, and Davenport, a 6-7 forward, boasts scholarship offers from Florida State, Georgia Tech and Tennessee.
The Golden Eagles have rolled through their schedule since acquiring five early losses in out-of-town tournaments. In fact, the only in-state team Eagle's Landing has lost to was Class AAAAAA-giant Tift County. In the playoffs, the Golden Eagles have faced a variety of looks from outmatched opponents trying to find a way to stay with them. In the first round, for instance, Albany held the ball waiting for Eagle's Landing to come out of its zone defense. The 39-13 win over Albany was the lowest-scoring playoff game instate history since 1948, according to the Georgia High School Basketball Project.
In the second-round win over Westover, Eagle's Landing stretched a 12-point halftime edge into a 25-point lead in the third quarter.
-Stephen Black
Columbia – 27-3, Region 6
One of the dominant programs in the state, Columbia can win its fourth state title in a row with a win over Eagle's Landing. In fact, if the girls team wins as well, Columbia will become the first state team to sweep state titles in back-to-back seasons. Miller Grove, however, also has the opportunity in Class AAAAA. Columbia swept the titles in 2010 and 2012, but the girls team lost in the 2011 semifinals to Washington County.
Kerry Sandifer took over this season from long-time head coach Phil McCrary, who won five state titles at the Decatur program. Sandifer's squad has not missed a beat, however, in rolling to yet another final. An early loss to Class AAAAAA program North Gwinnett and two more to Region 6-nemesis South Atlanta gave the Eagles pause, but four playoff wins by an average of 18 points-per game has basketball fans around the state once again in awe of Columbia.
Tahj Shamsid-Deen again leads the Eagles, the team he has starred for during the past three seasons. The senior point guard averages an astounding 26 points-per game while leading the team in assists and steals. An Auburn signee, Shamsid-Deen is one of the most exciting players to watch in the state. Behind the superstar is a cast of quality players often overlooked due to Shamsid-Deen's glow. Senior guard Kyle Wallace drops about 13 points per game, while juniors Kiair Crouch and Maurice Rivers average about 11.
In the blowout win over Statesboro in the semis, Shamsid-Deen poured in 32 (25 in the first half) with four assists and four steals. Rivers added 15 points and 10 rebounds for the Eagles, which led 39-23 at the half.
-Stephen Black
Secondary Content
Bottom Content