Section Branding
Header Content
Class AAA Basketball Championship Preview
Primary Content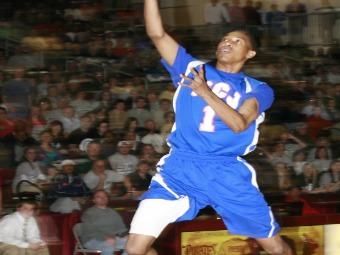 GIRLS
St. Pius X – 29-3, Region 6
The Region 6 champions have been on a roll since early January and have not lost to a Class AAA Georgia program all season. Kyle Snipes' squad is paced by sophomore Asia Durr, a 5-foot-10 scoring guard that fills up the rim at 21 points-per game. Against Chapel Hill in the AAA semifinals at Armstrong Atlantic State, Durr went for 27 points to help St. Pius X to a 59-51 victory. Snipes' squad actually trailed early only to rally back for the win. Jasmine Carter connected for 17 points, just above the junior's season average of 15.6 points per game and is shooting 49 percent from the field.
While the team doesn't miss much from the field (44 percent), Durr and Laura Redmond are two of the standouts at collecting offensive rebounds. Redmond had nine rebounds in the win over Buford in the quarterfinals. Durr grabbed seven in that victory to go with 32 points to lead all scorers. And if teams collapse on Durr and Carter as Buford tried to do, senior MacKenzie Garrison is lethal from the outside. For the season, she has hit 38 percent of her three-point attempts and is second to Durr with just 11 fewer makes in 35 fewer shots. She drilled three in the quarterfinal victory as Pius rallied from down six to win. St. Pius X has certainly faced a tough gauntlet to arrive in Macon, having taken out Region 7-champion Buford 56-43 in the quarterfinals and Region 4-champion Chapel Hill in the semifinals. The Golden Lions have averaged 56.2 points per game in the postseason, just a tick below their regular season average of 56.3 points per game. Opponents have scored on average 39 points-per game, up from the 30 per game the defense allowed during the regular season.
Dawson County – 27-5, Region 7
Dawson County enters the AAA finals on a modest four-game winning streak after falling to Buford in the Region 7-AAA tournament championship game. However, Dawson County has survived thanks to tough defense and a dynamic inside-outside game that rivals some of the best in the state, regardless of classification. Senior guard Carly Gilreath and sophomore post Sheyenne Seabolt are tough to stop, especially if one gets going early like Gilreath did in the 66-50 semifinal victory over Southwest-Macon. Gilreath came out firing early, connecting on a pair of long three-point attempts to clear out space underneath for Seabolt. The sophomore went to work with 27 points and 14 rebounds, collecting the few misses from Gilreath, who went for 24 points in the victory. On the season, Gilreath has averaged more than 15 points per game while Seabolt has averaged just under 14 points.
Gilreath and fellow senior Kacie Bearden are dangerous from downtown. Ashley Parker helps out Seabolt with cleaning up misses as Parker is collecting more than six boards per game. As a team, Dawson County grabs more than 36 rebounds per contest and takes away about 15 steals per game. If Dawson County can use its size against St. Pius X, look for the Tigers to find some success from the outside as the Golden Lions try to collapse on Seabolt. A fast start is also important to Dawson County, though the Tigers won't panic if they do fall behind early. Dawson County rallied from 15 down in the quarterfinal victory against Decatur and from seven down against North Oconee. Dawson County last made the GHSA finals in 1991 during a run of three straight trips to the Elite Eight under head coach Steve Sweat, but has never captured a state title.
BOYS
Savannah – 28-3, Region 1B
The Savannah Blue Jackets are back in the finals for a second straight season and looking to win the Class AAA crown after falling short of the AAAAA title last year. Savannah is paced by senior guard Jovante Spivey that can score but also ignite the team through his defensive prowess. In the semifinals against Buford, Spivey finished with 14 points, including a clutch 3-pointer that put Buford on its heels. As a team Savannah is deadly from the outside, shooting 46 percent from the outside. Senior Quameer Keith has the best percentage on the team of players with at least 12 attempts. Junior Jamal Norman has upped his game since the playoffs began and he led the team with 16 points in the semifinals. Guards Jermaine Williams and Jason Lawton can help fill out a stat sheet.
The wildcard will be junior center Chris Cokley. The Blue Jackets' main threat in the post left the quarterfinal victory over Washington County after hitting his head on the hardwood during a fall. While a CAT scan revealed no broken bones, Cokley missed the team's 54-50 semifinal victory over Buford. Josh Young and Tyreese Rivers combined for nine points in the victory as head coach Tim Jordan tried to use the pair to replace Cokley's production. This season, Cokley had been giving Jordan more than 13 points per game with about eight rebounds and just under three blocks per contest. Savannah is currently riding a 12-game winning streak including a victory over fellow finalist Johnson back on Feb. 15 in the Region 1-AAA tournament. Interestingly enough, the last team to defeat Savannah was Johnson back in late January. For the season, Savannah is scoring roughly 65 points-per game while allowing just more than 45 points on defense.
Johnson, Savannah – 24-6, Region 1A
Any discussion of the Johnson Atom Smashers must begin with do-everything 6-foot-5 senior guard Tim Quarterman. The future LSU Tiger has been a dominating force this year as Johnson has stormed to the finals seeking its first title since 1992. Quarterman went for 20 points against Tattnall County in the quarterfinals and 18 more in the semifinals victory over North Hall. Quarterman also fills up the stat sheet with rebounds, blocks and assists, including several to forward Devon Holmes in recent weeks. Holmes scored 12 points against Tattnall County including several alley-oop dunks as delivered by Quarterman, further showcasing his abilities. Guard Greg Mortimer is a tremendous athlete that can quietly score double-digit points or loudly take over the scoring load when Quarterman is saddled with foul trouble. Guard Rico Bonds is a scorer from the backcourt while 6-foot-8 Saadiq Muhammad and 6-foot-7 Darrell Myers allow for plenty of size underneath.
The athletic ability of first-year coach Utaff Gordon's team easily transitions over to the defensive side of the ball as usually it is the defense that initiates the offense. In fact, it was Johnson's suffocating defense that led to 27 turnovers for Tattnall County and later allowed just three North Hall Trojans to score in a 56-34 win in the semifinals. This season, Johnson held 12 opponents to less than 50 points in a contest while averaging more than 70 points offensively this year. A rough stretch this season against teams in higher classification has given Johnson more losses than most other teams competing for a title in Macon, but those close losses to Archer, Marist and Valdosta have set the bar for Johnson and shown the Atom Smashers how the team must raise its game.
These games take place Saturday at the Macon Coliseum.
Secondary Content
Bottom Content