Section Branding
Header Content
Class A Private Championship Preview
Primary Content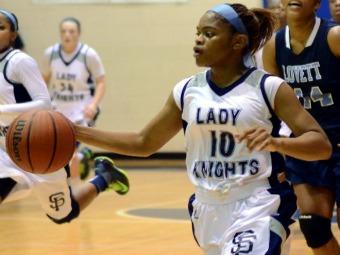 GIRLS
Southwest Atlanta Christian, 28-3, Region 6
Southwest Atlanta Christian has worn Georgia's No. 1 ranking for most of the season in this classification. The Warriors' last loss came to St. Francis in what was considered an upset in the Region 6 championship game, 54-49 on Feb. 16. In the three state tournament games since the loss, the Warriors have been relentless and are ending their opponents' chances often in the first half with particularly strong opening quarters.
In their last three games, the Warriors have outscored their opponents by a massive 72-16 advantage in the first quarter. They are a solid defensive team and on average get 18.5 steals per game, with junior Marquita Daniels leading the category with 4.6 per game. Senior Alexis Carter is the Warriors' go-to player on the post, and she scores 14.4 points per game while filling the stat sheet with 11 boards, four steals and four blocks per game.
Daniels has been a huge impact on the offensive side of the ball since the tournament tipped off and is scoring a team-high 21 points per game and dished out a season-high nine assists to go with her 19 points in the Warriors' 78-43 semifinals win over Holy Innocents'. Forward Amber Brown is a consistent double-figures scorer and averages over 12 points a game and 7.5 rebounds. The Warriors were not a great three-point team all season, but have been one of the state's hottest teams as of late, by shooting a combined 22-of-37 for 59.5 percent beyond the arc in the state tournament. The Warriors have only shot 15 free throws in their three blowout wins after averaging over 15 attempts per game prior. St. Francis held them to just eight attempts in the last matchup between these two squads, so look for the Warriors to try and increase the trips.
St. Francis, 23-8, Region 6
Where St. Francis' win over the Warriors might have sent the proverbial wake-up call, the Knights have been just as impressive accumulating momentum off their Region 6 tournament championship. The Knights have outscored their opponents by an average of 32.7 points per game while allowing only 26.7 points per game in the postseason. Sophomore Abby Grant and senior Antoinette Brown are the two primary playmakers and each average about 14 points per game. Grant will be a key for the Knights' offense, as the primary deep shooting threat. The sophomore scored 15 points off of five made three-pointers in the Warriors' defeat and will certainly draw a lot of defensive attention this time around.
Junior guard Candice Williams gives the Knights 12 points per game and more than five assists while being the type of player that can create high-percentage shots for herself. Williams is a sharp shooter who shoots over 70 percent from the foul line and does not hesitate to get there. The last time these teams faced each other, Williams had a game-high 18 points off just three made field goals and was a perfect a perfect 11-of-11 from the foul line. St. Francis combined for a 21-for-22 night from the foul line in the 54-49 win compared to the Warriors' 6-for-8 night.
One area of concern is rebounding and Antoinette Brown, who leads the Knights with six boards per game. She will have to battle with the Warriors' Amber Brown and Alexis Carter, who both are outstanding rebounders. The Knights' defense-first mentality is going to be the key in in the title game. They have been outstanding in their first three games and will try to stop Carter and the Warriors' attack for the second time this year.
BOYS
Greenforest Christian, 26-4, Region 5
Greenforest Christian earned the tournament's top seed after cruising to double-digit victories over Paideia, Pace Academy and Landmark Christian for the region title. After the state bracket opened, the Eagles continued their double-digit stroll through the first two rounds of competition in the state tournament, winning 67-39 over Savannah Christian and 63-29 over Calvary Day. In the semis, they beat Athens Christian 60-55 behind a monster game from 6-foot-9 postman and MaxPreps.com Player of the Year Tosin Mehinti.
Mehinti flirted with a triple double and the UAB commit totaled 12 points, 16 rebounds and eight blocks. The Eagles are known for their size and distribution of scorers. No player has a bigger presence or impact than Mehinti, however. Faisal Abdul-Malik is a 6-foot-6 sophomore that reached double figures with 11 points in the semifinals. Freshman John Ogwuche and senior Ugo Celestin each had seven points in their semifinal win and add to the physically gifted roster. Sharpshooting from sophomore guard Justin Ravenel complements a team that requires opponents to spend much time and energy slowing down the bigs. Ravenel will not hesitate to pull up with his quick release and knock down big shots. Ravenel can reach double figures on any given night and can drive and feed it back to the post if they are rotating to heavy to him. The Eagles aim to overpower teams and can dominate in the half-court offense. The bigs are athletic enough to run and gun and play transition ball but the offense works best at their 64.3 points per game where they can slow teams down and use their length to cut off the passing lanes and disrupt the opponent's offense.
St. Francis, 23-8, Region 6
St. Francis has won 12 straight games and boasts a young and high-powered offense led by sophomores Malik Beasley and Kaiser Gates and freshman Kobi Jordan-Simmons. The Knights average 70 points per game and come off a 93-74 win over Pace Academy in the opening round, an 80-56 win over W.D. Mohammed in the quarterfinals and a 61-56 semifinals win over Aquinas. In each of their three tournament games, they have attempted 15 three-pointers and have knocked down 45 percent of them. They are red-hot from behind the arc entering the contest, but they do the majority of their work driving and attacking the rim.
The Knights thrive off their trips to the foul line and they shoot a high percentage. In their last three games they have shot a staggering 80 total free throws. This aggressive offensive style combined with precise outside shooting scripts their offense. Beasley is the hot hand and comes in averaging a team-high 15 points-per game. Jordan-Simmons and Gates are right behind with 14- and 13-point averages, respectively. This young team averages 13.4 offensive rebounds per game. On defense, the Knights average 10 steals per game with Jordan-Simmons averaging 2.1. Defensively, the challenge will be stopping Greenforest center Tosin Mehinti, and the 6-foot-8 Jordan Jones will likely join forces with 6-foot-9 sophomores Josh Coleman and Gates to keep him checked all game. This is a high-energy team that profits from their young talent and aggressive offense. It is one of the most talented offenses in the state and Jordan-Simmons is having an incredible tournament, averaging 19 points per game and shooting 64 percent from three-point range.
Secondary Content
Bottom Content