Section Branding
Header Content
Region Tournaments Scramble Hoops Rankings
Primary Content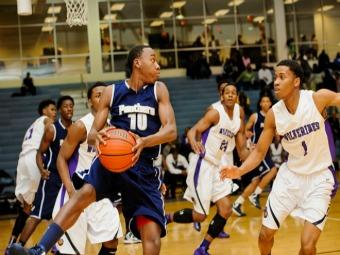 Each season, a team or two misses out on the state playoffs after falling victim to the upset bug in region tournament play, and this year was no exception. North Gwinnett, ranked No. 5 in our previous poll, fell from the rankings after losing to Meadowcreek in the early rounds of the Region 7-AAAAAA tournament. The Bulldogs will be on the outside of the playoffs looking in.
No. 3 Norcross captured the 7-AAAAAA tournament title. North Cobb jumps up to No. 4 after winning the Region 4-AAAAAA tournament, beating No. 10 Hillgrove in the process. No. 7 Alpharetta and No. 8 Druid Hills made their debuts after winning their respective region tournaments.
In Class AAAAA, Allatoona fell to No. 9 after falling in the Region 5-AAAAA semifinals. Whitewater jumps in at No. 4 after winning the Region 4-AAAAA title and Gainesville claimed its first region title since 2009 to move to No. 5 after a 2-7 start to the year.
Eagle's Landing jumped back up to No. 1 after winning its region while former No. 1 Columbia was one of several ranked teams to fall in region tournament play in Class AAAA. South Atlanta, which once again defeated Columbia, moved up to No. 2.
The Class AAA brackets stayed the same at the top with No. 1 Cartersville and No. 2 Buford, but Savannah jumped to No. 3 after defeating No. 7 Johnson-Savannah. Thomson slipped in at No. 5 while No. 4 Morgan County and No. 6 Woodward Academy moved up in the polls.
In Class AA, Westside-Augusta shot up to No. 3 as Frank Booker is red hot right now. No. 5 Jordan and No. 7 Jefferson jumped into the polls after winning their regions.
CLASS AAAAAA
1. Tift County
2. Shiloh
3. Norcross
4. North Cobb
5. Wheeler
6. Westlake
7. Alpharetta
8. Druid Hills
9. Chattahoochee
10. Hillgrove
CLASS AAAAA
1. Miller Grove
2. Effingham County
3. Northside-Columbus
4. Whitewater
5. Gainesville
6. New Manchester
7. Jones County
8. Stephenson
9. Allatoona
10. Tucker
CLASS AAAA
1. Eagle's Landing
2. South Atlanta
3. Statesboro
4. Westover
5. Columbia
6. Jonesboro
7. Northwest Whitfield
8. Rutland
9. Marist
10. Glenn Hills
CLASS AAA
1. Cartersville
2. Buford
3. Savannah
4. Morgan County
5. Thomson
6. Woodward Academy
7. Johnson-Savannah
8. Washington County
9. Carver-Columbus
10. North Murray
CLASS AA
1. GAC
2. Vidalia
3. Westside-Augusta
4. Calhoun
5. Jordan
6. Pelham
7. Jefferson
8. Taylor County
9. Laney
10. Bleckley County
CLASS A – Private
1. North Cobb Christian
2. W.D. Mohammed
3. Greenforest Christian
4. Excel Christian
5. Aquinas
6. Landmark Christian
7. Athens Christian
8. St. Francis
9. Holy Innocents'
10. Calvary Day
CLASS A – Public
1. Wilkinson County
2. Mitchell County
3. Wilcox County
4. Seminole County
5. Turner County
6. Portal
7. Treutlen
8. Jenkins County
9. Dooly County
10. Hancock Central
Secondary Content
Bottom Content