Section Branding
Header Content
Defending Champs Face Talented Challengers
Primary Content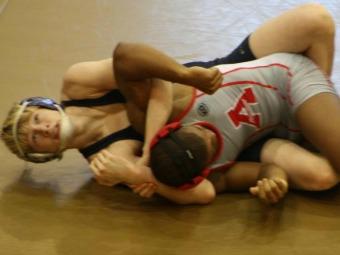 While Pope is looking to "three-peat," Archer is trying to win the first traditional title in school history. The Tigers won their first wrestling state championship ever last month in the duals, but this meet provides different challenges.
"Anywhere you can pick up a point here or a point here, they all matter," Archer coach Tom Beuglas stated. "The biggest thing is to get more kids on the podium than anybody else. If you can place eight, nine, 10 kids in the top six, you going to be hard to beat."
With a first-place finish this weekend, the Class AAAAAA Tigers would be the first program to sweep the duals and traditional titles within the first four years of the program's start. Beuglas took over at Archer four years ago after 15 season with Parkview. Now, he has a state title under his belt and a nationally-ranked program.
"The first year, we went out and got any person we could get and preached to them to buy into it and commit yourself to wrestling year round and work hard, when you're a senior, we have a chance to (win state.)," he remembered. "We've got nine seniors, and they've all bought into it."
Beuglas hopes this will not be the end of Archer success, but the beginning.
"We've got a lot of young kids so I feel like we're not really ending, we're just getting started."
THE CONTENDERS
In Class AAAA, the odds-on favorite is Gilmer, the three-time reigning duals champion and winners of two of the past three traditional titles. Coach Sam Snider's Bobcats are led by four grapplers who won titles in the rugged Area 7 traditional tournament: Marcelino Lopez, Cameron Perry, Johnie Flakes, Jared Sweat and J.P. Pritchett. Heritage-Catoosa, however, won last year's traditional title while duals-finalist Alexander could pose a threat to Gilmer.
Pope will be the team to be once again in Class AAAAA. All-everything wrestler and Air Force signee Brooks Climmons will anchor the Pope lineup while Preston Markwell, Tyler Haskin , T.J. Collins, Davis Burson, Jonny Sexton, Jake Henson, Billy Meek, Zeke Weber, Joey Tabachino and Taylor Howard each had wins for the Greyhounds in the duals finals. Woodland-Bartow and Whitewater are ranked second and third, respectively, according to the Score Atlanta/AJC poll.
Finally, in the state's largest classification, Archer heads a three-headed monster of state contenders, along with Collins Hill and Camden County. The Tigers, however, beat Camden County in the duals finals 35-19 and qualified all 14 wrestlers for the traditional meet.
Secondary Content
Bottom Content