Section Branding
Header Content
Spotz Hopes To Give Walton Instant Impact
Primary Content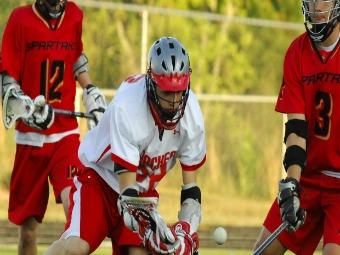 Griffin Spotz, who came to Walton after building a winning lacrosse program from the ground up at Duluth High School, is more than ready to make an instant impact as the Raiders head coach this season. Walton won the GHSA state championship in 2011 and has had success in previous seasons using football coaches to head lacrosse. Former Walton head football coach Ed Dudley, current head coach Rocky Hidalgo and assistant coach Bill Bellus were all successful while taking turns as lacrosse head coach.
The certainty of lacrosse's steady growth as a sport and a coaching vacancy this year was more than enough reason for Walton to introduce the fervent lacrosse mind of Spotz into the program.
With the season right around the corner, Spotz and the Raiders traveled to Hillgrove Monday to scrimmage before they open the season at home against Mill Creek this upcoming Monday.
"The scrimmage went really well," said Spotz "The weather was nasty, which can be the ultimate equalizer in lacrosse, but despite missing some opportunities that were possibly because of the rain, we were still able to shut it down."
The first unit played the first half of the scrimmage and controlled the game without their best defensive player on the field as junior William Holt (illness) missed the game. Holt is a long-stick defender and is one of the best defensive players in the state. The offensive talent on the team is equally impressive and there is a long line of playmakers.
"We are really deep offensively, really deep, but how athletic our midies [midfielders] are is what stands out most," said Spotz
Holt and junior teammate Hutton Spitler are two of the most athletic guys on the field and will be cleaning up the defense along with Jake Hornberger, who started at goalie as a sophomore last year and will remain the Raiders' last line of defense in 2013. This is a very athletic defensive group and will build a great safety net for a more aggressive style of offense.
There is a lot of versatility with this athletic team, but despite the long list of strategies and possible game plans, Spotz wants to make sure he implements the basics before he further develops his team.
"For this first game, we have had so much time to prepare that I did not want to over-prepare us to the point where I gave them too much," said Spotz. "Our gameplan this first game will be quite simple: they will be able focus on playing full speed and the gameplan will implement itself along the way."
The Raiders should be a dangerous team with Spotz in command and he expects to continue adding to the list of accomplishments of the Walton program that just two seasons ago took the state championship.
Secondary Content
Bottom Content