Section Branding
Header Content
Pope, Archer Wrestling Want To Go Out On Top
Primary Content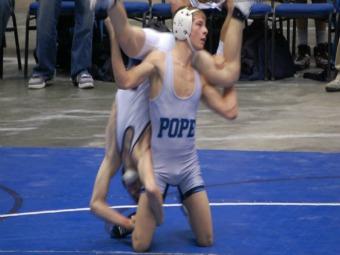 The state traditional wrestling finals is a special event for many people. Wrestlers have prepared for years to be here in Macon this weekend through grueling conditioning programs, fasting to make weight and a myriad of brutal practices honing their technique and learning what it means to be "wrestler tough." Parents, coaches and communities will be watching today to see all the hard work pay off for their wrestlers.
Being the last meet of the school year means the traditional tournament holds a special importance. Coaches and teams want to close out the season in a positive way.
"There's five seniors this year and I want them to go out on top and they want to go out on top," Pope coach Jim Haskin said about this weekend. "The whole team wants to go out on top, so that's a good thing for the program. It steers people in the right direction for the future."
Archer coach Tom Beuglas agrees. Despite winning the duals tournament last month like Pope, Beuglas' team wants this one even more.
"Obviously, winning the duals was one of our two goals for the season but I've told them all along, everybody remembers what happens last," Beuglas said. "We kind of put that (the duals) behind us pretty quick. I'm not going to lie, it's big."
While the duals tournament is strictly a team-oriented event, the traditional meet puts the individual first. However, there is still a team concept and goal.
"When you get to the traditional, it's every man for himself," Haskin described. "It becomes all about you. The onus is put on the man, the one guy. We also build on, when you perform and do what you're supposed to do, the team wins out as well."
And Haskin knows how it feels to leave on top as he has guided the Greyhounds to four state titles, including the past two traditional championships. Pope has also won the past two duals titles.
With so much recent success, Haskin has to find ways to keep his Class AAAAA program motivated to just maintain the status quo, rather than reaching for the top.
"When you get to a point where you're starting to win championships, whether it's Cobb County championships or a state championship, you want to continue that tradition," Haskin said. "That's important to them, to the coaches, to the community and everybody involved. That's a big part of it, continuing tradition."
Secondary Content
Bottom Content