Section Branding
Header Content
Woodward Looking To End Westminster's Reign
Primary Content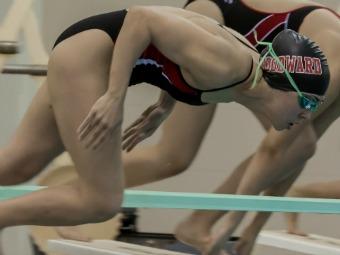 For years, some of the nation's best female swimmers have called Georgia home, including Olympians Amanda Weir, Kathleen Hersey and Kara Lynn Joyce. Once again, swimming enthusiasts will turn their gazes towards the Georgia Tech Aquatic Center to see another class of young ladies set fire to the pool and blaze their way to state titles.
While the A-AAAAA competition includes schools with some of the state's smallest enrollment numbers, plenty of standouts will be ready to compete. Wesleyan recently finished fifth at the Metro Atlanta Swimming and Diving Championships. Rachel Koch was one of the standouts for the Wolves, taking the 100 butterfly. In last year's championships, Koch finished fifth in the event. Wesleyan has won the last two boys titles, but the girls are looking for the program's first-ever GHSA swimming and diving crown.
The defending champion Westminster Wildcats ended Marist's run of five straight last season, but Westminster owns 20 crowns since 1963, including a run of six straight from 2001-1006. The Wildcats enter with some momentum after beating out Marist and Woodward Academy, among other programs that will be up for the A-AAAAA top prize in the recent Metro Championships.
Brookwood head coach Greg Puckett came away impressed by Westminster's Nicole Stafford at the Maddie Brown Invitational.
"(She) should be the favorite in the 200 free and 100 butterfly," said Puckett.
Woodward Academy will look to exact a measure of revenge after recent losses to Westminster. Expect Rebecca Justus and Caitlin Cooper to make some waves after each recent set a school record in the 100 butterfly and 100 backstroke, respectively. Cooper is also a threat in the 50 free, an event she won last year as a sophomore.
"I'd keep an eye out for Kathleen Cook," said Woodward Academy coach Kelsey Emerson. Cook is a freestyle specialist who placed in a number of events last year.
Two names to watch out for in the diving competition are Marist seniors Andrea Demick, who finished second last year, and Taylor Gould, who finished third.
Ever since the GHSA split the swimming and diving championships into two separate classification brackets, the highest classification girls title has been handed back and forth between Fulton County (Chattahoochee, Centennial, Northview), Lassiter and Brookwood. The Broncos won last year, ending Lassiter's run of four straight titles, to give Brookwood its fifth title since 2001. Lassiter has won five titles since the split and Centennial, Northview and Chattahoochee all have claimed one since 2000.
Brookwood recently finished second in the Gwinnett County championships, as Mill Creek ran away with the title. Brookwood lost several key contributors from last year including Kelsey Gouge, but coach Greg Puckett has senior Rachel Muller back.
"Muller should be one of the favorites in the 200 free and 500 free," Puckett predicted.
Muller beat fellow Bronco Anna Jahns in the 200 freestyle and 500 freestyle at the Gwinnett County championships. Muller finished second in the 200 free last year and third in the 500 free.
Mill Creek lacks the individual standouts of years past such as Rachael Dudley (2012 100 butterfly, 100 backstroke champion) and Frederique Lefebvre, but look for the Hawks to once again lean on their depth and their incredible diver Lexi Sachse, who won the Gwinnett diving title.
Meanwhile, Lassiter will look to rebound after falling in the Cobb County championships.
"I know that all of our girls are excited about (the championships)," Lassiter head coach Lauren Barnes said. "The second-place finish to Walton at the Cobb County Championships has helped pump them up."
Lassiter will be led by Jordan Drake, Lauren O'Malley and Lexi Glunn.
"Jordan Drake is a fierce competitor," Barnes said. "When she gets in the right mindset, nothing can shake her confidence in a race. Lauren O'Malley possesses a lot of maturity for a sophomore. She is a leader of the team and she motivates others with her grace and positive attitude."
Walton will enter with a lot of momentum after claiming the program's first Cobb County title since 2008 as Kira de Bruyn and Jane Watts were among the top swimmers at the event.
A third Cobb County team could swim away with the title as Kennesaw Mountain should have Rebecca Postoll back from U.S. National Team duties. Postoll missed the Cobb County championships, but the Lady Mustangs still managed to finish third. Postoll's sister, Melissa, was a force in the pool, taking the 100 backstroke and 200 freestyle events. The Mustangs will also be a threat on the diving board as Alex Hart recently set a new school record at the Cobb County championships. She finished second last year to Colquitt County's Elizabeth Kirkland in the one-meter dive.
Secondary Content
Bottom Content