Section Branding
Header Content
Banks County Makes History On Mats
Primary Content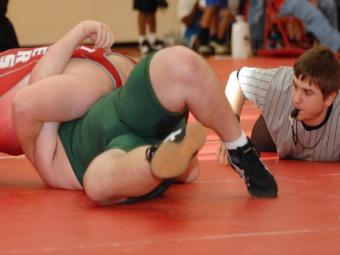 Banks County wrestling coach Kasey Hanley grappled at Jefferson in his high school days, a place where state championships come annually like Spring Break. But after taking over at Banks County eight years ago, the first-time head coach knew he had some building to do.
"We've tried to build this program from the ground up," he said. "I wrestled at Jefferson, so the mindset for me was a little different. For our kids, seeing Jefferson up there at the podium every year was a difficult thing to overcome."
During his eighth season, however, Hanley returned to a familiar place – the podium at the state dual wrestling tournament – after his Leopards edged No. 1 Woodward Academy 34-33 for the state crown.
"This was a goal we'd set at the very beginning of the year," he said. "It's been a long time coming for us."
After standing in his alma mater's shadow for years, Banks County caught a break when it was reclassified into Class AAA, one up from former region-rival Jefferson.
"It was kind of like the perfect storm," Hanley said. "We had powerhouse Jefferson in our area for several years. All those years we were in there with Jefferson, it was very difficult for the kids to see a realistic goal of a state title. We moved up to AAA this year and had the best team returning we've ever had. At the beginning of the season, things started to come together pretty good."
Despite some early success, Hanley's squad encountered a character-building moment mid-season. At the Maynard Duals at Collins Hill, the Leopards met some fierce competition and learned a little about themselves.
"We entered that tournament knowing it was going to be a measuring stick," Hanley said. "Some of the best teams in the country were there. I knew we were going to go in there and take our lumps and that was what it was all about. Win or lose, you gain some valuable experience. We lost to Pope, which is a tremendous program. Lost pretty bad, too. But the kids realized that we actually belonged in that tournament. We actually finished 4-1 in the tournament. After that tournament, we realized winning a state championship was possible."
With that tough lesson in hand, Banks County moved into the dual tournament ranked No. 2. Predictably, the Leopards met top-ranked, state championship favorite Woodward in the final. Hanley knew his team had its work cut out.
"As a wrestling coach, you prepare on paper for what the (outcome) is supposed to look like," Hanley said of the matchup with Woodward. "You can look at kids' records, common opponents and based on your record, you get a pretty good mental picture of what the score should be going into the match. After we went through that, we knew it was going to be very difficult. Woodward is loaded."
The match played out about as expected, with Woodward up midway through. But Hanley knew what his team had to do to win.
"When it was 27-16, there were four matches left," he explained. "If we pinned three of the next four, that would put the match out of reach."
Banks did just that and held on for the program's first-ever state wrestling title. Next up for Hanley's crew is the Sham Slam, which is known as the most competitive individual tournament of the season. Later, in February, the Leopards will try again for state gold, this time at the traditional tournament.
Secondary Content
Bottom Content