Section Branding
Header Content
Westminster Girls Jump In Swim Poll
Primary Content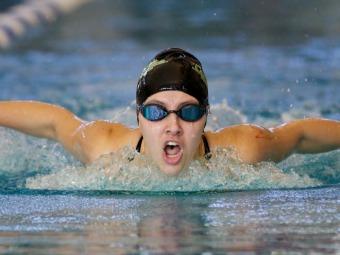 Gwinnett County was once again the site for a huge showdown as Class AAAAAA powers Brookwood and North Gwinnett squared off in a head-to-head meet. The No. 1 Brookwood girls held off No. 8 North Gwinnett, while boys No. 5 North Gwinnett defeated No. 6 Brookwood. Boys No. 1 Parkview also held off Peachtree Ridge, but girls No. 5 Peachtree Ridge defeated No. 6 Parkview. Peachtree Ridge also showed well in the Gwinnett Dive Invitational, as did No. 7 Mill Creek. Parkview's boys also placed two divers in the top six of the Gwinnett Dive Invitational.
In other Class AAAAAA action, No. 3 Alpharetta scored a victory in the 2013 Fulton County Championship as No. 10 Johns Creek finished third, behind No. 9 Chattahoochee. The Johns Creek girls earned the win in the Fulton County Championships to enter the rankings at No. 9.
In Class AAAAA-A action, boys No. 1 Marist easily swam past No. 9 Woodward Academy 200-99, but the girls No. 2 Woodward Academy scored a victory at No. 3 Marist to bump the War Eagles out of the top spot. No. 1 Westminster stayed ahead of Woodward Academy by picking up a victory in Tennessee against the Girls Preparatory School at McCallie.
AAAAAA BOYS
1. Parkview
2. Lassiter
3. Alpharetta
4. Walton
5. North Gwinnett
6. Brookwood
7. Mill Creek
8. Dacula
9. Chattahoochee
10. Johns Creek
AAAAAA GIRLS
1. Brookwood
2. Kennesaw Mountain
3. Walton
4. Lassiter
5. Peachtree Ridge
6. Parkview
7. Mill Creek
8. North Gwinnett
9. Johns Creek
10. Etowah
A-AAAAA BOYS
1. Marist
2. Wesleyan
3. St. Pius X
4. Dalton
5. Sequoyah
6. Oconee County
7. Woodward Academy
8. Westminster
9. Pope
10. Rome
A-AAAAA GIRLS
1. Westminster
2. Woodward Academy
3. Marist
4. St. Pius X
5. North Paulding
6. Wesleyan
7. Pope
8. Calvary Day
9. Rome
10. Greenbrier
Secondary Content
Bottom Content