Section Branding
Header Content
Duals Seedings Earned Over Busy Weekend
Primary Content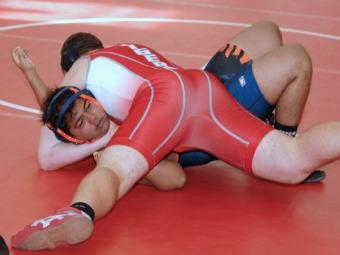 The state wrestling duals championships will take place this weekend at the Macon Centreplexfor all six classifications. Classes AAAA-AAAAAA will each bring their top 16 teams to the event, while Classes A-AAA will bring eight squads each.
On Thursday, the Round of 16 will narrow the fields for Class AAAA-AAAAAA and all six classes will stage their quarterfinals and semifinals Friday. The finals for each class will be held at 3 p.m. Saturday with the awards ceremony taking place immediately after.
Over the weekend, area championships were held throughout the state to determine the teams that will compete in Macon. Archer (AAAAAA), Pope (AAAAA), Gilmer (AAAA), Woodward Academy (AAA), Jefferson (AA) and Holy Innocents' (A) each earned top seeds for this weekend's tournament.
Class AAAAAA No. 1 Archer grappled in two tournaments over the holidays before sweeping the Area 8-AAAAAA Duals. On Dec. 21, the Tigers traveled to Chattanooga and won the McCallie Invitational as Ernest Alexander, Thomas Bullard and Chris Bass each won their respective weight classes. Archer then competed in the Granite City Invitational in Illinois where the Tigers took third place on Dec. 29. Despite the team loss, Alexander and Bullard again won their weight classes. While qualifying for the state duals meet, Alexander won the area meet by dispatching Berkmar 75-6, Dacula 73-0 and Brookwood 69-6. The Tigers were seeded first in Class AAAAAA.
In the Area 7-AAAAAA meet, No. 2 Collins Hill retained the title for the eighth consecutive season with a 43-18 win over No. 4 North Gwinnett. Behind their area championship, the Eagles were given the No. 2 seed in Class AAAAAA for this weekend's state championships.
Roswell won the Area 5-AAAAAA duals 52-15 over Wheeler as both squads advanced to Macon. Wheeler's berth is especially notable as the Wildcats qualified for the state meet for the first time in program history.
In Area 4-AAAAAA, No. 3 Kennesaw Mountain rolled to the area title with a 49-18 win over sixth-seeded Marietta. Also in Cobb, Class AAAAA No. 1 Pope won its six straight area title after blasting Sequoyah 82-0, Forsyth Central 70-3 and Creekview 52-12.
Class AAA's top-ranked program, Woodward Academy, hosted and won the Area 5-AAA Duals this weekend winning all seven of its matches. The War Eagles will be the No. 1 seed in Class AAA this weekend at Macon. Woodward's Chad Pyke won the 300th match of his career Saturday at the Area 5-AAA duals hosted by the War Eagles. A North Carolina State commitment, Pyke's career record is 302-18 going into the state duals finals this weekend. Pyke's brother Chris, a junior at Woodward, has already surpassed the 200-win mark.
Another Woodward Academy War Eagle reached a milestone recently, as wrestling coach Pete Fritts, Sr. guided his team to its 400th victory behind his leadership on Dec. 22 in the War Eagle Classic.
Holy Innocents' won its second consecutive Area 5-A championship after posting dominant wins over Mt. Vernon Presbyterian (81-0), Mt. Pisgah (72-6) and Commerce (48-12). Rod Davis and Liam Quigley each had pins in the finals against Commerce, while Grant Chastain, Grant Gosden, Jason Grimes, Will Morton and Owen Penn each won matches.
Finally, Lassiter coach Steve Day announced his retirement from the Cobb County school after the Trojans failed to advance to the state championship meet. Day has coached for 31 years and has tallied five region titles and more than 350 duals wins in his tenure.
Secondary Content
Bottom Content