Section Branding
Header Content
Star Quarterbacks Have Huge Games
Primary Content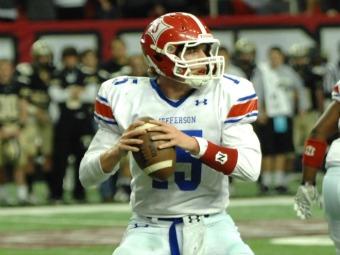 Gainesville's offense looked like it could not be stopped for much of the season, and simply outscored everyone on the Red Elephants' way to the Class AAAAA state title, the program's first championship since 1925, according to GHSFHA.org. Quarterback Deshaun Watson was behind most of the damage as the junior racked up 74 total touchdowns this season after scoring five more in Friday's 49-13 win over Ware County. Watson also finished with 329 yards passing in the final and 95 rushing yards. He completed his junior season with 108 total passing touchdowns and 4,031 passing yards, both state records. The talk at the Dome, however, centered around Watson's commitment to Clemson. Several colleges sent coaches to the game Friday night to see Watson, including Georgia, Alabama, Ohio State and Auburn. It is only a matter of time before some or all of those programs, along with many others, decide to turn the heat up on one of the state's most prolific QB prospects ever.
Sandy Creek's 45-10 domination of Ridgeland showed just how talented the Patriots are. After the game, Panthers coach Mark Mariakis lamented being "out-athleted" at many positions, especially on the perimeter. In watching the game, it was easy to see why the Patriots have been so successful under coach Chip Walker. The defense held Ridgeland to no points until late in the third quarter when the issue was no longer in doubt. The Sandy Creek offense, meanwhile, had no trouble moving the ball on Vonn Bell and the Panthers' out-matched defense. Walker said after the game his plan was for the Patriots to put Ridgeland away early, and they did just that. Big pass plays to receivers Demarre Kitt and Kyle Wilson set up touchdown runs by Delvin Weems and Eric Swinney (two each) to net the Creek a 31-0 halftime lead. Quarterback Cole Garvin carved up Ridgeland for 161 passing yards at the half, while the Panthers countered with just 108 total yards in the opening stanza.
What really stands out about Jefferson's 31-14 win over Calhoun is the play of Dragons' QB Bryant Shirreffs, who ran for 139 yards and three touchdowns on a Calhoun defense that had given up 45 total points in four previous playoff games. Shirreffs totaled 310 yards. That type of performance on a big stage like the AA championship game at the Georgia Dome should give Shirreffs some attention for a major college offer. To this point he has been offered by just Dartmouth and Yale, but is receiving interest from Furman as well, according to recruiting guru Chad Simmons of Fox Sports/Scout. Shirreffs helped deliver Jefferson its first state title ever and gave legendary coach T. McFerrin the second championship of his storied 34-year career. Shirreffs ends his senior season with 1,372 rushing yards and 2,352 passing yards with a total of 38 touchdowns. Shirreffs is a physical runner who is nearly unstoppable in short-yardage situations, which reminds many of former Florida star Tim Tebow.
Secondary Content
Bottom Content