Section Branding
Header Content
Falcons Honor High School Coaches
Primary Content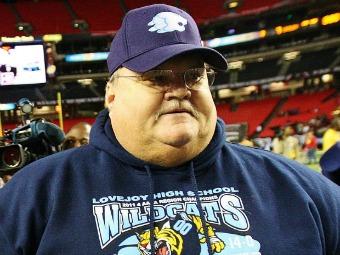 While many football fans across the country get excited for Saturday and Sunday, followers of Peach State pigskin ratchet up their excitement beginning Friday evening as high school football takes center stage. Young men across the state play their hearts out for their schools and their communities, and one particular set of men give their hearts, souls, bodies and minds to not just the cause of winning, but the cause of bettering the lives of these young men.
The Atlanta Falcons have once again set out to honor high school coaches who dedicate their lives to these young football players. Six coaches and one coaching legend have stood out above the rest this year, and the Falcons' organization would like to recognize these individuals. The six 2012 Coaches of the Year are Irwin County's Jon Lindsey, Rabun County's Lee Shaw, Blessed Trinity's Tim McFarlin, Jonesboro's Tim Floyd, Harris County's Tommy Parks and Lovejoy's Al Hughes. Legendary Ray Lamb is being honored as well with the Lifetime Achievement Award.
It is the tireless efforts of these men that have helped put Georgia high school football on the pedestal it sits on as one of the nation's top states for prep football.
Ray Lamb tooted a whistle on a Georgia high school sideline for 32 years beginning in 1961. Beginning with a stop in Warren County then on to Commerce for 22 seasons and ending at Monroe Area, Lamb compiled a career record of 249-103-11. Only 23 other head coaches in Georgia history managed to pile up more victories than Lamb, who also captured the 1981 Class AA title, as well as a pair of Class C titles in the mid-1960s. Lamb also led three other teams to championship games.
Lamb's time at Commerce helped earn him a spot in the Georgia Athletic Coaches Association Hall of Fame, and he would later serve as GACA president and as Coordinator of High School Relations at the University of Georgia.
Perhaps his greatest achievement is as a father. His two sons Bobby and Hal have gone on to become coaches, with Hal winning the Class AA title last season at Calhoun. The Lambs are one of just two father-son duos to claim titles as head coaches.
Al Hughes brought the Lovejoy Wildcats to within one win of a GHSA title last season, only to fall short against Tucker. After reclassification moved his squad up to the new Class AAAAAA, Hughes went back to work and has his team in a position once again to play for a title. After picking up win No. 100 earlier this year, Hughes is now trying to bring a title back to Lovejoy, where he has coached since 1993. Hughes served as the offensive coordinator at Lovejoy until 2001, when he was promoted to head coach. He is Clayton County's all-time winningest coach.
Tommy Parks got Harris County rolling this year after a slow start to the season. Harris County scored wins over key region rivals Lee County and Thomas County Central to claim the school's first region crown in more than 50 years. The good news didn't stop there as Parks coached the team to the program's first-ever postseason victory, a 31-14 win over Northgate. The good times kept rolling when Harris County hosted and defeated Warner Robins in Round 2 before falling in the quarterfinals. Harris County has plenty of momentum heading into 2013 and Parks will look to maintain the defensive intensity he instilled as defensive coordinator back in 2002.
Jonesboro had not made the postseason in successive years in the modern era before Tim Floyd managed a second straight 9-2 year on the Cardinals' sideline. Jonesboro stuck with Floyd after the seasons despite a 7-13 start, and the Albany State graduate has rewarded the Cardinals with the most wins ever for the program over a two-year stretch with 18. He has also helped countless players earn scholarships and two of his charges will suit up in the SEC next season. The Cardinals finished strong this season by winning their last seven games of the regular season.
When Tim McFarlin took the Blessed Trinity job, his resume included a share of the 2006 state championship. What he has done since returning to the sidelines at Blessed Trinity may be more impressive, though. McFarlin has helped the program win its first playoff game, and his eight wins this regular season helped the Titans once again make the postseason, where McFarlin coached the program to another playoff win. Over his 10 years with Roswell, four times he won at least nine games, and he could soon be starting a similar streak with Blessed Trinity.
They say you can never go home again, but Lee Shaw didn't just go home to Rabun County to ride off into the sunset; he went home to win. In his first year with the Wildcats, Shaw helped the program to the postseason for the first time since 1998. A quarterback-maker while at Flowery Branch, Shaw could soon be churning out quarterbacks in Tiger, Ga. Shaw coached his two sons to FBS scholarships, as well as two other quarterbacks over his final two years at Flowery Branch, a program he started, before departing for the mountains of northeast Georgia.
The Camden County coaching tree stretches far across the state and most of the branches have sprouted off success stories wherever they reach. One such success story is Jon Lindsey at Irwin County. The former Camden County defensive coordinator began his coaching career at South Cobb High School before joining up with Jeff Herron in south Georgia. After learning everything he could, Lindsey branched out to take the Irwin County job and led the program to a 7-3 record and a spot in the Class A playoffs this season.
While playoff success and state championships ultimately determine a coach's inclusion in the Hall of Fame, his impact on the players he coaches should be recognized as the more important goal of a leader of young men. These coaches are winners both on the field and off.
Secondary Content
Bottom Content