Section Branding
Header Content
Speed Rules When Lovejoy Faces Norcross
Primary Content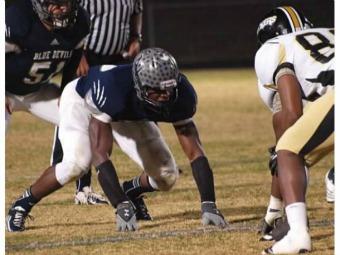 Lovejoy faces Norcross for the GHSA Class AAAAAA state title Saturday night at the Georgia Dome.
Lovejoy
After making the Class AAAA finals in 2011, Al Hughes' Lovejoy Wildcats (13-1) will now head to the 2012 Class AAAAAA finals after a win at home in the semifinals against North Cobb. Lovejoy spotted the Warriors a 21-7 lead before pouring on the pressure both offensively and defensively. Lovejoy quarterback Alejandro Bennifield has weapons galore with TE Arshad "A.J." Jackson and WR Jumichael Ramos, but it was RB Travis Custis that carried the Wildcats to the semifinal victory. The future Georgia Tech Yellow Jacket carried the rock 28 times for 292 yards and five touchdowns in the 63-42 win and is Lovejoy's all-time leading rusher. Custis is one of six FBS college football commitments. Interestingly, the offensive line is anchored by sophomore center Randy Robinson, who played in all 15 games last season as a freshman.
The Wildcats have scored 42 points per game this season while allowing just nine per contest. So far this postseason, Lovejoy has taken out Tri-Cities 51-13, Marietta 36-15 and North Gwinnett 21-6 before thumping North Cobb. The Wildcats' defense has faced several outstanding individual performers over the first three rounds of the playoffs and systematically eliminated each one.
Defensively, Hughes' team is just as fast as it was in 2011. Cornerback Brandon Davis has five interceptions returned for scores this year and Montrell Custis also notched a pick-six in the semifinals. The defensive secondary is given opportunities as NG Nathaniel Norwood is constantly putting pressure on the opposition's quarterback. The 42 points allowed in the semifinals was the most the Wildcats had allowed all year. The defense has posted four shutouts and held five other opponents to less than eight points.
With 12 straight victories in their pocket, Lovejoy will attempt to equal last year's 14-1 record with another victory in the AAAAAA finals.
Norcross
Norcross (14-0) is the lone remaining unbeaten team in Class AAAAAA. This may have been a surprise before the season, but the Blue Devils quickly came together after knocking off North Gwinnett in Week 3 and have not looked back since. Keith Maloof's offensive attack begins with RB Alvin Kamara, WR/RB Miles Autry, WR Trey Smith, Clinton Lynch and QB Joseph Wilber also playing major roles for a team that has not scored less than 20 points in any game this season. Kamara is one of the nation's top running back prospects and in the quarterfinal win over Camden County, Kamara rushed for 158 yards on 27 carries and threw for a score out of the Wildcat. In the semifinals, Kamara nearly topped himself by rushing for 133 yards and a score. He also reeled in a screen pass and rumbled 65 yards for another score in the 41-27 win over Colquitt County.
At the quarterback position, Wilber has been Mr. Steady this season, passing for 2,342 yards and 27 scores. He has been able to take advantage of Smith and Autry all year along as Kamara has softened up defenses. Autry has scored 19 times this season. Lynch leads the team with more than 700 yards receiving.
Defensively, DE Lorenzo Carter is nearly unstoppable off the edge. He has recorded more than 20 sacks this season and bookends with Jahmal Jones. Michael Marshall is also a beast on the defensive line. Linebackers Tommy Tate and Kevin Mouhon gobble up ball carriers that manage to sneak past the defensive line. The Norcross secondary is led by cornerbacks Shon Akins and JaQuan Simpkins and safety Jordan Noil. Noil leads the team with five interceptions. This is the first trip to the finals for Norcross and for Maloof, an 18-year coaching veteran.
Secondary Content
Bottom Content