Section Branding
Header Content
Ridgeland, Sandy Creek Loaded With Stars
Primary Content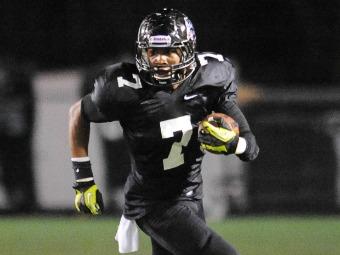 Sandy Creek faces Ridgeland Saturday at 5:30 p.m. in the Georgia Dome for the GHSA Class AAAA state title
SANDY CREEK
Despite last season's quarterfinal loss to Gainesville, Sandy Creek is building something of a dynasty. The Fighting Patriots won the Class AAAA state championship in 2009 and, dating back to the start of the 2008 campaign, have won 66 of their last 69 games. They are bidding for their second undefeated season in the last three years. Sandy Creek has not even come close to losing a game in 2012. Its narrowest margin of victory is 11 points, against Burke County in the quarterfinals. Nine of the Patriots'14 contests have been decided by more than 30 points, including two playoff drubbings (55-0 over Eastside in the first round and 35-0 over Monroe Area in the semifinals).
The Fighting Patriots are not even required to live up to their name on offense; they simply score points at will. More than capable of churning out yards both on the ground and through the air, they are averaging 43.9 points per game (and the average could be much higher if many contests were not decided long before the final horn). Junior quarterback Cole Garvin has thrown for 2,288 yards to go along with 19 touchdowns and just six interceptions. Garvin's favorite target is junior wideout Demarre Kitt, who has 62 receptions for 1,041 yards and 10 scores. Sophomore running backs Eric Swinney and Delvin Weems have combined for 2,300 yards and 35 touchdowns. If an opposing defense focuses one aspect of the Sandy Creek arsenal, it will use another angle to exploit that defense. At the same time, the Patriots' defense is holding up its end of the bargain. The unit, which boasts three shutouts and eight times has held teams to seven points or fewer, limited Monroe Area to 117 yards. Carrollton, which runs a wing-T like Ridgeland, managed only seven points and barely more than 100 yards against Sandy Creek on Nov. 2.
RIDGELAND
Ridgeland has stormed into its first state championship appearance with a 13-1 record and a 13-game winning streak. Its only loss, which came in the opener on Aug. 31, is nothing about which to be ashamed. Calhoun, which is playing for its second consecutive Class AA title, edged the Panthers 42-35. Ridgeland is averaging 42.1 points per contest and from its second game through Round 2 of the playoffs, it beat every opponent by at least 15 points-and nine of those 10 opponents by more than 20 points. After holding off LaGrange 41-34 and trouncing Mary Persons 45-14, Ridgeland survived Marist 28-27 in a semifinal thriller. Marist scored a touchdown with fewer than four minutes remaining in the game to break a 21-21 tie, but its ensuing PAT was blocked. The Panthers marched down the field and answered with the game-winner, which came on a halfback pass from Darrell Bridges to Shaqualm McCoy with 36 seconds left. Marist still had time of its own, but a field-goal attempt clanged off the upright on the game's final play.
Halfback passes are a staple for Ridgeland, which runs a wing-T offense. From his standard fullback position, Bridges threw two touchdowns and had more than 100 yards through the air against Marist. Still, one cannot go so far as to say that the Panthers' offense is balanced. They arguably boast the most feared group of runners in the state. Bridges has more than 2,200 rushing yards to go along with 39 touchdowns. Senior RB/DB Vonn Bell, who has narrowed down his college choices to Alabama, Ohio State and Tennessee, has also surpassed the 1,000-yard mark out of the backfield. McCoy has more than 550 rushing yards and Noah Cooper has racked up 780 yards on the ground. Bell, who also hauled in a 57-yard touchdown pass from Bridges in the semifinals, garners even more accolades on defense from his safety position.
Secondary Content
Bottom Content