Section Branding
Header Content
Walton Sweeps Gilbert Memorial
Primary Content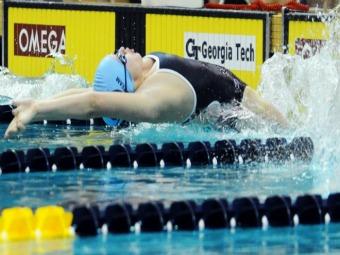 Walton swept the Margaret Gilbert Memorial meet Friday over five other schools that competed. Hillgrove took second in the girls' race while the Riverwood boys were the runners-up in their race. Walton, which hosted the event, won each of the relays while Johanna Keeline (50 freestyle, 100 freestyle) and John Gosnell each won two races. David Edmondson of McEachern was the only other swimmer to win two races. He did it in the 200 IM and the 100 butterfly. Marietta and North Springs also participated in the meet.
Westminster defeated Lassiter in a dual meet on Dec. 4. The top-ranked Wildcats girls team won 200-111 and the Class A-AAAAA No. 3 boys won 201-94. The host Wildcats were led by Nicole Stafford, who won the 200 freestyle and 500 freestyle, Erika Redding (100 freestyle, 500 freestyle), freshman Derek Cox (100 backstroke, 100 butterfly, 200 IM) and Patrick Leonard (200 freestyle, 500 freestyle). Westminster also had winners with Maddie Downs (200 IM), Emily Bassett (100 butterfly), Taylor Gaffney (1-meter dive), William Stith (100 breaststroke) and John McGonigle (100 freestyle). Lassiter's winners included Rachel Weissert (100 breaststroke), Micaela Jenko (100 backstroke), Jack Bentley (1-meter dive) and Daniel Bridgers (50 freestyle). Westminster won each relay event.
No. 1 Parkview's Wesley Shaw won the 100 freestyle, 200 freestyle, 200 freestyle relay and 400 freestyle relays at the Clody Memorial Invitational over the weekend at Brookwood. Amelia Campbell of Parkview won the 200 freestyle, 200 freestyle relay and the 400 freestyle relay while Dacula's Stephen Brinkley won the 50 freestyle and 100 backstroke.
At the Wesleyan Invitational, Milton won the girls meet while Lakeside-DeKalb won the boys meet. However, the host Wolves won the overall title with 549 combined points. Also at the meet, Wesleyan swimmers Caroline White (200 freestyle, 100 freestyle), Drew Middleton (50 freestyle, 100 butterfly) and Ty Maughon (50 freestyle) each set state qualifying times.
Secondary Content
Bottom Content