Section Branding
Header Content
Dacula, Rome Move Into Swimming Polls
Primary Content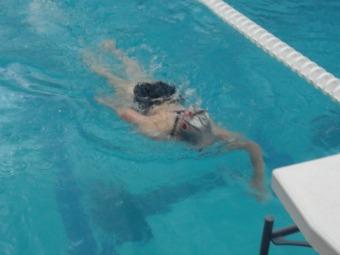 Gwinnett swimming powers met at Mountain Park over the weekend for the Clody Memorial Invitational. While no team winners were declared, several teams left pleased with individual performances. The boys Class AAAAAA No. 1 Parkview Panthers relay teams competed well in nearly all of the events while No. 10 Dacula's Stephen Brinkley has the Falcons thinking they could do damage at the state meet. On the girls' side, No. 1 Parkview and No. 2 Brookwood were impressive as well.
The Class A-AAAAA No. 10 Rome earned impressive wins over Woodland and Calhoun late last week, but it was the Rome boys who claimed a third straight event to move to the threshold of the A-AAAAA rankings. The Rome boys 200-meter medley relay team qualified for the state meet with an impressive time in the competition against Calhoun and Woodland.
Darlington diver Miles Bearden took first place in the boys 1-meter dive event late last week as Darlington competed against Northwest Whitfield and River Ridge.
AAAAAA BOYS
1. Parkview
2. Lassiter
3. Brookwood
4. Alpharetta
5. Milton
6. North Gwinnett
7. Collins Hill
8. Chattahoochee
9. Walton
10. Dacula
AAAAAA GIRLS
1. Parkview
2. Brookwood
3. Kennesaw Mountain
4. Walton
5. Peachtree Ridge
6. Etowah
7. Lassiter
8. Mill Creek
9. North Gwinnett
10. Archer
A-AAAAA BOYS
1. Marist
2. Wesleyan
3. Westminster
4. Dalton
5. Sequoyah
6. St. Pius X
7. Woodward Academy
8. Oconee County
9. Pope
10. North Hall
A-AAAAA GIRLS
1. Westminster
2. Marist
3. Woodward Academy
4. St. Pius X
5. North Paulding
6. Calvary Day
7. Pope
8. Wesleyan
9. Greenbrier
10. Rome
Secondary Content
Bottom Content