Section Branding
Header Content
Meadowcreek Climbing In Wrestling Poll
Primary Content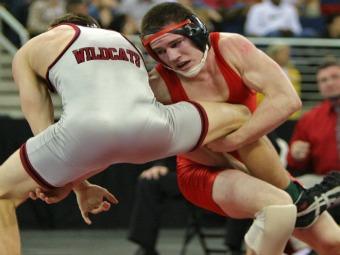 Meadowcreek is quickly asserting itself into the AAAAAA title picture as the No. 9 Mustangs continue to place well against top Gwinnett County competition. Meadowcreek took first place at the Black Knight Duals, taking out Centennial, Duluth, Central Gwinnett, Berkmar and Class AAA No. 8 McNair en route to the title. Centennial placed third and Berkmar finished fourth.
West Forsyth claimed the Warrior Classic at North Atlanta. Mountain View finished in second as Adam Flatt won the 106-pound division.
Earlier last week, Class AAAAAA No. 4 Brookwood won the Battle of Five Forks for the second straight year. The Broncos improved to 12-2 after knocking off No. 8 Parkview 35-20. Drew McCrokle, James Pham, Andrew Collins and Terrell Anderson were some of the standouts for Brookwood while Andrew Webb, Terrance Lindsey, An Vu and Harrison Schmid were all winners for Parkview.
In a major showdown, No. 1 Collins Hill knocked off No. 5 Kennesaw Mountain 41-33. Codi Russell, Ryan Millhof, Griffin Riley, Michael Roquet, Jimmy Gall and Anthony Codella all earned wins for Collins Hill.
Pepperell made a case for inclusion in the rankings by finishing second in the Mt. Zion Screamin' Eagle event over the weekend. Mt. Zion won the event, but Pepperell beat out teams such as Temple, Hiram, Chapel Hill, Villa Rica and Class AA No. 4 Bremen.
Finally, Class A No. 1 Gordon Lee went 4-0 to win the Brett Warren Invitational held at Dade County High School Saturday.
Class AAAAAA
1. Collins Hill
2. Archer
3. Camden County
4. Brookwood
5. Kennesaw Mountain
6. Lowndes
7. North Gwinnett
8. Parkview
9. Meadowcreek
10. Etowah
Class AAAAA
1. Pope
2. Loganville
3. Whitewater
4. Clarke Central
5. Kell
6. Ola
7. Union Grove
8. Paulding County
9. Harris County
10. Winder-Barrow
Class AAAA
1. Alexander
2. Gilmer
3. Marist
4. Heritage-Catoosa
5. Locust Grove
6. Eastside
7. Cedartown
8. Carrollton
9. Dalton
10. West Laurens
Class AAA
1. Jackson County
2. Blessed Trinity
3. Woodward Academy
4. Elbert County
5. Buford
6. Oconee County
7. North Hall
8. McNair
9. North Oconee
10. Adairsville
Class AA
1. Jefferson
2. Lovett
3. GAC
4. Bremen
5. Calhoun
6. East Laurens
7. Toombs County
8. Dublin
9. Washington-Wilkes
10. Bowdon
Class A
1. Gordon Lee
2. Holy Innocents'
3. Commerce
4. First Presbyterian Day
5. George Walton Academy
6. Darlington
7. St. Francis
8. Athens Christian
9. Towns County
10. Charlton County
Secondary Content
Bottom Content