Section Branding
Header Content
Offenses Collide In AAAAAA Semifinals
Primary Content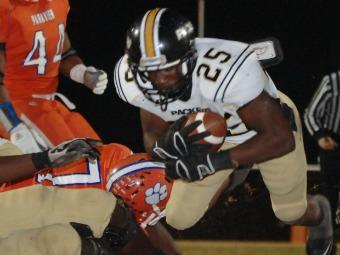 Lovejoy vs. North Cobb
After making the Class AAAA finals in 2011, Al Hughes' Lovejoy Wildcats will have a shot to make the AAAAAA finals with a home game in the semifinals against North Cobb. Lovejoy quarterback Alejandro Bennifield has weapons galore with tight end Arshad "A.J." Jackson, wide receiver Jumichael Ramos and running back Travis Custis. The Wildcats have scored 42 points per game this season while allowing just seven per contest. So far this postseason, Lovejoy has taken out Tri-Cities 51-13, Marietta 36-15 and North Gwinnett 21-6. The Wildcats' defense has faced several outstanding individual performers over the first three rounds of the playoffs and systematically eliminated each one. With 11 straight victories, Lovejoy will attempt to equal last year's 14-1 record, but another 14-1 this season would mean a state title.
North Cobb will offer a similar look to what Lovejoy saw last week with Tyler Queen serving as a dual threat under center and J'Vonte Herrod tearing up yardage out of the backfield. After a huge game against Mill Creek (147 yards on seven receptions), Xavier Borishade leads a talented receiving corps that includes Cameron Albright and Nick Miller. Albright is also a key member of the Warriors' defense that produced six turnovers last week against Mill Creek. Albright recovered a fumble and snagged an interception while James King picked off two passes and Latrell Gibbs intercepted a pass and forced a fumble.
North Cobb, the runner-up out of Region 4-AAAAAA, has taken out Valdosta 42-14 before whipping Region 3-AAAAAA champion Hughes. North Cobb put yet another 42 spot on the board last week against Mill Creek. Shane Queen's Warriors have won six straight since dropping a region game in October to McEachern. North Cobb won four straight to open the year. Queen's team is averaging 43.5 points per game in its victories, but just 26.5 in two losses.
Norcross vs. Colquitt Co.
The Norcross Blue Devils have an offense loaded with talent. Keith Maloof's attack begins with running back Alvin Kamara, but wide receiver/running back Miles Autry, wide receiver Trey Smith and quarterback Joseph Wilber also provide plenty of sparks for an offense that hasn't scored less than 20 points in any game this season. Kamara is one of the nation's top running back prospects and, in the quarterfinal win over Camden County, Kamara showed he could do it all. He rushed for 158 yards on 27 carries and even got into the act at quarterback in the wildcat, throwing for a score. Autry has scored 19 times this season. Defensively, Lorenzo Carter is nearly unstoppable off the edge while cornerback Shon Akins is a shutdown corner like few others in Class AAAAAA. This is the first trip to the semifinals for Norcross and for Maloof, an 18-year coaching veteran.
Colquitt County, the No. 4 seed out of Region 1-AAAAAA, will return to Gwinnett County after beating Parkview in Lilburn last week. Rush Propst has now helped the Packers reach the semifinals for the fourth straight season. Quarterback Cole Segraves threw for two huge scores in the second half to pull away from the Panthers in a 31-15 win. Bobby Hill and Toddarian Boyd were on the receiving end of touchdowns last week.
Up front, Colquitt County boasts 6-foot-5 offensive lineman Octavius Jackson, a monster of a tackle headed to Florida next year. Defensively, Hill gets into the action alongside Johnny Ward and Jamal Phillips in the secondary. The defensive key will be two-sport standout Travis Register, who is also a wrestler. If Register can stop Kamara at the point of attack, Colquitt County could make Norcross one-dimensional. The Packers will return to the metro Atlanta area for the fourth straight week after winning at McEachern (30-28), Newnan (26-23) and Parkview.
Secondary Content
Bottom Content