Section Branding
Header Content
Northside Looking For Return To Glory
Primary Content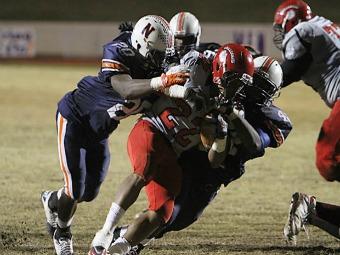 Northside-Warner Robins vs. Ware Co.
In a rare occurrence, powerhouse program Northside-Warner Robins (13-0) has to travel for a playoff game. The Eagles have not played a postseason contest on the road since the 2009 semifinals at Newnan and played the following week at a neutral site, the Georgia Dome, in the state finals.
The Eagles avenged a 2011 semifinals loss to Tucker by beating the Tigers 23-20 last week. Coach Kevin Kinsler's crew scored three touchdowns in the final period to come back from a 13-3 deficit. The Eagles rely on quarterback Glenn Smith and running backs Keshun Hill and Curtis Martin, who combined to rush for more than 2,700 yards and 33 touchdowns this season behind a veteran offensive line. The Eagles' defense has allowed more than 20 points just once this season and is led by senior linebacker Trey Payne and senior defensive tackle Anfirnee Chatfield.
The Eagles' semifinal opponent, Ware County, is an outstanding defensive football team. The Gators have shut out five opponents this season, including quarterfinals opponent Stephenson, and have allowed more than 20 points just twice. Coach Ed Dudley's squad (12-1) held the talented Jaguars to just 63 total yards last week, as Tremon Porter had two interceptions. In 12 games this year, the Gators have allowed just 8.5 points per game. Offense may be a problem for Dudley's bunch, however, as the Gators managed just 198 yards on Stephenson, including 101 on the ground. Quarterback Jamar Johnson, a threat on the ground and through the air, ran for a 25-yard score against the Jaguars and presents a big-play threat to Northside.
In four years at the Waycross school, Dudley has accumulated 38 wins. The 12 wins Ware County earned this season are tied for the most in program history, and it is the Gators' first semifinal appearance since 2007.
Whitewater vs. Gainesville
Gainesville's high-flying offense will look to continue its prolific ways at Whitewater. Gainesville (10-3) is led by superstar quarterback DeShaun Watson, who has totaled 68 touchdowns this season. The talented signal-caller, who has committed to Clemson, has many believing Gainesville could shock Class AAAAA by winning the state title by simply by scoring at will. Behind Watson, the Red Elephants have scored more than 60 points in two straight playoff games and hit the 60-point mark four times total this season. In 12 games, the Red Elephants have stampeded their way to a 50 points-per game average.
Along with Watson, Gainesville boasts college commitments in senior wide receiver Caleb Heyman (a South Alabama pledge) and defensive back Fred Payne (a Western Carolina pledge). The Red Elephants have not won a state title since 1925, although they have been to the playoffs each year since 1999. Coach Bruce Miller has guided Gainesville to eight double-digit win seasons or more in 11 seasons while taking the Red Elephants to at least the quarterfinals six times.
Whitewater (12-1) comes into the final four as one of the more unheralded teams still playing. The Wildcats have quietly won 12 straight games after losing to Coffee in the season-opener and set a school record for wins while doing it. The Wildcats' 12 wins broke the previous record of nine. Whitewater is known around the state by many as the team that upset Northside-Warner Robins in the first round of the 2010 playoffs.
Coach Amos McCreary's bunch smothered Allatoona last week in a 24-3 victory in which it kept the visitors scoreless for three quarters. Running back Kendall Conley scored twice while quarterback Jay Ashley ran for a 20-yard touchdown.
Secondary Content
Bottom Content