Section Branding
Header Content
Marist Looks To Hold Off Upstarts
Primary Content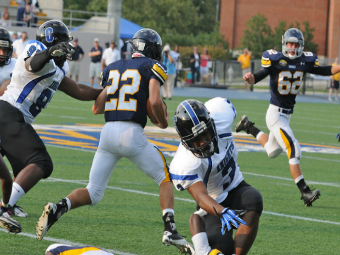 Monroe Area vs. Sandy Creek
No. 1 Sandy Creek is appearing in its third semifinals in four seasons and has now won 12 or more games for the fourth consecutive year. The Patriots (13-0) outplayed defending AAA state champion Burke County last week in an impressive 31-20 win. Cole Garvin hit sensational junior wide receiver Demarre Kitt on a 74-yard touchdown pass to take the lead at 24-20 in the fourth quarter before running back Eric Swinney clinched the win with a 38-yard score.
The duo of Swinney and Delvin Weems at tailback, along with the Garvin-to-Kitt combination will be relied on by the Patriots tonight against Monroe Area. Other names to look for are offensive lineman Alan Knott, a South Carolina commitment, and defensive back Shaq Wiggins, a Georgia commitment. Garvin, a junior has thrown for 2,087 yards this season while Swinney has rushed for 1,226 yards and 18 touchdowns. Weems, meanwhile, has totaled 885 yards and 15 touchdowns. Kitt has 881 receiving yards and eight scores on the season.
Sandy Creek has made the playoffs in each season under coach Chip Walker, who took over for his father, Rodney, before the 2002 season. Since then, Sandy Creek has won its only two state titles in school history.
Monroe Area (12-1) was once a struggling program, but coach Matt Fligg has done an amazing job turning around the Purple Hurricanes in his seven seasons at the school. Fligg's program totaled just four wins in his first four seasons, but has rebounded dramatically to win 31 games in the past three seasons combined. Monroe Area will make its first semifinals appearance in the modern era tonight after dispatching South Effingham 47-8 last week. The Purple Hurricanes looked like a well-oiled machine last week as Kwan Brooks and Junior Reed each had two touchdowns.
Ridgeland vs. Marist
Marist will travel to Ridgeland in the other semifinal as the visiting War Eagles are in their 30th consecutive season in the playoffs. Marist has won two state titles, in 1989 and 2003, in its illustrious history. Coach Alan Chadwick's squad is led by dual-threat quarterback Myles Willis, who has 419 total yards and four touchdowns in the playoffs, and defensive end/tight end Greg Taboada.
The War Eagles (12-1) pride themselves on controlling the line of scrimmage, and have done so thus far in the playoffs. Marist has rushed for 761 yards in three playoff games, an average of 5.7 per rush while limiting their opposition to 190 yards, or 1.8 per rush. Taboada leads a fierce War Eagles pass rush, that has totaled 10 sacks in the postseason, with the Stanford commit claiming five of them.
Ridgeland, like Monroe Area, has undergone a miraculous transformation under coach Mark Mariakis. The Panthers (12-1) were largely an afterthought in northwest Georgia prior to Mariakis' arrival, but have since become a perennial playoff team having made seven straight postseasons under Mariakis. This year represents the first semifinals appearance for the program, which began in 1989.
Running back Darrell Bridges led Ridgeland to a 45-14 win over Mary Persons in the semifinals with four touchdown runs. The Panthers totaled 385 rushing yards on 57 carries including 205 by Bridges. The senior has rushed for 664 yards in three playoff games.
Defensive back Vonn Bell, who has offers from almost the entire SEC as well as Ohio State and UCLA, leads the defense. Bell also plays on the offensive side of the ball, and had 84 yards on 10 carries, including a 37-yard fourth quarter touchdown scamper in the Mary Persons game.
Secondary Content
Bottom Content