Section Branding
Header Content
Pope Wins Walton Duals To Stay No. 1
Primary Content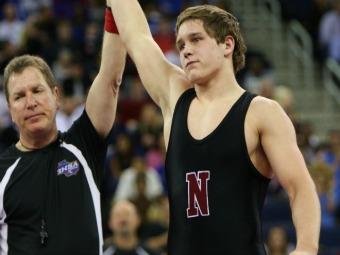 Pope won its third straight Walton Duals championship, knocking off Loganville 63-12 in the championship round. The Greyhounds, ranked No. 1 in Class AAAAA, knocked out Dunwoody, Creekview and McEachern before beating Loganville, No. 2 in Class AAAAA. Pope is now 9-0 in dual matches, and earlier in the week won the Hillgrove Duals. The Greyhounds have also taken out Thompson (Ala.).
Creekview took third after beating Allatoona and McEachern beat Walton for fifth place. Mill Creek and Dunwoody finished seventh and eighth, respectively.
In other action, Meadowcreek went 4-1 at the Mustang Duals, losing to Class AAAAAA No. 4 Kennesaw Mountain, but beating Columbia, Baldwin, Lithonia and Decatur. Ryan Moore was 5-0 during the event to improve to 18-0 on the year.
Class AA No. 3 GAC finished 4-1 at the Mountain View Duals. The Spartans lost to Chattahoochee, but managed to defeat Central Gwinnett, Campbell, Class AAAA No. 3 Marist and Stephenson.
Thanks to five pins from Hayden Cook, Class A No. 6 Darlington finished second at the Westminster Duals. It was an up and down week for the Tigers, who also hosted an event where the host squad fell to AAAA No. 7 Cedartown. Cedartown also defeated Model but lost to Mt. Zion-Carroll.
Class AAAAAA
1. Collins Hill
2. Archer
3. Camden County
4. Kennesaw Mountain
5. Brookwood
6. Lowndes
7. North Gwinnett
8. Parkview
9. Etowah
10. Meadowcreek
Class AAAAA
1. Pope
2. Loganville
3. Whitewater
4. Clarke Central
5. Kell
6. Ola
7. Union Grove
8. Paulding County
9. Harris County
10. Winder-Barrow
Class AAAA
1. Alexander
2. Gilmer
3. Marist
4. Heritage-Catoosa
5. Locust Grove
6. Eastside
7. Cedartown
8. Carrollton
9. Dalton
10. West Laurens
Class AAA
1. Jackson County
2. Blessed Trinity
3. Woodward Academy
4. Elbert County
5. Buford
6. Oconee County
7. North Hall
8. McNair
9. North Oconee
10. Adairsville
Class AA
1. Jefferson
2. Bremen
3. GAC
4. Lovett
5. Calhoun
6. East Laurens
7. Toombs County
8. Dublin
9. Washington-Wilkes
10. Bowdon
Class A
1. Gordon Lee
2. Holy Innoncents'
3. Commerce
4. First Presbyterian Day
5. George Walton Academy
6. Darlington
7. St. Francis
8. Athens Christian
9. Towns County
10. Charlton County
Secondary Content
Bottom Content