Section Branding
Header Content
Familiar Names Chasing AA Title
Primary Content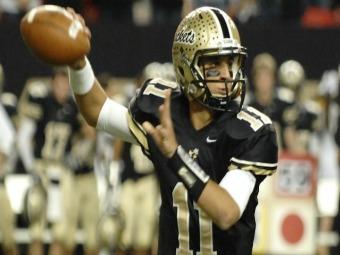 Jefferson vs. Greater Atlanta Christian
The Greater Atlanta Christian Spartans come into their semifinal against Jefferson having scored 114 points in the playoffs thus far. Quarterback Rafe Chapple is one of the most prolific signal-callers in the state, and will try to light up the sky Friday night at Jefferson while running back Kyle Scales slices and dices opponents on the ground. GAC (10-3) has won 10 games for the first time since 2006, and edged Early County last week 27-24 on a last-second field goal by Brandon Holzgrefe to make the semifinals for the first time since a finals appearance in 2002. The field goal attempt was set up after Chapple led the Spartans down the field on 5-of-6 passing for 49 yards.
The Spartans have not been held under 24 points this season, but have given up more than 30 points twice – both losses – while allowing all but two opponents to score in double digits.
Jefferson (12-1) also won dramatically in the quarterfinals as quarterback Bryant Shirreffs hit running back Tristen Jackson for the game-tying touchdown, then again for the game-winning two-point conversion in the Dragons' thrilling 53-51 triple-overtime win over Fitzgerald. Jefferson has won 12 games for the first time in school history. Jackson had 40 yards receiving and 30 rushing yards in addition to his two-point conversion catch.
Shirreffs, a senior, has offers from Dartmouth and Yale.
Legendary coach T. McFerrin has guided the Dragons to arguably their most successful four-year period in school history, with three playoff berths and two seasons with more than 10 wins. McFerrin, who retired from coaching after the 2004 season but came back to guide Jefferson in 2009, has totaled 315 wins in 35 seasons. He has also coached at Lithonia, Forest Park, Peachtree, Southeast Whitfield, Tucker, Elbert County and South Gwinnett.
GAC has won all four meetings with Jefferson, which came between 1996-1999.
Calhoun vs. Lamar County
Last year, Calhoun won its first state title since 1952 in an overtime thriller against nemesis Buford in the Class AA championship game. Now, with Buford gone to AAA, the Yellow Jackets are favored to repeat.
However, Calhoun (13-0) will have to get past 12-0-1 Lamar County to make the finals. Coach Franklin Stephens left Tucker for the head coaching position at the Barnesville program, and has made a big impact in his first year at the helm of his alma mater. Stephens' program has now won 12 games in back-to-back seasons after not winning more than 10 in a season in school history, which dates back to 1970, according to GHSFHA.org.
Aside from a season-opening tie against Spalding, the Trojans have dominated the competition in winning 12 straight. Lamar dominated a talented Cook squad in Round 1 before edging Benedictine and Lovett. In the quarterfinals, Lamar quarterback Lance Austin finished 6-for-6 through the air for 141 yards and two touchdowns while rushing for 96 yards and a score. A 34-yard pass to twin brother Lawrence Austin sealed the win for the Trojans.
Lamar County (12-0-1) is up against a serious challenge, however, in the semifinals against a Calhoun program that has not lost to anyone except Buford since September of 2009. The Yellow Jackets feature a talented duo of quarterback Taylor Lamb, a South Alabama commitment who threw for 365 yards and accounted for six scores in the quarterfinal against Brooks County, and running back Alex Urbano, who rushed for 122 yards and a score last week.
The host Yellow Jackets have won double-digit games each year under coach Hal Lamb since 2001 and have won more than 12 games four consecutive seasons. It is the fifth year in a row Calhoun has made the semifinals.
Secondary Content
Bottom Content