Section Branding
Header Content
Alpharetta Living Up To Lofty Position
Primary Content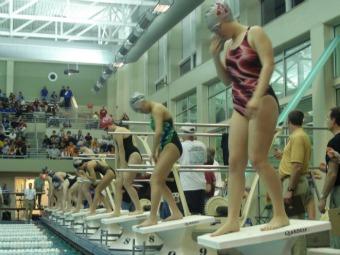 Brookwood faced Peachtree Ridge in a Gwinnett battle with the No. 3 Brookwood boys prevailing while the No. 1 girls fell to Peachtree Ridge. The Brookwood boys won the 200 freestyle relay and 400 freestyle relay. Alex Taylor (200 free and 100 back), Alex Thebeau (100 fly) and Nick LaMontagne (100 free and 100 breast) all claimed individual events. The girls were sparked by Beck Bass' win in the 100 free and the team's 200 freestyle relay win. The close win by Peachtree Ridge 157-150, moved the Lions up in the girls Class AAAAAA poll to No. 5. Brookwood, meanwhile fell in the girls poll to No. 2, behind Parkview.
Boys Class AAAAAA No.4 Alpharetta took out Class A-AAAAA No. 2 Wesleyan 208.5-105.5 in a meet last Friday. Alpharetta placed first in every single individual and relay event to finish with the huge margin of victory, Meanwhile, the No. 8 Wesleyan girls cruised to an easy win 197-118.
Elsewhere, Darlington finished second in a three-team meet last week against Adairsville and Calhoun. Trammell Braden won the 50-free event, then teamed with Dillon Weeks, Will Robertson and Will Taylor to win the 200 meter free. The girls were paced by Emily Thurmond, who won the 50-free and placed second in the 100 meter butterfly. She then helped Darlington place first in the 200 meter freestyle relay. Katie Hurley placed first in the 100 meter breaststroke.
AAAAAA BOYS
1. Parkview
2. Lassiter
3. Brookwood
4. Alpharetta
5. Milton
6. North Gwinnett
7. Collins Hill
8. Chattahoochee
9. Mill Creek
10. Johns Creek
AAAAAA GIRLS
1. Parkview
2. Brookwood
3. Kennesaw Mountain
4. Walton
5. Peachtree Ridge
6. Etowah
7. Lassiter
8. Mill Creek
9. North Gwinnett
10. Archer
A-AAAAA BOYS
1. Marist
2. Wesleyan
3. Westminster
4. Dalton
5. Sequoyah
6. St. Pius X
7. Woodward Academy
8. Oconee County
9. Pope
10. North Hall
A-AAAAA GIRLS
1. Westminster
2. Marist
3. Woodward Academy
4. St. Pius X
5. North Paulding
6. Calvary Day
7. Pope
8. Wesleyan
9. Greenbrier
10. Rome
Secondary Content
Bottom Content